NHL Season Review: San Jose Sharks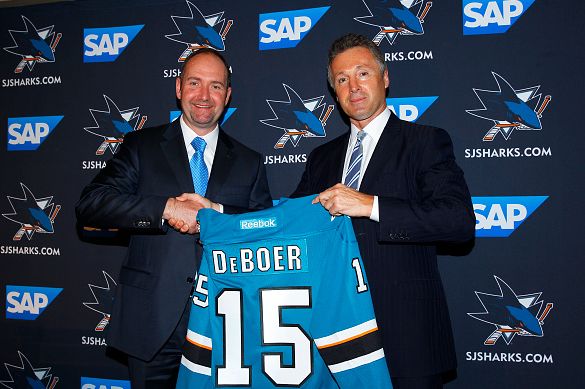 Welcome to NHL season review: a brand new series that will breakdown every NHL team this offseason. You can expect to see a new post everyday until the end of July, starting from the 30th place team, and finishing with the Stanley Cup champions. With so many changes coming in the offseason, some teams will be improving dramatically, while others will be forced to make some tough decisions for the future. It's going to be a fun month of hockey talk, so sit down, hold on tight and enjoy the ride.
Year in Review
 2014-2015 Stats
Record: 40-33-9 (89 points)
Goals per game: 2.73(15th)
Goals against per game: 2.76 (24th)
Power play: 21.6% (6th)
Penalty kill: 78.5% (25st)
Shots per game: 31.6 (5th)
Shots against per game: 29.7 (16th)
The San Jose Sharks missed the playoffs for the first time since 2002-03, ending a 10-year streak. The Sharks have one of the best offenses on paper, but defensively, they just couldn't complete with the best teams in the Western Conference. The Sharks gave up 232 goals last season—the highest total since 2005-06—while managing to score just 228 goals. It's well documented that the Sharks have all the weapons to be a Cup-contending team every year, but once the postseason arrives, they fall apart, failing to make it past the Conference Finals on three different occasions. It may just be a case of "one bad season" for the team, but with some of their core players starting to show their age, the "window" to win a cup may be starting to close.
The only real benefit of missing the playoffs is acquiring a decent first-round pick. With the draft being pegged as one of the deepest in recent years, San Jose was looking to add a key piece to their team's future.
With the ninth pick in the draft, San Jose selected right-winger Timo Meier from the Halifax Mooseheads of the Quebec Major Junior Hockey League (QMJHL). The Swiss native is considered a talented two-way forward; one who can score goals when needed, or play a checking role late in a game. Elite hockey prospects sums up Meier's game perfectly:
"A physically dominant winger with the ability to play in a skill or character role. In the offensive end, Meier is very aware and gets himself into spaces where he can easily make seeing eye passes or snap hard, accurate shots. Can impact the game in a number of different ways, and is very consistent in his efforts."
The first name that comes to mind when anyone talks about great two-way forwards is Detroit's Pavel Datsyuk. The comparison can be made that both players have the ability to rack up the points (90 points in 61 games last season) and are both responsible on the ice (finished second in team plus/minus at plus-20). It may be too early to speculate how great a career Meier will have, but if he can become half the player Datsyuk is, that wouldn't be a bad thing.
Offseason Game Plan
The biggest change this offseason came at the head coach position. San Jose decided to part ways with longtime head coach Todd McLellan on April 20th and proceeded to hire former Devils bench boss Peter DeBoer. Despite winning 540 games in seven seasons with San Jose (the most in team history), McLellan was unable to replicate that success in the postseason, posting a 30-32 record in 62 games. The news didn't come as a shock to many in the hockey world, as fans have openly blamed McLellan for the team's postseason failures. Management felt a change in coach was the best way to become a more "complete" NHL team; one that they hope propels their team to a Stanley Cup appearance in the future.
DeBoer did manage to take a very average Devils team to the Stanley Cup finals in 2011-12 and the hope is he'll be able to recreate that success with a slightly-more talented Sharks team. The idea may be good, but San Jose remains a team that's built to score goals, and moving away from that may be an impossible task. With so many highly gifted players on that team, team defense may be a hard concept to sell.
Much of San Jose success next season will depend on how good their goaltending is. Antti Niemi wasn't exactly terrible last season, but his 2.59 GAA was one of the worst in the NHL among starting goalies. The Shark proceeded to move on from Niemi and acquire Martin Jones from the Boston Bruins in exchange for a first-round pick in 2016.
Jones spent last season with the L.A Kings as a backup to Jonathan Quick. The 25-year old will get his first real opportunity to be a starting goalie in the NHL in training camp and hopefully will seize the opportunity right away. For the Sharks to be a competitive team, they need Jones to be a top-15 goalie all season long and to play close to 55 games next season. It may be a lot to ask a from Jones in his first season, but considering the high price the Sharks paid to acquire him, anything less could be considered a disappointment.
One area that won't be a disappointment next season is the offense.
The Sharks finished 15th in goals per game last season with 2.73, but that number doesn't have to improve for them to be a playoff team. San Jose solidified their top nine by adding former Washington Capitals winger Joel Ward, who recorded his second straight 30-plus point season. Joe Thornton and Patrick Marleau are now past their prime, but they will still be counted on to provide offensive next season along with teammates Joe Pavelski and Logan Couture. Youngsters Tomas Hertl, Matt Nieto and Melker Karlsson will look to improve on their totals from last season and help add another layer of scoring to an already impressive Sharks lineup. Barring any injuries, the Sharks should be able to finish in the top ten in league scoring next season.
On defense, the Sharks spent most of their available cap space on free agent defenseman Paul Martin. Martin spent the last five seasons with the Penguins, where he recorded 17 goals and 109 points. The 34-year-old will help solidify a Sharks defense that finished among the leagues worst in goals against per game and help improve a penalty kill that finished 25th last season.
Despite all the regular season success the Sharks have had, they've never been able to take it all the way to the Stanley Cup finals. Most teams would be happy just making the playoffs every year, but fans in San Jose have grown tired of seeing their team do so well during the regular season, only to fall in the first two round of the playoffs year after year. Fans are expecting next season to be a bounce back one, but the reality is, we may be looking at a team that just doesn't have what it takes to win the big game.