NHL Western Conference Quarterfinals Preview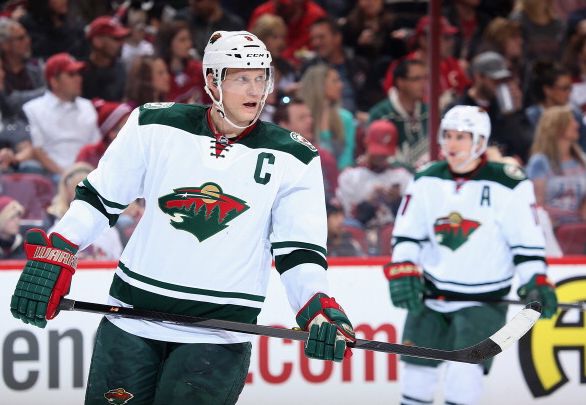 For some fans, the dream of watching their team win the cup is still alive, but for others, it's all over. Congratulations to the eight teams moving on, but the job is far from finished. The first round will have a ton of surprises, and there will be more in the next.
So who's got a chance at advancing to the next round? Eight teams will commence the journey, but only four will make it to the next round and keep the dream alive. Let's take a look at which teams will make it past round one in the Western Conference.
St. Louis Blues Vs. Minnesota Wild
Prediction: Minnesota in 6
For whatever reason, this series is not getting the hype it deserves. The Wild are a complete hockey team, from their goaltender Devan Dubnyk, all the way to their top line. The blues have themselves a very good hockey team, but it's hard to imagine them making it past the first round.
St. Louis has a solid defence and a deep forward group, but their weak spot is their goaltending. Jake Allen had himself a rollercoaster year, and at times, he barely looked like an NHL goalie. If the Blues want to get past Minnesota, they are going to need Allen to pull a miracle out of his hat and steal a game or two for his team. At this point, that's highly unlikely. Minnesota will prevail in this series.
San Jose Sharks Vs. Edmonton Oilers
Prediction: San Jose in 6
The Edmonton Oilers have FINALLY made the playoffs! After years of rebuilding and telling fans to be patient, they've finally returned to the big show. Sadly, they won't last very long.
San Jose may not have a 100-point player on their team, but they have an elite goaltender in Martin Jones and an above-average defence that can slow down the best players in the league. All eyes will be on Connor McDavid and how he performs in this series, but Marc Edouard Vlasic has played against some of the best players in the world, so expect him to matchup with McDavid every chance he gets. Unless Edmonton's depth players show up, this series shouldn't be a struggle for San Jose.
The Sharks have been known to choke come playoff time, but they proved to all the haters that they are a serious contender to win the cup last season by making it all the way to the finals. For as much talent as the Oilers have, the experience of the Sharks will prove too much for them to handle. McDavid can only carry his team so far.
Calgary Flames Vs. Anaheim Ducks
Prediction: Anaheim in 5
There's not one category where the Calgary Flames have the advantage on paper, not one. The Ducks have the offensive players to get the job done, a defensive core that is very strong, and a goaltender that can carry the team.
The Flames have a top line that do some damage, a defence that is good, but not great, and two goaltenders that failed to establish themselves as a starter during the season. How anyone can pick the Flames over the Ducks is beyond me.
On top of it all, the Ducks have a secret weapon that will cause all kinds of problems for Calgary– Ryan Kesler.
The 32-year-old was the Ducks best player last season during the playoffs, and that shouldn't change this year. He's a headache to play against, and his ability to come up clutch when it matters  is something you can't teach players. If Kesler manages to to get under the skin of players like Johnny Gaudreau and Sean Monahan, Calgary has no chance.
Barring a miracle, the Ducks will move on to the second round with ease.
Chicago Blackhawks Vs. Nashville Predators
Prediction: Predators in 7
This series is going to be a ton of fun to watch. The Nashville Predators are a complete team from top to bottom, while the Blackhawks are proven Stanley Cup champions that know what it takes to win it all. Chicago proved that they are still a powerhouse team in the NHL, finishing with 109 points in the regular season, but the Nashville Predators will upset the Blackhawks in the first round.
The secret for Nashville is in the blue paint. Pekka Rinne didn't have a spectacular season, but his numbers were on par with those of Corey Crawford. Rinne finished with a better GAA than Crawford (2.42 vs. 2.55) and their SV% were identical (.918%). Crawford hasn't always been stellar in the playoffs, and if he stumbles just a bit, Nashville will have the edge.
Speaking of edge, the Predators defensive core is slightly better than Chicago's. Both Ducan Keith and Brent Seabrook are fantastic players, but they won't be able to compete with P.K Subban and Roman Josi. both players are explosive in the offensive zone, and their defensive game is up there with the best.
This series will be a fight till the very end, but the Predators have what it takes to knock off the Hawks in a best-of-seven series.