Peaks and Valleys- Goalie Depth Being Tested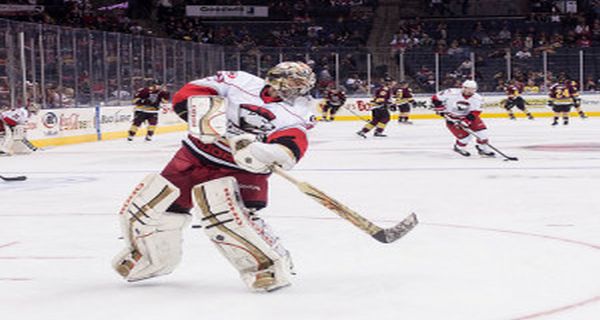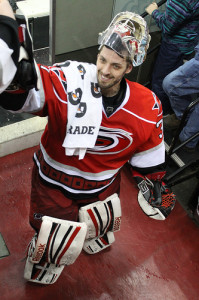 The season is half over. It is a sad thought, but to say the first half has not been anything less than exciting would be a lie. It is my hope that your fantasy season has been the same, or at least setting up to end well with a playoff berth.
That being said, some teams have seen the injury bug hit their goaltending depth in a major way. The big loss in net happened in Carolina, as Can Ward is expected to miss the rest of the regular season with a third degree MCL sprain. Ward is one of the better and safer owns in fantasy, and his loss will hurt Carolina's chances of maintaining a good seed in the playoffs, or even dropping out of the race. The Hurricanes did well in the offseason to have an insurance policy just in case something bad was to happen.
Peaking
Dan Ellis, Goaltender, Carolina Hurricanes: Ellis is the first net minder to get a crack at earning the majority of starts with Ward shelved. Ellis has been a mediocre starter, and had a chance at starting with Tampa Bay in 2010-11 after losing his starting gig in Nashville to some guy named Pekka Rinne. He is worth a spot on your roster as a third goalie, especially if you owned Ward.
Chris Stewart, Right Wing, St. Louis Blues: A prospect that could never put his game together consistently, Stewart has seemed to have turned a corner during this shortened season. His gritty play always kept him in the lineup, but now the scoring is in play. He has eight points in his last five games, and 21 in 24 games. Take advantage of his scoring, and enjoy the added penalty minutes if your league scores them as a positive.
Matt Read, Center, Philadelphia Flyers: Read came back from his rib injury earlier than expected. He had 13 points in 18 games prior to going on injured reserve, and was playing top six forward minutes. Get him back on your roster, especially while Philly is lighting up the lamp at their current pace. Read is available in nearly 75 percent of leagues across the board.
Colorado took it to the Chicago Blackhawks for nearly six straight periods last week, and one player that stood out was John Mitchell. He is barely owned, and is worth an add if you like the risk of a no-name player. His eight goals and two way play is impressive.
Down In the Valley
Nail Yakupov, Right Wing, Edmonton Oilers: Great players do not always show their skills immediately. Nail Yakupov is the poster child for that in 2013. His small flashes of talent have been seen, but his bone-headed decisions (negative- 12 plus/minus) are costing him minutes. He will be 100 percent ownable in the future, but cut ties now if you still have him.
Kevin Bieksa, Defenseman, Vancouver Canucks: Character issues aside, Bieksa is a great minutes and plus/minus player in fantasy hockey. It is almost drop time for him, as injuries keep him moving in and out of the lineup that makes owners uneasy, including me. I would give him another week to see if the health reports change, but understand if you decide to part ways with Bieksa.
Travis Zajac, Center, New Jersey Devils: The bad times in Jersey have affected Zajac's game. His two-way play made him a solid back-end fantasy player for a handful of years, but injuries and a fading Devils squad have made most of the team fantasy irrelevant. I have enjoyed owning and watching Zajac the last half decade, but he is droppable, and is still owned in 30 percent of leagues, somehow.
I mentioned earlier how Yakupov was playing like a young player, costing him minutes and spots on fantasy rosters. Ryan Nugent-Hopkins is on the same track, and needs to show up very soon, or suffer the same fantasy fate.
Happy battling this week!
Follow me on Twitter @jeffrotull44 for more hockey, sports, and entertainment fun.