Stanley Cup Playoffs Predictions: Eastern Conference and Western Conference Second Round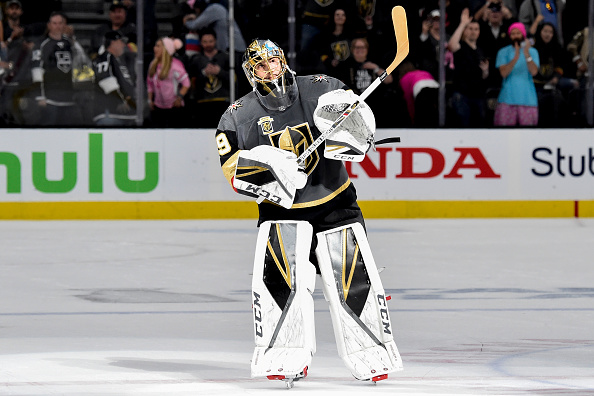 Welcome to the second round of the Stanley Cup playoffs! Congratulations to the eight teams on making in this far. The second round is where we start to see what teams are really made of. The dream for four teams will end in this round. Nobody wants to go home at this point. Let's take a look at which teams should make it out of the second round.
Western Conference
Las Vegas Golden Knights vs. San Jose Sharks
Predictions: Las Vegas in 6
At one point, we have to start believing that the Las Vegas Golden Knights have a real chance at making it to the conference finals. That moment is now. All year, people (including myself) have been waiting for this team to come back down to earth and look like an expansion team. It has yet to happen. The Golden Knights have proved everyone wrong up till now, so why slow down now?
Let's start with how they got to this point. Not only did the beat the Los Angeles Kings, but they did it in four straight games by playing amazing defence. In their series with LA, only Anze Kopitar managed to record more than one point in the entire series (he had a goal and an assist). The Knights shut down a LA and played textbook playoff hockey. They've earned the right to be here.
San Jose also impressed the hockey world by laying a beating on the Anaheim Ducks and beating them in four straight games. Martin Jones was a bit of a question mark coming into that series, but he quickly reminded everyone that he can be an elite goalie in the NHL. He finished the first round with a 1.00 GAA and a .970 SV%. Only goalie to do better than him in the first round– Marc Andre Fleury.
"The Flower" as they like to call him around town, finished the first round with a 0.65 GAA, a .977 SV% and two shutouts. Obviously those numbers will come back down to earth in the second round, but when we talk about a goalie stealing a playoff series for a team, this is what we are talking about. Fleury was elite in the first round and that shouldn't chance in the second round.
Both teams could easily advance to the second round, but I'll give the edge to LV just because they look like a team destine to make it all the way to the conference finals. Fleury will continue to lead the way, and the offence will score just enough goals to help this team win. San Jose isn't going to go down easy, but can they really beat the hottest team in the West? I'm not ready to say yes to that.
Nashville Predators vs. Winnipeg Jets
Prediction: Nashville in 7
If the NHL could put together a decent playoff format, we wouldn't have to see this matchup before the conference finals. There's no reason we should be seeing these two teams playing each other in the second round, but here we are.
This matchup is going to be one for the ages. Both teams are elite, offensively and defensively. This series won't be over after four games. It's going to be a battle from game one all the way to game seven. Someone has to make it to the next round, and that team is Nashville.
They are the most complete hockey team in the western conference (don't even @ me about it). They are built to play playoff hockey. They have the depth up front to score goals, and their defence is of course one of the best in the league. They scored 22 goals in the first round against Colorado and their penalty kill was lights out, operation at 90%. They have what it takes to make it to the Stanley Cup finals, now all they have to do is get past Winnipeg.
The Jets were the best offensive team at home during the regular season, and that was once again true in the first round. Connor Hellebuyck lead the way for his team, finishing the first round with a 1.93 GAA and a .911 SV%. His save percentage will need to go up in the second round if he want to help his team have a chance to prolong this series to seven games.
On the flip side, that same idea applies to Pekka Rinne. After having a Vezina like regular season, Rinne finished the first round with a 2.60 GAA and a .909 SV%. Those numbers are way below average, so look for Rinne to bounce back in the second round.
In short, the goalie that is going to bounce back and steal a game for his team is going to move on to the next round. It's weird to think that this battle is going to come down to which goalie can be better, but here we are. The Preds have the advantage on the blue line, but the Jets have the edge up front. This series is going to be a battle till the end, but Nashville should come out on top once it's all said and done.
Eastern Conference
Pittsburgh Penguins vs. Washington Capitals
Prediction: Pittsburgh in 5
Another classic " Ovechkin vs Crosby" battle in the playoffs! This matchup never gets old, and it shouldn't be any different this time around.
The Penguins steamrolled the Flyers on their way to the second round thanks to Sidney Crosby and Jake Guentzel. That's right, playoff Jake Guentzel is here and he is dangerous. He finished the first round tied with Crosby for the most goals (six) and the most points (13). He closed out the last game against the Flyers by scoring four goals.
On the other side of the ice, Washington looked like they were heading for an early first round exit after losing the first two games on home ice against Columbus. Barry Trotz finally decided to open his eyes and give Holtby his starting job back, and the rest was history.
Hotlby finished the first round with a 1.92 GAA and a .932 SV%. He was very good in the first round, but he's going to need to find another level if he wants to help his team get past Pittsburgh, and that's not going to happen.
Even with Evgeni Malkin and Carl Hagelin ruled out for game one of this series, the Penguins have enough firepower to get past Washington. The Capitals don't have the same scoring depth as Pittsburgh, and that's where this series is going to be won.
The only way Washington makes it past Pittsburgh is if Matt Murray falls apart. His first round numbers were not that great, finishing with a 2.20 GAA and a .911 SV%, but with the offence in front of him and his two Stanley Cup rings, he just has to be decent for his team.
In the end, the Penguins will be too much for Washington to handle. Holtby was better in the first round, but those regular season demons are still there. It's going to be a great matchup to watch, but don't expect any miracles on Capitol Hill.
Tampa Bay Lightning vs Boston Bruins
Prediction: Tampa Bay in 6
At the beginning of the playoffs, I was convinced that only the Boston Bruins could slow down the Pittsburgh Penguins. After one round of hockey, I'm not convinced of that anymore. Boston is a complete hockey team, but they just finished a long series with Toronto and there were a ton of holes in their game that Tampa Bay can easily exploit.
The Lightning moved past New Jersey pretty easily thanks to Nikita Kucherov and his 10 first round points. Andrei Vasilevskiy was also quite good in the first round, finishing with a 2.01 GAA and a .941 SV%.
On the flip side, Boston had to really battle against a Toronto team that took them to seven games. David Pastrnak finished the first round with 13 points, but that isn't going to be enough in the second round if Boston wants a chance to get past Tampa Bay. The biggest concern for Boston is in goal. Tukkaa Rask finished the first round with a 2.98 GAA and a .899 SV%. Of all the starting goalies remaining in the playoffs, Rask is last in both those categories. What's also concerning is that Auston Matthews was invisible in the first round and did very little damage. Now Rask will be facing Kucherov, Stamkos and a whole mess of talented goalscorers who have proven they can score in the playoffs.
Even if Patrice Bergeron and his line shutdown Stamkos, they still have to worry about Kucherov and the rest of the team. What makes matters even worse is that Boston did a great job a limiting the amount of shots they gave up per game (28.1 SA/GP), but Rask still managed to have the worst SV% of any starting goalie in the second round. This isn't a recipe for success.
As much as I dislike the Bruins, they will give Tampa Bay and run for their money. Rask will need to bring his game to another level if Boston wants any hope of making to the conference finals. Is it likely that it happens? No, but this is playoff hockey, so really anything is possible.