Stanley Cup Playoffs Predictions: Eastern Conference First Round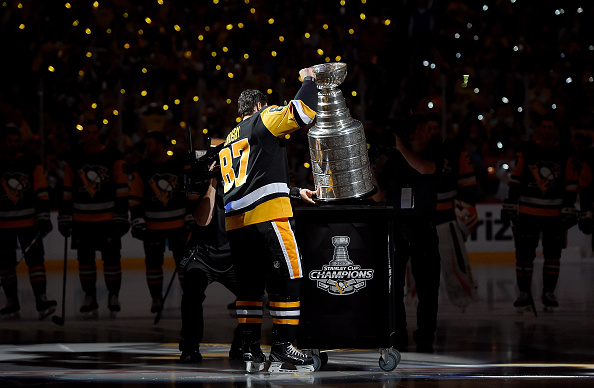 Welcome to the 2017-18 Stanley Cup playoffs. This is the moment every hockey fan has been waiting for. Sixteen teams are on a mission to win sixteen games, but only one will take home Lord Stanley. The next fews weeks are going to be amazing. Players will take their game to another level and every game becomes a "must win". I'll break down every round of the playoffs and (hopefully) help you win that office playoff bracket. Let's get right to it and start with the Eastern Conference.
Columbus Blue Jackets vs. Washington Capitals
Prediction: Columbus in 6
Lots of people want to believe that this is the year that Washington wins a Stanley Cup, but that's unlikely to happen.
Washington is loaded with skill and talent, there's no question about that. Ovechkin lead the league (again) in goals and the Capitals finished 9th in GF/GP (3.10). Their defence wasn't anything special, but they got the job done. It's good enough to take them on a deep playoff run.
Here's the problem– Braden Holtby. It kinda doesn't sound right to say it out loud, but Holtby was very average this season. His 34 wins were tied with Tuukka Rask and Devan Dubnyk for 8th in the NHL, but his 2.99 GAA and .907 SV% tell a very different story.
Of the 22 goalies who played over 50 games this season, Holtby ranks 18th in GAA, which would rank him behind Henrik Lundqvist, Jimmy Howard and Jacob Markstrom. His SV% would rank him 20th, behind Jaroslav Halak, Robin Lehner and Cam Talbot. In short– Holtby benefitted from playing on a very good team that was able to outscore their opponents on most nights.
Columbus finished 10th in GA/GP and were a middle-of-the-pack offensive team. John Tortorella has a team that can slow down Ovechkin and company and grind their way to a series win, and it's likely to happen. There's very little chance that Washington's offence will be able to support Holtby's poor play, not in the playoffs. Good goaltending is a must in the playoffs and the Capitals don't have it. As long as Bobrovsky isn't god awful Kari Lehtonen terrible, they should be able to advance to the next round.
Philadelphia Flyers vs. Pittsburgh Penguins
Prediction: Pittsburgh in 5
The Philadelphia Flyers played some pretty good hockey all season long and found a way to lock up third place in the crazy Metropolitan Division. Claude Giroux had himself an MVP season and the players around him benefited greatly from his play. As much as the Flyers deserve to be here, they have no shot against Pittsburgh.
The Penguins are a machine on offence and the Flyers don't have a goalie who can save them in this round. Doesn't matter who they throw out there, he won't be able to stop Crosby, Malkin, Kessel and company. The only reason Philadelphia doesn't get swept in four is because Pittsburgh did give up 3.02 GA/GP, so they'll find a way to out score the Penguin in one game, but that's all.
The Penguins have a team that can go the distance again this year and it wouldn't surprise anyone if they made it back to the finals. Thanks for joining the April dance Philadelphia, but you'll only get about a week and a half to enjoy it.
New Jersey Devils vs. Tampa Bay Lightning
Prediction: Tampa Bay in 6
It's finally happened– Taylor Hall is going to experience what hockey in April is like. He literally carried this New Jersey team on his back to get here. The task now for the Devils is to find a way to get past the Lightning, and sadly, that won't be possible.
The Lightning have come back down to earth since they're crazy hot start to the season, but despite the normal regression everyone expected, they finished atop the Eastern Conference. There won't be any surprises in this series. Kucherov, Stamkos, Hedman, and the rest of this Tampa team is just going to be too much for a relatively inexperienced team to handle.
I will give the Devils a fighting chance in this one just because Vasilevskiy hasn't been that sharp down the stretch. Tampa Bay finished 13th in GA/GP, which is pretty average for them. The Devils haven't had the consistency in goal that we are used to seeing from them, and the Lightning have no trouble filling the net.
In all, the Devils will try everything possible to move on to the next round, but Hall can't do it alone and his supporting cast isn't there.
Boston Bruins vs Toronto Maple Leafs
Prediction: Boston in 5
I don't like saying it, but this Bruins team is build for a long playoff run. They've battled injuries all season long and they still managed to finish second in the Eastern Conference. It's not that the Leafs aren't a good team– they are! They have what it takes to probably get to the second round, but the Bruins are just on another level.
Boston's top line has dominated opposing teams all season long. Patrice Bergeron is as complete a hockey player as it gets. He's line is never on the ice when the opposing team scores, so it's going to be interesting to see how Matthews and company find a way to provide the offence.
The additions of Nash, Gionta and Donato provided a depth that no other team (with the exception of Pittsburgh) has. They are built for this!
Toronto did have a potent offence–finishing 3rd in GF/GP, but the Bruins finished 4th in GA/GP, despite all their injuries on the blue line. That's impressive. No one is questioning Toronto's offensive abilities, but we all know that scoring goals in the playoffs isn't easy.
Maybe the Leafs find a way to win one game at home, but I can't see them doing more than that. Maybe I'm completely wrong about this series and maybe Nazem Kadri  truly does believes that what happened last time these two teams met in the playoffs is long gone history, but I don't. Boston is ready to make a run and this is just the beginning.