2014 Fantasy Baseball: The Daily Double Switch for May 5th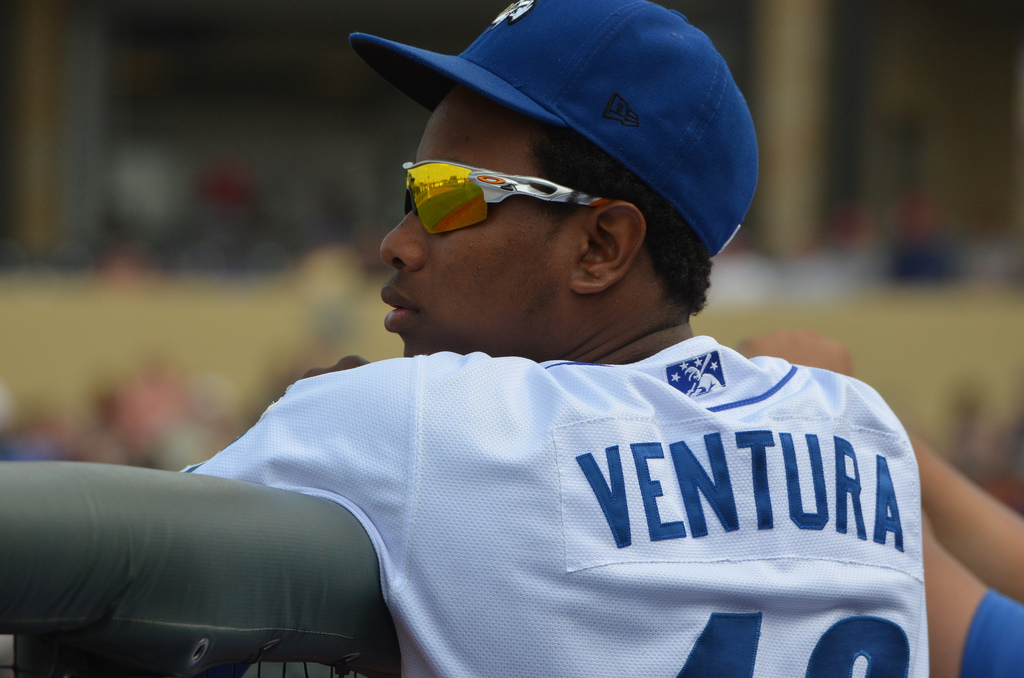 Happy Cinco de Mayo! I'm not sure if the day presents anything special to the players that wear number five, but perhaps we should take not just in case a mystical presence decides to drop in today.
New depositors to DraftStreet can earn a 100% deposit bonus up to $200 by using this link. 
Notable Number 5s
Albert Pujols
Freddie Freeman
Wellington Castillo
Jonny Gomes
John Jaso
[am4show have='p3;p4;p7;p11;' guest_error='Front Office' user_error='Front Office' ]
Weather
Just a few showers to be aware of in three games today, but none should be completely washed out.
MIN/CLE
LAD/WSH
SF/PIT
Positional Breakdown
Starting Pitchers
It's almost fitting that Mad Max, not Mad Mex, is the top pitching option today. The only problem is, everyone knows it and his price is astronomical. I really don't need to tell you too much about his matchup. He's fourth in the league in swinging strike percentage, his K/9 is 11.77 and the Astros strike out more than 25% of the time. Enough said.
Another electric arm is available today, for much cheaper. Yordano Ventura is going to be a stud. The kid is a complete flamethrower with devastating stuff. The only disappointing statistic is that Ventura is only averaging six innings pitched per start, but that should be enough tonight. His 9.30 K/9 and 1.50 earned run average get a tasty matchup at Petco Park against the anemic Padres offense tonight. Play him with confidence.
Scott Kazmir, Jeff Samardzjia, Zack Grienke and Nate Eovaldi all also are granted plus matchups tonight, pick and choose as you see fit.
Catcher
Buster Posey has excelled each and every time I've recommended him against a left-handed pitcher, so I'm going to do so again today. Posey gets to face Pirates' starter Jeff Locke who is making his first start of 2014. Posey's career splits against left-handers scream use today, especially since he gets a slight park edge moving from San Francisco to PNC Park.
Prior to this season, I often turned a blind eye to Miguel Montero, but it's time to take notice of his performance this season. Montero is hitting .307 with all four of his homeruns against right-handed pitchers this season and faces fly-ball pitcher, Matt Garza tonight at Miller Park. Should you not decide to wait and see who is catching in Colorado, take a chance on Montero.
Others to consider: John Jaso and Brian McCann.
First Basemen
Prince Fielder actually had a couple of extra-base hits yesterday and now gets to play at Coors Field. Yipee! How can you not love the matchup for Prince tonight? In a game that figures to be the highest scoring on the night, Fielder faces right-hander Jordan Lyles. He only has two homeruns this season, but I don't see him getting out of Colorado stuck on that number.
Brandon Moss is another solid option today. Moss is a guy you only use against right-handed pitchers as Bob Melvin is through and through a complete platoon splits manager at this point. Moss faces the super tall Chris Young tonight who is making a comeback after not pitching for a while. Moss had a couple of hits in the A's 3-2 victory over the Red Sox yesterday and travels back home to face Young today. Three of his four homeruns this season have been against right-handed pitchers.
Others to consider: Miguel Cabrera and Matt Adams.
Second Basemen
Second base is my least favorite position to choose from tonight. The usual studs have difficult matchups, and I can't find myself pulling the trigger on the players in the Colorado game. My favorite guy to use tonight is Scooter Gennett. Scooter has slide into the two spot in the Brewers lineup and has been swinging the bat well in Ryan Braun's absence. Braun won't be there to protect him for a while now and Scooter is the only left-handed bat that the Brewers have. His price still hasn't caught up to his performance, he's a great value option today.
Others to consider: Matt Carpenter and Brian Roberts. 
Third Basemen
Take me back to Colorado! Nolan Arenado keeps getting hits and Adrian Beltre is starting to get it going for the Rangers as they move to Colorado to take on the Rockies tonight. The over/under on this game is 10.5, nearly a run and a half higher than any of the other games on the slate today. Frequently rostering players from this game will result in points for your lineups.
Should you decide to look elsewhere, Juan Francisco is a solid option tonight. Francisco mashes right-handed pitching and Kyle Kendrick is not someone to fear. The Blue Jays are playing at Citizen's Bank Park tonight in what should be a high-scoring game, one that could feature a bunch of homeruns. All of the Blue Jays are in play, but Francisco provides the best bang for his buck.
Others to consider: Carlos Santana and Mike Olt.
Shortstop
#1: Troy Tulowitzki. It's becoming a bit much, but Tulowitzki is at home again, against a left-handed pitcher. It's too easy, but he's way better than any of the other shortstops available every day. Because of the large gap in player potential, it makes sense to roster Tulo as frequently as you can. Do so tonight.
If you can't seem to afford Tulowitzki, I like Jose Reyes a lot tonight. Reyes is familiar with Citizen's Bank Park as he got to play there a bunch as a New York Met. The best part about using Reyes tonight is his extreme potential to be hitting in plus situations. I don't see Kyle Kendrick slowing down the Blue Jays at all and he's going to have to get Reyes out in order to start on the right foot. Reyes hasn't been very good since he got back from the disabled list, but all of the odds are in his favor tonight.
Others to consider: Elvis Andrus and Jed Lowrie. 
Outfield
All of the Colorado and Texas outfielders are in play again today, but I want to focus elsewhere. Giancarlo Stanton might not be human. Stanton hit another two homeruns yesterday and is absolutely punishing everything that is thrown to him at Marlins Park. Tonight, Giancarlo faces a Jon Niese, a left-handed pitcher he has had success against in the past. Niese might want to just pick and choose his way around Stanton, but should he decide to throw anything close, it might not stay in the park.
I don't often recommend Hunter Pence, but I like the Giants offensive matchup tonight. Jeff Locke was not good at all in his minor league rehab starts and did not pitch well near the back end of last season with the Pirates. Pence never seems to be too expensive and is definitely affordable and in play tonight. He's hitting .317 against left-handed pitchers this year, with five of his thirteen hits being for extra-bases.
Others to consider: Coco Crisp, Jose Bautista, Carlos Beltran, Marlon Byrd and Michael Brantley.
Mini Stacks
Coors Field – Prince, Tulowitzki, Choo, Arenado
Citizens Bank – Bautista, Francisco, Byrd, Cabrera

[/am4show]