2014 Fantasy Baseball: Is Wil Myers Actually Being Overlooked?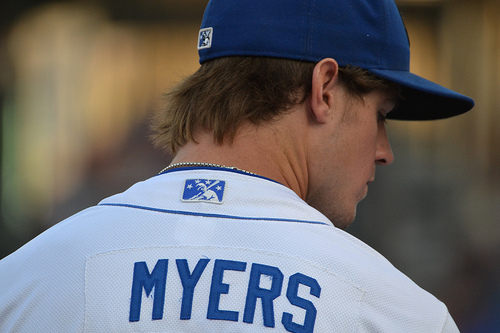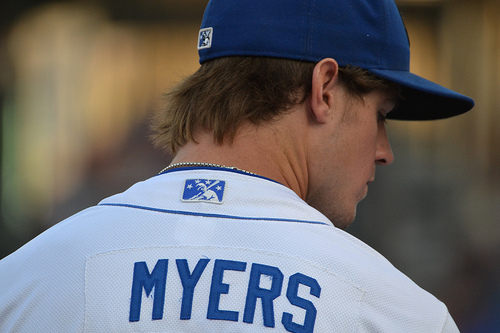 I am not the biggest Wil Myers fan. I own no shares of him in any dynasty or keeper leagues, and I did not own him at all in any league last year whatsoever (I participated in five). I see his flaws and understand what they are, but I still think he is being underdrafted.[am4show have='p3;p4;p7;p11;' guest_error='Front Office' user_error='Front Office' ]
The power did not play at the major league level as we had all hoped last season as his ISO sat at .185 while he was a perennial .200+ type player in the minors. Even so, he still managed to knock out 13 home runs in under 400 plate appearances and should be able to hit 25+ this season. With that expectation, there's also an obvious expectation of his batting average declining.
After hitting .293 last season backed by a .362 BABIP, it is easy to look and say his batting average will decline. I totally agree, but I don't think it will decline to the point of it being a liability. I can see him sitting in the .270's annually as he becomes more patient at the plate and hones his contact skills. He has the type of swing that can regularly have him with higher BABIP's, and he is a better athlete than some give him credit for. He can utilize his legs a bit to keep his average higher than the .250's I've seen quoted by many scouts and analysts.
The latter part leads me to another feature I think is undervalued when analyzing Myers, his speed. Last season between triple-A and the majors he stole 12 bags and got caught just three times. Those are not wowing numbers by any stretch but that's a solid rate and he should be allowed to run every so often. Expecting stolen base totals in the teens is certainly plausible, and a .270/25/13 player on the low end looks to be pretty valuable, especially when you place him in the middle of the Rays batting order where he should both produce runs and score them himself.
He is being drafted behind the likes of Yasiel Puig and Hunter Pence in Yahoo! leagues, two guys I would steer clear of in favor of Myers. Myers isn't as sexy as Puig and he isn't coming off of a career year like Pence, but all three possess impressive skill sets and I side with Myers' the most.
Puig had an extremely impressive rookie campaign, but I doubt the Dodgers' willingness to run him as frequently as they did last year if he continues to frequently run into outs. While Myers is not as fast as Puig, he is more efficient on the bases – Puig got caught eight times to just 11 stolen bases in the majors along with five caught stealings and 13 stolen bases at double-A. In aggregate, Puig stole far more bases, but with his rate being so low and the Dodgers having quality hitters hitting behind him, they may opt to keep Puig pegged to first more frequently. Add on the fact that Puig also should be expected to see a downturn in batting average due to an oddly high BABIP and the playing field looks a lot more even. There are a lot of similarities between the two, but Myers doesn't have a four man outfield to contend with and seems to be the less volatile an option. Even if you feel that Puig is better, it is hard to pinpoint why you would feel he is 35 total picks better.
Moving onto Pence, who is being drafted basically on par with Myers, you are basically banking on Pence to repeat his performance in order to beat out what Myers is expected to do next season. Pence was a demon on the base paths last year and that may very well continue this year as well, but now into his 30's there is reason to expect a decline in stolen base totals. I actually think Pence's home run abilities will continue as hitters usually provide value in that aspect into their 30's, but the rest of his skills may begin to decline. Sure, we could get a repeat of 2013, or we could get a repeat of 2012 where he hit .253 with 24 homers and 5 steals. Those aren't terrible numbers, but Myers is the more reputable pick in that scenario. Even if you split the difference, that is basically the player I pegged Myers to be on the low end this year.
All in all, Myers seems to be a guy people are shying away from at the draft due to his expected drop in batting average. I too expect that drop, but he still looks to be a guy that people are dropping in their drafts a bit too much. When looking for young power in the outfield, Myers is a guy I am attacking aggressively. He could be an absolute game changer 35 picks after Puig and with his upside coupled with a solid floor, Myers is a guy to bet on this season.
[/am4show]