2014 Fantasy Baseball: The Daily Double Switch for July 6th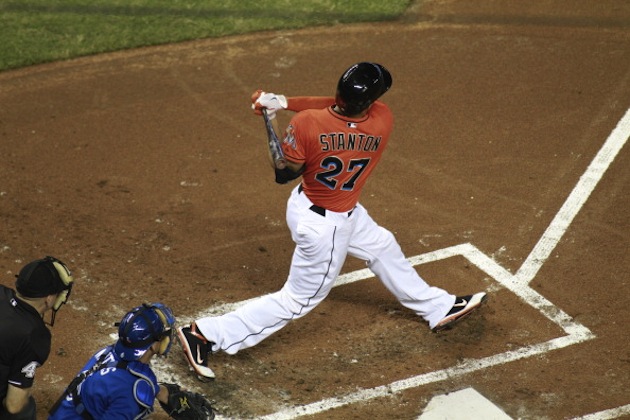 Good morning! I hope everyone had a great holiday weekend, here is to a solid ending, especially in DFS!
New depositors to DraftStreet can earn a 100% deposit bonus up to $200 by using this link.
Weather
Only Target Field in Minnesota shows any chance of showers today.
[am4show have='p3;p4;p7;p11;' guest_error='Front Office' user_error='Front Office' ]
Positional Breakdown
Starting Pitchers
If you were looking to see a pair of top arms against a pair of top offenses today, you got your wish. Newly minted Oakland Athletic, Jeff Samardzija and David Price take on the Blue Jays and Tigers, respectively. Both have been studs this season but both have not so tasty matchups today, so I won't be caught paying up for either, unless you're feeling it in a GPP.
Instead, I have my eye on a pair of arms in the middle tier. Jordan Zimmerman and Garrett Richards earn the dubious honor of peppering my lineups today. Zimmerman has been fantastic this season and faces a Cubs lineup that has the tendency to not show up for games at a time. The Cubbies were shut out yesterday, and typically struggle with efficient arms like Zimmerman's. Richards on the other hand has seemed to figure it out after a rough stretch he dealt with about a month ago. He's been lights out in his last five starts and faces the Astros today at home. The K potential surely lives in both of these matchups today, try to exploit it.
Catcher
Catcher has been a position that has frequently fallen to one or two guys, thanks to a lack of positional depth. On Sunday, when a lot of the number one backstops take a back seat, things get even more difficult, so I'm feeling a punt behind the dish today. Try punting with A.J. Ellis, or whoever starts in his place in Colorado today. Yohan Flande, a southpaw, gets the start for the Rockies in what should be a slugfest. If you're going to punt, there's no better place to take advantage of a young arm and the platoon advantage.
First Baseman
If there is one thing that Logan Morrison hasn't done in the last ten days, it's homer. Today could be the day! "LoMo" as he's affectionately known has been quite the baseball personality in his brief time in the league, and his recent play has actually been quite effective for the M's and DFS players alike. Over his last seven days he's hitting .346, and he's in a real nice hitter's park today at US Cellular. He also will get the luxury of facing Hector Noesi, owner of a ERA over 5 on the season. If you want to save some cash, test your luck with LoMo.
Second Baseman
I'm going to stay in the same ballpark, but take you in a different direction. Robbie Cano is a more frequent DFS play and I assume he'll be valued by many today. Frankly, Noesi isn't very good, and well, Robinson Cano is one of the best hitters in baseball, and probably the best second baseman. If you want to get the best guy, in the best spot at each position, this is a no-brainer.
Third Baseman
So, Marco Gonzales hasn't really worked out real well yet. Typically, the Cardinals flourish with these types of things, (see also: Michael Wacha) but not this time. Gonzales has been smacked around pretty hard in his few starts with the parent club and won't get an easier matchup today against the Fish. Um, also, Casey McGehee has been red hot. No, well, maybe white hot over his last seven games. He's hitting .435 during that stretch, but unfortunately with only one hit for extra-bases. He's also only hit one homerun this season, but that doesn't mean I don't like him today. He's going to get you a discount and he's a solid option against southpaws.
P.S. He'll allow you to get his much more powerful, much better, stronger, taller, teammate.
Shortstop
Runs are going to be scored in Colorado today. Most likely, Hanley Ramirez will have something to do with that. After being hit by a pitch and exiting Friday's game, Hanley came back yesterday to register a couple hits in a losing effort. He won't want to lose to Yohan Flande today and certainly he and the rest of the right-handed Dodgers should have a good time against young Mr. Flande. Sometimes people are yelling, "Don't Mess with the Yohan," but I'm messing with him today. Hanley is sporting a .932 OPS against southpaws, don't think too much.
Outfield
There are a ton of enticing options tonight, and I think essentially you should put them all in a cage match and see who comes out alive. The "Main Event" cage fight for tonight's final outfield spot would be between two young sluggers. In the red corner, weighing in at a lot more than me, the fearless, line drive homerun smoking, Giancarlo Stanton. In the blue corner, weighing in at a little less than the other guy, from the little country of Cuba, the maturing, flame-throwing, Yasiel Puig. Seriously though, could you guys imagine a fight to the death between these two? I'll make it easy on you, take both of them in certain spots just to avoid being embarrassed when they're both awesome, and you have neither.
[/am4show]