2016 NFL DFS: Week 12 DraftKings and FanDuel Breakdown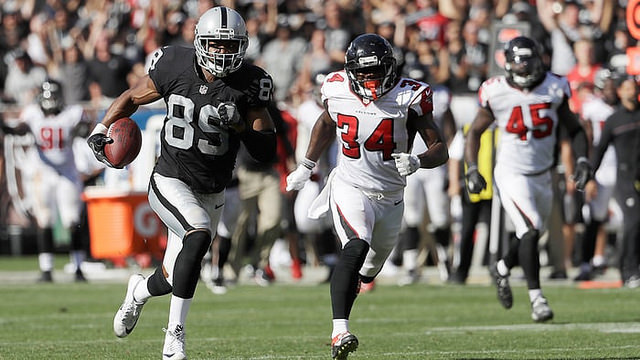 Below you'll find discussion of the players that are "in play" at each position for Week 12 main slate DFS contests on DraftKings and FanDuel (aka the 12 Sunday games beginning 1:00 PM ET or later). Players are arbitrarily listed in descending order of FanDuel salary and are not ranked in order of preference given differences between the sites and the varying types of contests you might be playing.
Quarterback
Drew Brees — vs. LA — DK: $7,100 — FD: $8,600
Brees is having an excellent year as he ranks fourth in QBR and first in Football Outsiders' Defense-adjusted Yards Above Replacement (DYAR). Brees and the Saints are a seven-point home favorite against the Rams this weekend with the fifth highest implied total in Vegas. The Rams haven't given up a ton of fantasy points to QBs this season, but they have faced a very weak crop of QBs. Of the top 11 QBs in yards per game this season, LA has faced just one of them and that was Carson Palmer. Brees is more talented than this matchup is tough. He's in play in cash on either site, and he might be low owned enough on DK to use in GPPs.
Derek Carr— vs. CAR— DK: $6,100 — FD: $7,900
Home favorites are good teams from which to pick your DFS quarterbacks, and like Brees, Carr and the Raiders are favored at home with the sixth highest implied total. Carr ranks fifth in DYAR this season and has an excellent matchup with Carolina. The Panthers rank 25th in Schedule-Adjusted Fantasy Points Allowed (aFPA) and 19th in pass DVOA. He's priced better on DK than FD, but the tougher price tag on FD should make him low owned enough there to consider in GPPs. He's a better cash option on DK, though.
Cam Newton — @ OAK — DK: $6,800 — FD: $7,800
Eli Manning — @ CLE — DK: $6,500 — FD: $7,800
Both Cam and Eli are GPP-only options and only on FD. Cam is a GPP option because of the upside that comes with his ability to score a couple of rushing touchdowns in any given game and because that CAR-OAK game has the second highest over/under on Sunday. Eli is an option due to the excellent matchup with Cleveland who ranks 28th in aFPA and 31st in DVOA. Both Odell Beckahm and Sterling Shepard have nice individual matchups if you're considering an Eli GPP lineup.
Russell Wilson — @ TB — DK: $6,700 — FD: $7,500
Going cheaper is never a bad idea at QB, and Wilson represents a cheaper alternative in cash on FD. The Seahawks have the eighth highest implied total on Sunday, and Wilson has a really nice matchup with Tampa who ranks 27th in aFPA and 18th in DVOA. Wilson seems to be completely healthy at this point as he has averaged 25.9 fantasy points over his last three games. For context about how good he's been in that stretch, Aaron Rodgers leads the league in fantasy points per game at 23.6.
Carson Palmer — @ ATL — DK: $5,300 — FD: $7,100
You know Carson Palmer isn't good, but just to drive the point home let's point out that he ranks 24th in DYAR. However, he's extremely cheap on DK (which has the tougher pricing of the two sites), and his matchup with Atlanta is a good one as the Falcons rank 29th in aFPA and 22nd in DVOA. Rostering Palmer would allow you to pay up for some stud receivers that figure to be low-owned this week due to tough matchups, which would make for a very contrarian GPP lineup.
Behind the paywall you'll find the rest of our Week 12 NFL DFS breakdown.
[cointent_lockedcontent article_labels="football"]
Running Back
David Johnson — @ ATL — DK: $8,900 — FD: $9,500
Johnson is obviously a monster and obviously has a great matchup with Atlanta this week, but he may not be the easiest guy to roster. His price tags are going to make him very tough to fit in to cash lineups, especially when there are plenty of cheaper options who should see tons of volume in good matchups. And because DJ figures to be one of the more popular backs on Sunday he makes sense to fade. Fit him in to cash lineups if you can, but don't force him in.
Jay Ajayi — vs. SF — DK: $7600 — FD: $8,400
This isn't tough to figure out. The Niners rank dead freakin' last in both aFPA and DVOA, and Ajayi has a couple 200 yards rushing games under his belt. He's had a couple "off" weeks the last two games, though off is in quotation marks because he still averaged a decent 4.45 yards per carry in those two games. The best thing about the "off" weeks is that they should help keep his ownership down this week. If you're going to pay up for one expensive back, this is the one to go with.
DeMarco Murray — @ CHI — DK: $7,700 — FD: $8,300
Murray has been extremely reliable this season with an average of 19.6 fantasy points per game in half-PPR leagues, and he has only had less than 15 fantasy points in one week this season. His matchup isn't great this week, but it's not all that bad either with Chicago ranking 10th in aFPA but 22nd in DVOA. Murray doesn't figure to be too heavily owned with guys like DJ and Ajayi being in good spots, so he could be an interesting GPP option.
Melvin Gordon — @ HOU — DK: $7,000 — FD: $8,200
Houston is much stronger on defense against the pass than the run, so this matchup sets up well for Gordon, especially since it's unlikely that Houston jumps out to a big lead and forces San Diego to throw a ton. Houston ranks 28th in aFPA against backs in PPR leagues and 18th in run DVOA. Gordon leads all backs in red zone rushing attempts this season, so there's always a good chance Gordon scores.
Thomas Rawls — @ TB — DK: $5,700 — FD: $7,000
This is another one that isn't too tough to figure out. With C.J. Prosise injured and Christine Michael in Green Bay, Rawls figures to see a lot of volume on Sunday. And game script should set up in favor of Rawls' volume as well with the Seahawks being 5.5-point favorites. Tampa ranks 25th in aFPA and 20th in DVOA, so there's little to dislike with Rawls. He's a better value on DK than FD, though he'll work in cash on either site. He figures to be fairly popular, so feel free to fade him in GPPs.
Spencer Ware — @ DEN — DK: $6,100 — FD: $7,000
Denver's defense is good, but they're unquestionably better against the pass than the run. They rank first in DVOA against the pass but only 25th against the run. They rank 17th in DVOA against RBs as receivers and 24th in aFPA. Don't go running him out there in cash games, but Ware is certainly an idea for a contrarian play. He should see 20 touches or so in what's really a pretty decent matchup, but no one will be on him.
Rashad Jennings — @ CLE — DK: $5,600 — FD: $6,600
Jennings has seen a big uptick in volume the last two weeks averaging 22 touches over that span, which is the seventh highest mark in the league. He should see plenty of volume again this week with the Giants being a touchdown favorite against Cleveland, who happens to rank 29th in aFPA and 30th in DVOA. Jennings has seen his salaries skyrocket this week with a $2K jump on DK and a $1K jump on FD. The huge jump on DK takes too much of the value out of Jennings, but he's still priced reasonably on FD.
Devontae Booker — vs. KC — DK: $5,600 — FD: $6,300
Booker got 26 touches in Denver's last game in Week 10, so he should be in line for another healthy does of touches coming off the by week. He's extremely reasonably priced on FD in terms of dollar spent per projected touch, which makes him worth considering there irrespective of matchup. That said, his matchup isn't a horrific one as the Chiefs rank seventh in aFPA but only 21st in DVOA.
Jeremy Hill — @ BAL — DK: $3,900 — FD: $5,900
Hill is nothing but a value play on DK. His matchup with Baltimore is certainly tough with the Ravens ranking first in both aFPA and DVOA. But Hill should see 20 touches with Gio Bernard out, and anyone getting 20 touches priced under $4K is worth a look no matter who they're playing. Perhaps the tough matchup is enough to preclude Hill from cash lineups, though cheap backs getting a lot of volume are generally great cash plays. But he's definitely worth a look as salary relief in GPPs.
Wide Receiver
Odell Beckham — @ CLE — DK: $8,800 — FD: $9,000
Feel free to spend your money here. Cleveland ranks 17th in DVOA against receivers in PPR leagues and 31st in pass DVOA. The Browns have not been able to contain the opposition's top receiving options as they rank 31st in DVOA against #1 receivers. That's due in large part to Joe Haden not being the Joe Haden of old. No team has allowed more passing touchdowns than the Browns, and that's likely to be true, if not even more so, after this week. Beckham figures to be more lightly owned on FD, so if you're worried about being contrarian in GPPs, only roster him in GPPs there.
Amari Cooper — vs. CAR — DK: $7,700 — FD: $7,800
With Michael Crabtree limited by an ankle injury to some degree, Cooper figures to be Derek Carr's preferred receiver this week.  Cooper also has the better of the individual matchups against against Carolina's corners, though that's not a huge concern as the Panthers as a team rank 22nd in aFPA and 19th in DVOA. Other than Beckham, there's no receiver you can feel as safe about as Cooper, though "safe" isn't really a thing in fantasy.
Demaryius Thomas — vs. KC — DK: $6,900 — FD: $7,500
The Chiefs are a mixed bag in terms of matchup for receivers as they rank 30th in aFPA but eighth in DVOA. Part of that gap may stem from the fact that Marcus Peters is good and the corner opposite him, E.J. Gaines, isn't. Thomas should see Gaines while Emmanuel Sanders should draw Peters, so DT is the Denver receiver to own this weekend. He can be used in cash games, but he should also be lowly enough owned to use in GPPS.
Jarvis Landry — vs. SF — DK: $5,900 — FD: $7,000
Last week Julian Edelman racked up 77 yards on eight receptions along with a touchdown against a San Francisco team that has difficulty covering slot receivers with Jimmie Ward struggling in that slot role. This week it's Jarvis Landry who draws the nice matchup, and Landry works even more out of the slot than Edelman does. So long as Landry's shoulder issue isn't reported to be a significant issue by Sunday, he's an underrated option this weekend.
Doug Baldwin — @ TB — DK: $6,400 — FD: $6,800
Baldwin isn't the most heavily targeted receiver, which makes him a bit risky, but his upside is obvious as he has a three-touchdown performance under his belt in the last few weeks. Since Wilson has gotten healthy, Baldwin is averaging 14.3 fantasy points per game in standard leagues. Baldwin is a talented slot receiver who often benefits from defenses not deploying their best corners in the slot, and Tampa is one of those defenses. Like Wilson, Baldwin is priced better on FD than DK, so that's the spot to use Seattle's passing game, while Rawls is priced better on DK.
Julian Edelman — @ NYJ — DK: $6,800 — FD: $6,400
From Week 7 on, only Antonio Brown, Larry Fitzgerald, Mike Evans and Julio Jones have been more heavily targeted than Edelman. That's obviously some good company to be keeping. As mentioned above, Edelman exploited a weak slot corner last week and will face another one this week in Marcus Williams. If Gronk is out again this week, Edelman becomes an even more attractive play.
Michael Thomas — vs. LA — DK: $6,600 — FD: $6,400
For cash games, Thomas is the safest Saint receiver to roster, and he's the best option to stack with Brees in a lineup. Brandin Cooks is going to draw the tough individual assignment of Trumaine Johnson more than any other NO receiver. Thomas has been consistent this season with at least four receptions in every game, but he's also flashed upside with a 130-yard performance and a two-touchdown game on his record.
Tyler Boyd — @ BAL — DK: $4,000 — FD: $5,600
While Jeremy Hill is an interesting option at such a low price point, the matchup with Baltimore sets up better for Cincy's passing game. The Ravens rank 26th in aFPA, and the Bengals figure to be playing from behind, so game script as well as matchup more favors the passing game than the ground game. Boyd should see plenty of targets with A.J. Green out, and Boyd is one of the best values this week, if not the best, in terms of dollar spent per projected target.
Julio Jones — vs. ARI — DK: $8,500 — FD: $8,700
Mike Evans — vs. SEA — DK: $7,500 — FD: $7,900
Allen Robinson — @ BUF — DK: $7,200 — FD: $7,400
Brandin Cooks — vs. LA — DK: $6,800 — FD: $7,300
Terrelle Pryor — vs. NYG — DK: $5,600 — FD: $6,900
Here's a group of talented receivers who all see plenty of targets but who carry enough risk this week to avoid in cash games this week due to tough individual matchups. But with talent and volume, any of these guys are capable of having a monster game, and they should all be fairly low owned. If you're looking for a GPP play, consider these guys if they fit your budget.
Tight End
At tight end you're looking for guys on teams with an implied total of 24+, and their team is preferably a favorite (even more preferably a home favorite). In general, tight ends see less volume than receivers, and they do their work closer to the line of scrimmage than receivers do on average, so tight ends are much more touchdown dependent for fantasy scoring. Touchdowns come with much more volatility than targets and yardage do, so it's not a bad idea to spend less on such a volatile position.
To that end, there are several cheap TE options on DK like C.J. Fiedorowicz ($3,300), Dennis Pitta ($3,200) and Coby Fleener ($3,100). If you need to save a hundred bucks or two, feel free to go down from Fiedorowicz, but he's definitely the best option of this cheap trio. Only three tight ends have seen more targets per game from Week 4 on, so Fiedorowicz is seeing a lot of volume for someone at his price point. He's also the best cheap option over on FD, and there aren't really great alternatives. If for some reason you have extra money to burn on a tight end, Greg Olsen and Jimmy Graham are the guys to consider. Both make for good options in GPPs with Cam or Wilson as your QB.
Kicker
All you're looking for in a kicker is a kicker that plays for a favorite who has an implied total of 24 or more. Preferably the team would be a home favorite, but road favorites are acceptable as well. The cheapest kicker who meets that criteria this week is Buffalo's Dan Carpenter at the minimum price. The Bills have the third highest implied total on Sunday, and they're playing the Jags who rank 31st in aFPA against kickers. Weather doesn't look like it's going to be an issue in Buffalo on Sunday, so there's almost no reason not to roster Carpenter.
Defense/Special Teams
I write a DFS D/ST article each week for FantasyAlarm.com, so I'm copy/pasting what I wrote there below.
The key with defenses is finding defenses that will face a lot of passing plays. Fantasy point-scoring events like interceptions and sacks occur exclusively on passing plays, and fumbles actually occur more on passing plays than running plays. Defensive touchdowns are difficult to predict, but they're also more likely to occur on passing plays with 53 pick sixes last year compared to only 33 scoop 'n scores.
One of the best ways to identify defenses that will face a lot of passing plays is identifying Vegas favorites, preferably home favorites. And obviously the lower the opponent's implied point total, the better the matchup for the defense.
Premium Options
Three teams qualify as "chalky" this weekend by way of being average to above average defense with good matchups: New York, Buffalo and Miami. All three teams are facing opponents that have an implied total in Vegas of 19 or less and have all been favorable fantasy matchups for opposing defenses. The Giants, who rank seventh in Football Outsider's Defense Efficiency Ratings (DVOA), will be in Cleveland facing the Browns who have allowed the third most fantasy points per game to opposing defenses. The Dolphins, who rank seventh in DVOA, will host the Niners who have allowed the sixth most fantasy points per game to opposing defenses. And the Bills, who rank 16th in DVOA, will host the Jags who have allowed the fifth most fantasy points per game to opposing defenses.
The Bills may end up being the most highly owned of these three options, but lean towards the better defensive units of New York and Miami. Both defenses are cheaper than Buffalo on DK (with Miami being the cheapest there), and New York will cost you the same that Buffalo will on FD. If you play over on Fantasy Aces, the Bills are the cheapest of the trio there, so that's the best spot to use them in cash.
Sneaky Options
This week there are two defenses that rank top five in DVOA and are facing opponents with the two lowest implied totals on Sunday, yet the three defenses mentioned above will likely be more highly owned.  Denver, home to Kansas City, and Baltimore, home to Cincinnati, rank second and fourth respectively in DVOA, but they won't be too higly owned because their opponents have only been average fantasy matchups for opposing defenses this season. Of the two, Balitmore is particularly interesting because they're cheaper across the board compared to Denver, and Baltimore's opponent, Cincy, is missing some key pieces on offense with A.J. Green and Giovani Bernard injured.
Bargain Options
If you're looking to go as cheap as you possibly can, consider Houston on DK at only $2,600. The Texans are a home favorite, albeit a slight one, and the Chargers only have an average implied total of 23. The Texans have an above average defense this season as they rank 12th in DVOA, and the Chargers aren't a bad matchup as all as they've allowed the tenth most fantasy points per game to opposing defenses.
On FD or Aces, New Orleans is the cheapest possible option. The Saints defense is unquestionably bad as they rank 24th in DVOA, but their matchup with the Rams could cure what ails them. Only the Jets have allowed more fantasy points per game to opposing defenses, and the Rams have the sixth lowest implied total (19.25) on Sunday. Of the seven defenses cheaper than New Orleans on Sunday, all seven are facing teams with an implied total of at least 23.75. Over on Aces there are no defenses cheaper than the Saints as they literally cost the minimum price.
[/cointent_lockedcontent]