2016 NFL DFS: Week 6 DraftKings and FanDuel Breakdown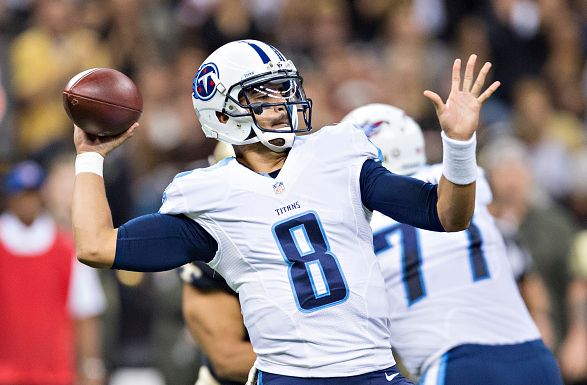 Below you'll find discussion of the players that are "in play" at each position for the Week 6 main slate DFS contests on DraftKings and FanDuel (aka the 13 Sunday games beginning 1:00 PM ET or later). Players are arbitrarily listed in descending order of FanDuel salary and are not ranked in order of preference given differences between the sites and the varying types of contests you might be playing.
Quarterback
Cam Newton — @ NO — DK: $8,100 — FD: $8,900
Cam is a cash option on either site if you're willing to pay up for him. I generally prefer to go cheaper at QB, but it is a nice matchup for him against New Orleans who ranks 28th in Football Outsiders' DVOA and 26th against the pass. However, the Saints do rank 11th in 4for4.com's Schedule-Adjusted Fantasy Points Allowed (aFPA), so the matchup isn't quite as great as initially thought. He'll be too popular for GPP use and his price is a bit much for me on DK, but he could be a cash option on FD given their softer pricing.
Drew Brees — vs. CAR — DK: $7,900 — FD: $8,500
With a large chunk of last year's secondary gone, Carolina is now a favorable matchup for QBs ranking 20th in aFPA and 22nd in pass DVOA. That and a healthy implied total of 25 points in Vegas for New Orleans puts Brees in play this weekend. Like Cam, Brees will be too popular for GPP use, and his price on DK just isn't good enough for cash use. But he's priced well on FD and is a cash option there. Unless you're going cheaper at QB in FD cash, I'd prefer Brees to Cam in that spot.
Russell Wilson — vs. ATL — DK: $6,900 — FD: $8,400
Seattle is a six-point favorite at home with a healthy implied total of 26, which puts Wilson squarely in play. It's also a great matchup as Atlanta ranks 31st in aFPA and 24th in pass DVOA. I like Wilson about as much as I like Brees, and Wilson is $1,000 cheaper than Brees on DK. That makes Wilson is a no brainer in DK cash unless you're going as cheap as you can at the position. But over on FD Wilson is only $100 cheaper than Brees, so that's a close call.
Tyrod Taylor — vs. SF — DK: $5,300 — FD: $7,800
Marcus Mariota — vs. CLE — DK: $6,100 — FD: $7,600
Taylor is your cheapest possible option on DK, and Mariota is your cheapest possible option on FD. I'm never opposed to going cheap at QB, and these guys fit the mold of viable cheap options this week. Both of their teams are a touchdown favorite or more at home, and both of their teams have an implied total over 25. As a result, both guys are in a great position to return value. It's also going to be a tough week to find cheap running backs, so you could be forced to go cheap at this position. Both guys should also be fairly lightly owned, so either guy would also make for a good GPP option.
Behind the paywall you'll find the rest of our Week 6 NFL DFS breakdown.
[cointent_lockedcontent article_labels="football"]
Running Back
LeVeon Bell — @ MIA — DK: $7,900 — FD: $9,300
What's not to love here? Bell has almost 50 DK points combined in his first two weeks back, and he hasn't even found the end zone yet. Perhaps the matchup is middling against Miami who ranks 10th in aFPA vs. RB and 18th in run DVOA, but his matchup with the Jets last week was downright bad and he had no problem producing. He'll be insanely popular, so he can be faded in GPPs, though you can use him in GPPs if you get contrarian at your other RB slot and throughout most of the rest of your lineup.
DeMarco Murray — vs. CLE — DK: $7,700 — FD: $8,800
Tennessee managed Murray's touches a bit in the first three weeks, but in the last two games he has 27 and 32 touches. Volume is key at this position, so you love to see Murray getting a Dallas-level workload. He has an excellent matchup with Cleveland ranking 27th in aFPA and 22nd in run DVOA. He'll also be popular, but not quite as popular as Bell and the guy we'll discuss next, so Murray works for cash or GPP.
LeSean McCoy — vs. SF — DK: $6,900 — FD: $8,200
Shady has been excellent the last three weeks, and he has a great matchup this week with San Francisco who ranks 26th in aFPA and 23rd in run DVOA. If there's once concern with Shady it's that he has only topped 20 touches once this year, which he did in Week 4. He does have at least 19 touches in every game, so it's not like volume is a concern, but he's not getting a heavy workload like the guys discussed above. Unlike Bell, McCoy is someone to avoid in GPPs due to likely high ownership.
Todd Gurley — @ DET — DK: $6,700 — FD: $7,900
Gurley ranks third in touches through five weeks, and he doesn't figure to be too heavily owned, which makes him a GPP consideration. He also has 17 red zone carries, which ranks fourth in the league, so he certainly meets the volume criteria. An iffy matchup is what makes me a bit wary to use him in cash games. Detroit ranks 28th in run DVOA but fifth in aFPA. If you like Gurley, his price is probably a bit better on FD.
Jordan Howard — vs. JAC — DK: $6,200 — FD: $7,700
Howard's price tags have shot up and deservedly so. Not only has he seen his volume increase with Jeremy Langford out (45 touches the last two weeks), but he's been productive with all the work as he's scored 47.5 DK points the last two weeks combined. Jacksonville ranks 16th in aFPA and 29th in run DVOA, so this matchup is just fine. Howard will probably be owned similarly to Murray, which means more than Gurley but quite a bit less than Bell and McCoy. He could be used in GPPs, and he'll work for cash games on both sites as he still provides value in terms of dollar spent per projected touch.
Mark Ingram — vs. CAR — DK: $6,000 — FD: $6,700
Carolina is a much tougher matchup for Ingram than they are for Brees as the Panthers rank eighth in aFPA and sixth in run DVOA. That said, Ingram is priced very well on FD and does not figure to be highly owned, so he makes for an interesting GPP play as he's still a good value in terms of dollar spent per projected touch on FD.
Carlos Hyde — @ BUF — DK: $5,100 — FD: $7,300
Hyde has been underpriced on DK all season, and that continues this week. He's arguably the best value on the slate there in terms of dollar spent per projected touch, which makes him a good cash option. He also doesn't figure to be heavily owned, so he'll work in GPPs as well. Buffalo does rank 11th in run DVOA but only 23rd in aFPA, so the matchup isn't prohibitive.
Isaiah Crowell — @ TEN — DK: $4,600 — FD: $6,500
Crowell represents the cheapest possible option I can recommend on either site. He has seen at least 14 touches each week this season and has two weeks with 19 touches, so there's enough volume there for him to potentially return value at his price point. Tennessee ranks 12th in both aFPA and run DVOA, so Crowell is not a cash option considering the matchup and decent-not-great volume. But he should be lightly owned, so he could be used as salary relief in GPPs.
Wide Receiver
Antonio Brown — @ MIA — DK: $10,000 — FD: $9,700
Brown ranks second in the league in targets and has at least 22 DK points in four of five games. As you can see his pricing is getting ridiculously high, but deservedly so. That 10K price may be really tough to fit in on DK with the tougher pricing, but the high price should also keep his ownership rate down. As a result, he might not be a cash option on DK but a GPP option. On FD it's likely the reverse. Softer pricing keeps him in play in cash games but should make him a bit too popular for GPP usage.
Allen Robinson — @ CHI — DK: $7,800 — FD: $8,600
Robinson is averaging just more than 10 targets per game, so he's certainly getting enough volume. He also has a nice individual matchup this week against Chicago. The Bears have been mid-pack against opposing passing games, but they rank 27th in DVOA against #1 receivers. That's probably because they let their best corner, Tracy Porter, end up one-on-one with the opposition's best receiver while other defensive backs get some help. And while Porter is Chicago's best corner, he's not one of the better corners in the league. Robinson is in play on both sites, though I like him best on FD, and in both cash and GPPs.
Odell Beckham — vs. BAL — DK: $8,800 — FD: $8,300
Beckham has a nice price tag on FD and a nice individual matchup against Jimmy Smith. Beckham might be a little too heavily owned in GPPs, though it's worth pointing out that receiver ownership may be a bit more varied this week than usual. As a result, you might not have to worry too much about getting contrarian at this position with the exception of Brown on FD.
T.Y. Hilton — @ HOU — DK: $7,700 — FD: $7,900
Hilton spends most of his time in the slot and ends up seeing a lot of nice individual matchups as a result. That should be the case this week against Houston who lacks a great slot corner. As with most receivers, Hilton's price is better on FD, but he's not someone that's an FD-only play like Beckham is. As for ownership, he should be owned similarly to Beckham, and those two plus Brown would be guys to fade if you're trying to be very contrarian.
Marvin Jones — vs. LA — DK: $7,200 — FD: $7,700
LA ranks 14th in pass DVOA so far, but in five weeks they have only faced one team that is above average in pass offense DVOA. When you look at aFPA (which is schedule adjusted) they rank 24th against receivers, so this is a good matchup for both Jones and Golden Tate. Jones makes for a good cash option on either site, and should be low-owned enough on FD to be a GPP option there.
Amari Cooper — vs. KC — DK: $7,500 — FD: $7,100
Kansas City's Marcus Peters sticks to one side of the field in coverage and it happens to be Michael Crabtree's side of the field, so Cooper should have the much better individual matchup this weekend. His price is too high on DK, but he's priced well on FD and both a cash and GPP option.
Randall Cobb — vs. DAL — DK: $6,000 — FD: $7,000
With Orlando Scandrick not quite ready to return, Cobb should have a nice individual matchup with Anthony Brown out of the slot. Meanwhile, Jordy Nelson should be dealing with the surprisingly good Mo Claiborne on the outside. Cobb is priced well on both sites and should not be highly owned.
Tavon Austin — @ DET — DK: $3,900 — FD: $5,700
Detroit ranks dead last in DVOA against "other" receivers, so Austin has an excellent matchup here as LA's slot man. Austin is priced very well on DK and makes for a good salary relief option there. He's probably preferable as a cash option, but his ownership shouldn't be so high that he has to be faded in GPPs.
Michael Thomas — vs. CAR — DK: $4,300 — FD: $5,400
Brandin Cooks will likely be the receiver stacked most often with Brees, especially on FD where his price is softer. But I'd be inclined to stack Thomas with Brees instead. Thomas is averaging almost eight targets per game and thus represents a nice value in terms of dollar spent per projected target. I like Thomas's price relative to the cap bit better on FD, which is the only site where I'd use Brees, so that's the stack I'd go with if Brees ends up being your QB.
Brandon LaFell — @ NE — DK: $3,200 — FD: $5,300
Among receivers available in this slate, Jordy Nelson ranks first in red zone targets. After Jordy, LaFell is in a four-way tie for second with eight red zone targets along with guys like Robinson and Hilton. In terms of dollar spent per projected target, LaFell is arguably the best value of the slate.
Tight End
At tight end you're looking for guys on teams with an implied total of 24+, and their team is preferably a favorite (even more preferably a home favorite). In general, tight ends see less volume than receivers, and they do their work closer to the line of scrimmage than receivers do on average, so tight ends are much more touchdown dependent for fantasy scoring. Touchdowns come with much more volatility than targets and yardage do, so it's not a bad idea to spend less on such a volatile position.
Three tight ends catch my eye this weekend who meet that Vegas criteria:
Greg Olsen — @ NO — DK: 7,000 — FD: $8,100
The odds are pretty high that you won't be able to afford Olsen. Unless you go really cheap at QB and focus on at least one value play at both RB and WR, I don't see Olsen making a ton of sense. But in the event that you do have cash to burn or if you're making a Cam lineup, Olsen is an option in those instances.
Delanie Walker — vs. CLE — DK: $5,500 — FD: $6,700
Delanie will most likely be the tight end I own most this week. Cleveland ranks 32nd in aFPA vs. TE and 30th in DVOA against tight ends, so it's a spectacular matchup for Walker. He should be one of the more popular options along with Olsen, but this a position where I worry less about being contrarian.
Coby Fleener — vs. CAR— DK: $3,500 — FD: $5,600
If you are trying to be contrarian or are just trying to go cheap at the position, consider Fleener. This game has the highest over/under of the slate, and Fleener is a good way to get some cheap exposure to it. On top of that, Carolina ranks 29th in aFPA and 26th in DVOA against tight ends.
Kicker
All you're looking for in a kicker is a kicker that plays for a favorite who has an implied total of 24 or more. Preferably the team would be a home favorite, but road favorites are acceptable as well. The cheapest kicker who meets this criteria this week is Tennessee's Ryan Succop who is priced at the minimum. Tennessee is a touchdown favorite at home with an implied total of 25.25. Succop shouldn't be too highly owned, so he can be plugged into both cash games and GPPs. If for whatever reason you don't like Succop, Connor Barth and Nick Novak also meet the Vegas criteria, though their teams are lesser favorites with lesser implied totals. If you have money left over to spend, Dan Carpenter at $4,700 has Vegas variables a bit better than Succop's. And if you have even more left over for some reason, Stephen Gostkowski at $5,000 is in the best position according to Vegas.
Defense/Special Teams
I write a DFS D/ST article each week for FantasyAlarm.com, so I'm copy/pasting what I wrote there below.
The key with defenses is finding defenses that will face a lot of passing plays. Fantasy point-scoring events like interceptions and sacks occur exclusively on passing plays, and fumbles actually occur more on passing plays than running plays. Defensive touchdowns are difficult to predict, but they're also more likely to occur on passing plays with 53 pick sixes last year compared to only 33 scoop 'n scores.
One of the best ways to identify defenses that will face a lot of passing plays is identifying Vegas favorites, preferably home favorites. And obviously the lower the opponent's implied point total, the better the matchup for the defense.
Premium Options
The chalk this week is Tennessee and Buffalo. Both teams are about touchdown favorites at home, and their opponents are tied for the lowest implied team total in Vegas at 18.25. Tennessee will host Cleveland who is tied for eighth in most fantasy points allowed to opposing defense per game. They're tied in that stat with San Francisco, which is who Buffalo will host. So as far as matchup goes, these teams are dead even.
But once you get past matchup, there are several reasons why Tennessee might be the better play. First, Tennessee has been the slightly better defense this season, though both have been good. Tennessee ranks seventh in Football Outsiders' defensive DVOA while Buffalo ranks 11th. Second, Tennessee is cheaper than Buffalo on both DK and FD and significantly so on DK. And finally, Buffalo seems as if they'll be the most heavily owned defense this week. So go with Tennessee and pay a bit less for the better, lesser owned defense.
Sneaky Options
This category is reserved for good defenses that may be overlooked in a given week for whatever reason, providing you with the opportunity to roster a really good unit with a lower ownership rate.
Seattle certainly fits that bill this weekend. The Seahawks rank first in DVOA, but they don't figure to be too highly owned given that they're facing the team that ranks first in offensive DVOA, Atlanta. Vegas clearly thinks Seattle will win this battle of strengths with the Seahawks being a six-point favorite at home and with Atlanta having the fourth lowest implied total on Sunday. Seattle's price isn't overly appealing on DK, but they're priced well enough on FD and Aces.
Philadelphia trails only Seattle in defensive DVOA. The Vegas variable don't favor them nearly as much as Seattle as they're on the road and only a two-point favorite. Their opponent, Washington, has the eighth lowest implied total, which is good but not great. But if you're looking for a cheaper version of a good defense likely to be largely overlooked this weekend, Philly applies on DK and FD (not on Aces where they're the same price as Seattle).
Value Options
If you're looking to go as cheap as you can with your defense, Chicago may be your best bet. They're a 2.5-point favorite at home, and their opponent, Jacksonville, has a slightly below average implied total of 22.25. The Bears defense hasn't been good this year, but they rank a semi-respectable 18th in defensive DVOA to date. On DK, only two defenses are cheaper than Chicago on Sunday, and both of those teams rank bottom five in DVOA. On Aces the Bears are priced at the minimum.
The Bears are also a cheap option on FD, but New York is the same price and might be a preferable option there. The Giants have been a slightly better defense as they rank 16th in DVOA. They also have slightly more favorable Vegas variables as they're a three-point home favorite to Baltimore who has a lower implied total (20.5) than Jacksonville.
[/cointent_lockedcontent]