College Football DFS: September 5, 2015 – Early Slate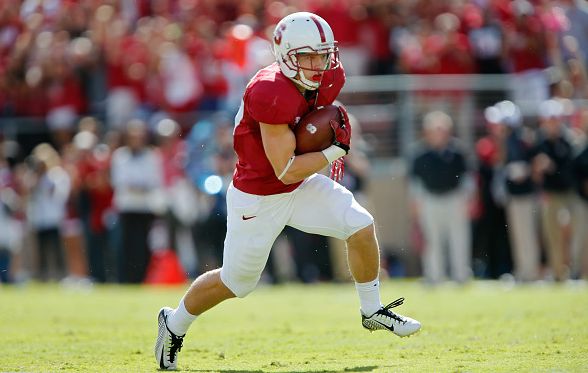 Man, it is good to have football back. I got home from work on Thursday and devoured as much football as I could get my eyes on. I watched a game involving the Central Michigan Chippewas, which is something I would normally only do if the outcome would have an impact on a bowl pool I was in. I also threw together a DFS lineup for the evening and turned $7 into $115. I wish I hadn't been so cautious with the first slate of the year and had invested as much as I normally would. Alas.
I don't know how much college football writing I'll be able to do this year, but I have found the time this weekend. My girlfriend is out of town and there's no NFL yet, so I found the time. But once the NFL starts, with baseball still going and hockey starting right after that, it may be hard to find time to do a CFB post every week. I'll do my best, but no guarantees. I know for certain I won't be able to write anything next week. But this week I'm here, so let's get into it.
Below are positional rankings for the early slate of DraftKings contests on Saturday with some commentary along the way. Keep in mind that salary has a huge impact on a player's ranking. I'll have a post up for Saturday's evening slate a little later this evening (Friday evening).
Quarterback
Dane Evans -$6,700 – Tulsa
Jeremy Johnson – $7,000 – Auburn
Luke Falk – $9,600 – Washington State
Patrick Mahomes  -$8,400 – Texas Tech
Jacquez Johnson – $6,200 – Florida Atlantic
I think this may be the lowest we see Jeremy Johnson priced all year. I don't know if the talk about him being a Heisman contender or in the mix for SEC offensive player of the year is reasonable, but the talk is happening. And if he does end up being in those conversations mid-season, he's going to cost you a lot more than $7,000 in a month or two. If he lives up to this ranking, he may even cost you more in a week or two. We haven't seen much from Johnson with Nick Marshall manning the offense recently, but Johnson started the first half of last year's season opener with Marshall out for disciplinary reasons. In the first half he went 12-for-16 for 243 yards and two touchdowns. Not too shabby.
I should note that Texas Tech still hasn't officially named a starting QB for the weekend. As a Tech grad, I think Patrick Mahomes is a no-brainer over Davis Webb, and I thought the coaching staff felt similarly. But I'm not positive that's the case, and that makes Mahomes a risky play, if he even plays. I sort of have sources on this, and I'm pretty sure it's going to be Mahomes, but if you're going to consider Mahomes, you're really going to have to be on top of things on Saturday morning. That game doesn't kick off until 2:30, so it's possible that we may not know for sure who Tech plans to use at QB before early games lock. And you'd also run the risk that the Red Raiders switch QBs mid-game.
Luke Falk is an option if you have spare money to burn, but I don't know that you will have the money to pay up for him. And Jacquez Johnson is listed purely as a salary relief option. But going with Dane Evans and Auburn's Johnson should be more than enough salary relief if that's what you're after.
Running Back
Christian McCaffrey – $4,800 – Stanford
Jon Hilliman – $6,900 – Boston College
Terrel Newby – $4,400 – Nebraska
Kody Walker – $3,700 – Arkansas
Alex Collins – $9,200 – Arkansas
LeShun Daniels – $6,200 – Iowa
After not recommending some of the more expensive quarterbacks of the slate, it might seem strange that I'm also leaning on some cheaper running backs here. But when building lineups for the early slate I found I had to stay focused on value at this position to get everyone into my lineup that I wanted. Don't worry. We'll spend a bit on receivers.
I probably like Jon Hilliman more than Christian McCaffrey and will roster Hilliman where I can, but McCaffrey's price is just too nice. McCaffrey averaged 7.1 yards per carry last year and 14.8 yards per reception, so he can do damage with the ball in his hands. The problem for him last year was that he only touched the ball 59 times. But 37 of those 59 touches came in Stanford's last four games, so he was being worked into the offense more late in the year. And Stanford coach David Shaw was quoted in the offseason as saying they'll be "taking the reins off" McCaffrey this season. He's just a must play at this price point.
I think you'll be able to fit Hilliman and McCaffrey into a lineup because I was able to do so. But if you want to roster Falk or Mahomes as opposed to the cheaper QBs, you might have to forego Hilliman and roster Terrel Newby or Kody Walker. Newby may well be the lead back for the Cornhuskers despite the presence of senior Imani Cross and his 22 career rushing touchdowns. Word is that Newby will be the lead back because his versatility is more suited to new coach Mike Riley's offensive system. Versatility includes catching passes out of the backfield, which is a big deal with the PPR scoring on Draftkings.
Walker is listed as even more salary relief if you need it. Walker's next in line behind Alex Collins in Arkansas' backfield this year. Collins essentially split the carries with Jonathan Williams last year, but Williams is out after foot surgery. They're not necessarily going to continue to split carries between two backs as they may not view Walker to be on the same level as Williams. But coach Bret Bielema apparently threatened to let Walker steal carries from Collins back in the offseason. That could just be coach speak to light a fire under Collins' ass, but maybe it's more.
For this week, forget how that backfield plays out this year. Even if Collins sees the majority of the work, there still may be room for Walker to get plenty of work in this game in which Arkansas is a 33-point favorite. Garbage time, please.
Collins himself is an option if you kind of ignore my advice and go cheap at receiver and as cheap as possible at QB. But I don't recommend it. Obviously.
Wide Receiver
Keevan Lucas – $7,800 – Tulsa
Gabe Marks – $6,200 – Washington State
Dom Williams – $4,800 – Washington State
DaeSean Hamilton – $4,700 – Penn State
James Quick – $4,400 – Louisville
Isaiah McKenzie – $3,000 – Gerogia
Devin Lauderdale – $5,200 – Texas Tech
A big part of the reason why cheaper quarterbacks and running backs were ranked highly above is me wanting to pay up for Keevan Lucas. With his quarterback looking like the best value of the slate to me, Lucas sort of became an automatic play. His quarterback, Evans, threw for 3,102 yards last year, and Lucas accounted for almost 40 percent of that yardage with 1,219 yards in 12 games and 11 touchdowns to go along with the yardage.
With two Washington State receivers ranked 2/3, you might wonder why I didn't rank Luke Falk more favorably. The answer is simply price. You could get Falk in a lineup with one or both of his receivers listed here, but you'd really have to take some risks at flex and in your third receiver slot. I'd be fine with McCaffrey/Newby at running back, but the other receiver slot and flex slots would be dicey.
That said, candidates for those other receiver/flex slots are 4/5 on this list, DaeSean Hamilton and James Quick. I prefer Hamilton to Quick, but both could be values at this price point. If you really need salary relief, I've included Isaiah McKenzie here solely for that purpose. He's priced at the minimum $3,000, and apparently he has secured the No. 2 receiver role for Georgia. The Bulldogs are going to blow out Louisiana-Monroe, so they're not likely to throw much. But if you need a minimum price gamble, McKenzie is it with the Bulldogs having the highest team total of the slate in Vegas. And finally, Devin Lauderdale is included if you do indeed to go with Mahomes at QB. Jakeem Grant is another option to stack with Mahomes, but he's a little rich for my blood.