College Football DFS: Week 3 – Early Slate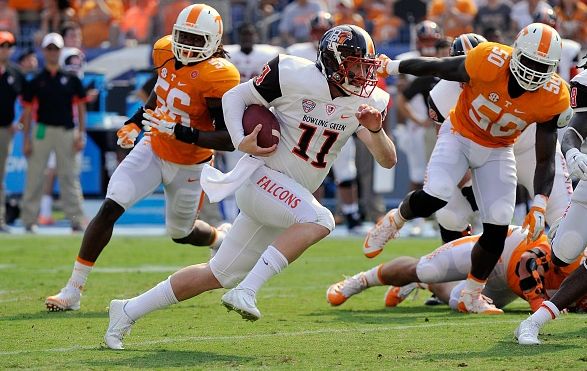 Below are positional rankings for the 15-game early slate of DraftKings contests on Saturday with some commentary along the way. Keep in mind that salary has a huge impact on a player's ranking. 
Quarterback
Matt Johnson – $8,700 – Bowling Green
Thomas Sirk – $6,600 – Duke
Dane Evans – $7,400 – Tulsa
Kyle Allen – $7,400 – Texas A&M
Of the eight teams in the early slate with the highest projected team totals in Vegas, you've got six Power 5 teams plus Bowling Green (MAC) and Memphis (AAC) who will square off in Kentucky. Through two games Bowling Green's Matt Johnson has 915 passing yards and eight touchdowns, which are obviously huge numbers. It would be hard to argue he's not one of the better options at QB in this slate, but he's not quite priced like the other top guys at the position as six other QBs have a higher price tag. That makes him somewhat of a value despite him not being super cheap.
But if it's value you're after, Thomas Sirk is your man. Sirk is averaging an impressive 33.8 DK fantasy points through two games due in large part to his ability to do damage on the ground as well as through the air. He has 613 passing yards with five touchdowns (no interceptions), and he has 154 rushing yards with another score. He's facing a Northwestern team that was fine defensively last year, but they only ranked 45th in the county in the S&P+ ratings. Almost 20 quarterbacks are more expensive than Sirk, so he's got plenty of value potential.
Should you look elsewhere at QB, Tulsa's Dane Evans and Texas A&M's Kyle Allen are options. If you've purchased our CFB content the first two weeks of the season, you've already seen Evans' name twice as he's manning a high-tempo offense with two really good receivers to throw to. He hasn't completely gone off in either game, but he has reached at least 20 points in both. Vegas doesn't like Tulsa much against Oklahoma, projecting them for only 20.5 points. But they're obviously going to be throwing a lot playing from behind, and OU's defense was good but not great against the pass last year (32nd in S&P+).
Vegas does like the Aggies at home against Nevada, projecting them for 49.5 points. But that means the game flow will be working against Allen as opposed to for Evans. If Allen can do enough damage early, he could certainly outperform Evans. But A&M certainly hasn't leaned on Allen heavily early in the season. They've run the ball 94 times compared to Allen's 39 pass attempts. Kyler Murray has played plenty with 23 passes through two games, so it won't be a surprise if they go to their very capable backup sooner rather than later.
Running Back
Peyton Barber – $4,800 – Auburn
Terrell Newby – $6,600 – Nebraska
Jahad Thomas – $9,500 – Temple
Patrick Skov – $4,900 – Georgia Tech
Joe Mixon – $4,700 – Oklahoma
Let's start with two names that are not on this list, Royce Freeman and Ezekiel Elliott. Both of them could absolutely go off as Oregon and Ohio State are two of four teams in this slate separated from the pack in terms of highest projected team totals in Vegas. But how much work are they going to get? Are they going to get multiple scores early to offset what is likely a reduced workload? The odds are pretty decent that they will, but the odds that they won't are not insignificant. If you're going to spend roughly 20 percent of your budget on one guy, I'd like there to be a little more certainty about their production. Spending big on one of those guys can make lineup building very tough. There's upside in it, but it's not my strategy.
As for guys I do want to roster, I realize that Peyton Barber has a tough matchup against an LSU team that ranked ninth in overall defense according to S&P+ last year and 18th against the run. But we're talking about a guy who is only the 30th most expensive running back who also has 23 and 24 carries in the first two weeks of the season for 125 and 115 yards. Do I think Barber is likely to be one of the top scoring backs this slate? Not remotely. But does he have a good chance to be a top 10 back on the slate? Good enough. You have to find value somewhere in all sports, but especially in CFB, and it's rare that you can find value potential in a guy likely to see such volume.
Speaking of volume, Terrell Newby touched the ball 30 times for the Cornhuskers last week. And he did plenty of damage with 236 yards from scrimmage and three touchdowns. You might write off that performance to some degree since it was against South Alabama, but South Alabama actually ranked 39th in the country in run defense last year according to S&P+. The Miami team that Newby will face this week ranked 41st. I still think the matchup probably isn't as favorable this week, but it's also not anything that should scare you off Newby.
If I were going to pay up for a back, it would probably be Jahad Thomas. He's a total workhorse as he has 29 and 28 touches in the first two games of the season. He's been pretty effective with 345 yards in those two games. What's more encouraging is that one of those games was against Penn State who ranked fourth in run defense last year. This week he'll face Massachusetts who ranked 106th (out of 128) against the run last year. And game flow shouldn't be a problem (as it can often be for expensive running backs) with Temple only being a 10.5 point favorite.
Now we're at the point where we're talking about more risky, but potentially valuable, cheaper running backs. But as you know, we've already discussed a back in this price range, so that should tell you a lot about Barber's value potential. But if you want to go really cheap at running back you could pair Barber with Patrick Skov or Joe Mixon. But most likely, Skov and Mixon would be more like flex options.
Skov is part of that multi-faceted Georgia Tech rushing attack that can be tough to predict. As an example, Skov scored thrice in Week 1 but only scored once last week. But he had 12 carries in Week 1 and 11 carries in Week 2, so at least maybe his workload is fairly projectable. Will he get multiple carries in tight? Impossible to say. But with double digit carries and a good chance to score at his price tag, he's a pretty good gamble.
As for Mixon, he could be the beneficiary of an Oklahoma blowout. The Sooners have a team total of 51.5 and are a 31-point favorite, so Baker Mayfield and Samaje Perine may not be leaned on heavily in the second half. Mixon has 20 touches so far this season, so he seems like a pretty good bet to see at least double digit touches with the upside for quite a bit more if he gets garbage time work. Skov is the better play, but Mixon is a bit cheaper. If that $200 happens to make a difference for you, I suppose Mixon is usable.
Wide Receiver
Tajae Sharp – $6,600 – Massachusetts
Johnell Barnes – $4,700 – Duke
Kenny Golladay – $5,300 – Northern Illinois
Ricky Jones – $5,600 – Indiana
Christian Kirk – $6,000 – Texas A&M
Roger Lewis – $7,300 – Bowling Green
Keevan Lucas – $7,600 – Tulsa
Gehrig Dieter – $3,500 – Bowling Green
Let's start with the bottom four names on this list. All four are receivers of quarterbacks ranked above, but they don't represent as much value as the guys atop the list. So if you're not rostering a quarterback on the same team as one of the 5-8 receivers, you don't have to try and force any of them into your lineup. But if you're going with Evans, I'd find a way to make Keevan Lucas work and likewise with Allen and Christian Kirk. You should be going with Johnson given he's my top ranked quarterback, and you have options as to who to stack him with. If you have the cash for it, Roger Lewis is definitely preferable, but Gehrig Dieter is a salary relief option if you need it. And stacking Johnson and Lewis would necessitate salary relief, so perhaps you stack Johnson with both receivers.
There's also a stack option among the top four receivers with Johnell Barnes being Duke's top receiver in terms of receptions and yardage through two weeks. He is one of the top value plays of the slate at receiver. But perhaps the best value of the slate is Kenny Golladay. Golladay has gone berserk so far with at least eight catches and at least 144 yards in both games. In Week 1 he went for 213 yards, and in Week 2 he scored twice. The problem, of course, is that he's facing an LSU team that ranked fifth in pass defense last year. Game flow should be in his favor as NIU plays from behind, so that helps mitigate the bad matchup to some degree. And he's very reasonably priced for someone with his numbers, so there's still value potential.
I should probably mention that you shouldn't read too much into the rankings of the top four receivers. The bottom four are there for stack purposes and the top four are there because they have a nice mix of value and projection. But distinguishing them was very tough. I was half-tempted to put Golladay in the top spot, but I just couldn't do it in that matchup. And I was half-tempted to put Barnes on top just to encourage using Sirk, but he doesn't have the crazy upside some of these other guys do.
Tajae Sharpe is in the top spot because he does have that kind of upside. The senior caught 11 passes for 138 yards in his first and only game of the season so far. As a junior, he had three games in which he caught 13 passes for 150+ yards. He also had 70+ yards in six of his other nine games as a junior, and he averaged just more than seven catches per game. His opponent, Temple, was a decent pass defense ranking 34th in the country last year, but that's not a prohibitive matchup. The other thing here is that Sharp has big time upside but is only the eighth most expensive receiver of the slate.