Daily Fantasy Baseball Strategy: April 20, 2015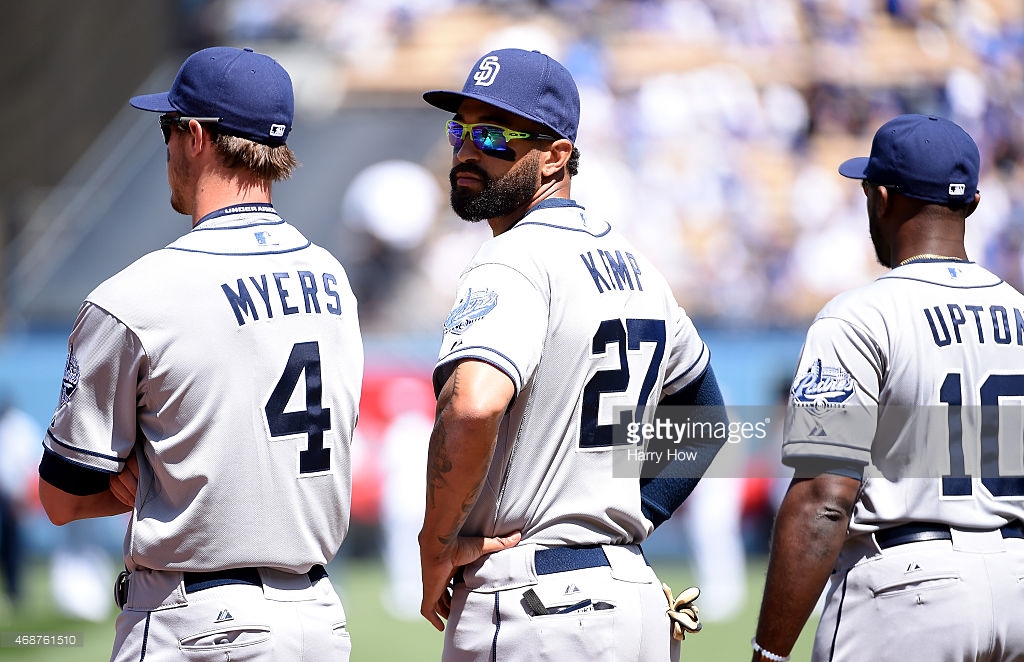 Dude…I get to do the write-up on 4/20. I'm wicked stoned stoked about it. Plus it's Patriots' Day in Boston, and as always, the Red Sox play an early game (hosting Baltimore) shortly after most runners have completed the Boston Marathon at 11am EST. Great day in a great city. For DFS purposes though, it's persona non grata, so we'll just be looking at the night slate for the contests over at DraftKings. May as well break out my best Al Sleet and talk about the weather off of the top. Rain is in the forecast on the east coast, so be careful and check as it gets closer to game-time.
For the next two days, I'm going to do things a bit differently than how we typically do it, but I hope that you find it as helpful and that you win lots of the monies. To determine the best values in today's rankings, I run projections that include opponent's strength, betting situation, handedness, park factor, projected Game Score, power/finesse pitching tendencies along with ground-ball/fly-ball tendencies. I'll leave no stone unturned here. And because I love you, The Fix reader, I'll attach my projection sheet at the end of this article. If you have any last-minute questions, you can find me on Twitter (@RyNoonan).

Stack Options
Regardless of whether you're playing in a cash game or GPP tournament, there's a significant advantage to be gleaned from stacking. Rostering multiple players who (ideally) bat consecutively in the lineup allows you to benefit from the offensive windfall when a team has a good inning. It's less essential in cash games (anything were 40%+ win part of the prize pool) than it is in tournaments or GPP's (think 25% or less are winning part of the pool), but regardless of the contest type we're always trying to score the most points. So before we get into each position, let's discuss the best stack options for today's slate.
1. San Diego Padres
The Padres are visiting Colorado to take on the Rockies and while both teams will likely carry extremely high ownership totals, I anticipate that the Padres will be slightly less owned, making them my top pick. Jorge de la Rosa is making his season debut here and while he's fared relatively well at home over his career, right-handed bats are still the target here.
2. Colorado Rockies
Breaking balls don't break as well in the thin air of Colorado. It's Science. San Diego starter Odrisamer Despaigne uses a breaking ball roughly 25% of the time over the last two seasons. That means he'll either eliminate part of his arsenal, or willfully get less out of a pitch he uses quite frequently. Either option is good news if you're a Colorado Rockies' hitter.
3. Detroit Tigers
There isn't enough 2015 data accumulated yet to draw substantial conclusions, but last season the Tigers dominated left-handed pitching, and the Tigers will face C.C. Sabathia tonight. The wOBA of .344 and wRAA of 43.6 were both second to Colorado last season. There's also enough BvP data here to wet your whistle if you so choose to lean on it.
STARTING PITCHERS
Despite just an eight-game slate, we have a decent amount of pitching options today. Cubs starter Jake Arrieta ($9,500) is the real deal, and the development of his cutter has taken him to the next level. The Pirates have some free swingers, but perhaps not to the degree that you may think. With that said, PNC Park plays favorably to pitching, and Arrieta doesn't need much in the way of environmental advantages to be a reliable cash game option. There are four players priced in the $8K range, and my favorite here is Matt Shoemaker ($8,100). He's the most cost-friendly of the group, and he's gotten off to a good start here in 2015 with a 12/1 strikeout to walk ratio.
I expect the high strikeout upside that the Astros present will be appealing to most, so anticipate high ownership totals from Hisashi Iwakuma ($8,800) today. A.J. Burnett fared well last time out, but the Cubs have been working their opponents so far, driving up pitch counts and getting the starter out early. That's a weakness at times for A.J. anyways, so the fact that he's unlikely to work deep into this game (in relation to the other top options) makes me pass.
You can still construct a lineup today by using the top pitchers, so I don't suggest that you dig too deep into the pool here. I will mention that my projections like Edison Volquez ($6,600) as the best value on the day, and he faces the Twins and their .255 wOBA at home. Trevor Bauer is a GPP play, because he's so volatile. His fly ball tendencies make me a bit hesitant to roll him out at US Cellular, and he's working his pitch counts up by keeping the ball out of play. He's early season strikeout totals are incredible, as he's striking out 14.25 per 9 innings, but his 6.75/9 walk rate is crazy high, too.
HITTERS
Catcher
Catcher is simple for me; either work it into my stack or punt it. If you use a sub $3,000 catcher than all you need is a single for him to break even. If I can save money here I'll always do so. Ideally you can do both, and still save. My favorite catcher play today is Derek Norris. He's been hitting cleanup against left-handed pitching, and he'll face another today in Jorge de la Rosa. You can also save quite a bit of salary by using Nick Hundley today, assuming he gets the start.
First Base
Surprisingly, Justin Morneau didn't receive the typical 'Coors bump' in pricing, and he's an automatic play at first in cash games. You can expect his ownership levels to be north of 50% though. Is there truly ever a time when Miguel Cabrera is a bad option? He could be priced out at times I suppose, but that isn't the case today. He's facing C.C. Sabathia who's just not scaring anyone these days with his upper 80's heat. Paying up for Miggy is a great pivot here. Another player that scores well for me here today is Joey Votto. I love Votto in GPP's today because I suspect everyone will be on the Padres/Rockies or Miggy.
Second Base
Last series in Colorado between the Cubs and Rockies saw astronomical price increases for everyone involved. As the Rockies head back to Colorado for the first time since that series, we're seeing a less aggressive spike in salary which is creating a bit of value here. Just know that everyone will be in on the action. When we see the lineups for these teams then we'll be able to attack it, but Jedd Gyorko, Yangervis Solarte, and DJ LeMahieu are all great values. I don't like to target steals on DraftKings because of the downside of caught stealing, but Jose Altuve and his Astros' teammates grade out as strong options to run today. Plus leadoff hitters on the road is always a strategy that I like to ensure I'm maximizing my volume of at-bats.
Third Base
The aforementioned Miguel Cabrera is in play again, especially if you're using Justin Morneau at first base. Otherwise you can expect to see a lot of Nolan Arenado in action today, and rightfully so. He doesn't benefit from the handedness advantage that some of his Rockies' teammates do today, but he's one of the hottest hitters in the game and he's a machine at home (career .371 wOBA). If you want in on the fun at Coors, than try Will Middlebrooks on for size. He's about 40 points better for his career against left-handers than right-handed pitchers.
Shortstop
Troy Tulowitzki…yada, yada, yada. If you can fit him he's a stud. I suggest getting some exposure to him if you're playing multiple lineups, perhaps start with him and build from there. There's a large enough sample size, in my opinion, to draw a conclusion that Starlin Castro fares well against A.J. Burnett in his career. Even if you're not a believer, Castro is an interesting pivot if you're looking to fade the popular play of Troy Tulowitzki. Another cheap fade is Stephen Drew. He'll cost you nothing, he's hitting well and he faces perennial April All-Star, Alfredo Simon. He's also available at second base if that's more your flavor today.
Outfield
If you look at the chart below, you can see the projected value column. It's telling you how many DraftKings points per dollar each player is projected to get. Obviously, it's a projection but the factors weighted here to determine the projection are valuable. Since the season began, this is the most 2+ values that I've seen, meaning position players with a 2 or greater in the projected value column. I'm not sure what to make of this yet, but I'll be interest to see if it continues. The best values are also the high priced outfield options in Colorado. The Padres Matt Kemp, Wil Myers and Justin Upton if he plays. For the Rockies is their left-handed trio of Corey Dickerson, Carlos Gonzalez, and Charlie Blackmon.
If you're looking to mix in a few options elsewhere, and I suggest that you do, look to the Indians and Tigers. Each team has a cheap platoon option that mashes. Ryan Raburn typically works his way into the starting lineup against southpaws, and the Indians face John Danks today. When Detroit takes on a lefty, the usually roll Rajai Davis out in the leadoff spot, and he's borderline elite in these scenarios.
Player Rankings
Catcher
1. Derek Norris-$3,800 San Diego Padres
2. Nick Hundley– $3,100 Colorado Rockies
3. James McCann– $2,900 Detroit Tigers
First base
1. Justin Morneau– $3,800 Colorado Rockies
2. Joey Votto– $5,200 Cincinnati Reds
3. Miguel Cabrera-$5,400 Detroit Tigers
Second base
1. Yangervis Solarte– $3,400 San Diego Padres
2. Jedd Gyorko– $3,900 San Diego Padres
3. Stephen Drew– $3,200 New York Yankees
4. Jose Altuve– $4,100 Houston Astros
Third base
1. Nolan Arenado-$5,100 Colorado Rockies
2. Miguel Cabrera– $5,200 Detroit Tigers
3. Will Middlebrooks– $3,900 San Diego Padres
4. Marwin Gonzalez– $2,700 Houston Astros (Shortstop eligible)
Shortstop
1. Troy Tulowitzki– $5,900 Colorado Rockies
2. Stephen Drew– $3,200 New York Yankees
3. Starlin Castro– $3,800 Chicago Cubs
Outfield
1. Matt Kemp– $5,400 San Diego Padres
2. Rajai Davis– $4,000 Detroit Tigers
3. Corey Dickerson– $4,700 Colorado Rockies
4. Ryan Raburn– $3,100 Cleveland Indians
5. Dexter Fowler– $4,000 Chicago Cubs
6. Wil Myers $4,500 San Diego Padres