Daily Fantasy Baseball Strategy: August 29, 2015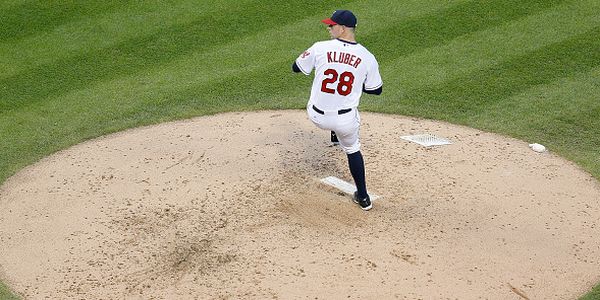 Happy weekend! As usual, below I've got a discussion on tonight's slate at DraftKings, including analysis on the pitching options, the best teams to stack from and an individual set of player rankings.
If you haven't signed up at DraftKings yet, do so now!
Forecast
All clear!
Pitching Perspective
The quality in pitching options really dropped off the edge from last night. Tonight instead of having options at every end of the spectrum, I'm going to focus and dial in on just a few guys that have viability for cash game and GPP usage.

I'll start with Corey Kluber who gets to take on the Angels at home. Kluber fits into the mold of arms that speaks for themselves, so it doesn't really matter what I have to say about him. He has incredible strikeout upside (K/9 of nearly 10) and he gets plenty of ground balls and doesn't put batters on base for free. He's pitched much better than his ERA might indicate, pitching to a 2.91 xFIP. Although Mike Trout is a scary guy, the Angels as a whole are in the bottom half or worse in terms of wOBA and wRC+ this season. Kluber stands out as the most expensive arm tonight, but he's nearly $1,500 than Clayton Kershaw was last night – I'd say that's accessible.
Looking to get the Cubbies back on track after a rough stretch of games, Jon Lester takes the ball at Dodger Stadium tonight. Lester has had his share of ups and downs this year, and as a result his overall numbers don't look too pretty to dress up for you. However, he's even cheaper than Kluber, and has about the same strikeout upside. The great thing about DraftKings is that the scoring allows for some slip ups in terms of runs as long as a pitcher is striking hitters out. While the Dodgers lineup is a good lineup, and they will do their best to get as right-handed as possible against Lester, it's not enough to back me off him. For $10,900 with the relative lack of options, he needs to be on your radar.
Before writing this I was hoping that Luis Severino snuck into the player pool with a salary below $9,000. Little did I know when I pulled up the DraftKings player page that Severino falls just shy of Jon Lester's salary, but with an easier matchup. The difficulty of paying this type of price for Severino is the uncertainty of a guy this early in his career. So far though, he's been pretty darn good – striking out more than a hitter per inning while not hampering himself too much. The walk rate is a little higher than I'd like to see, but against an abysmal Braves offense, he's another option that should be considered tonight. I'd prefer to use him in tournaments given his salary, but believe he has cash viability as well.
Below these three guys, there is a smaller tier of Jeff Samardzija, JA Happ and Jordan Zimmermann that I'm considering in some capacity. For Happ and Samardzija, I like their prospects in tournaments. Jeff has just been atrocious this season, but has the ability to dazzle with decent strikeout upside. He's a risk, so I put him in this GPP only box, but on a night with few options and his salary, he could make the difference.
Happ gets the depleted Colorado Rockies lineup in his home park, which is a huge negative park shift for Rockies bats. No longer can the thin walls of this lineup be supported and inflated by a ballpark. I don't particularly like Happ as a pitcher, but Vegas seems to really like his prospects tonight, and it's hard to argue against the Rockies. He's a huge favorite with a super small price tag and is someone to consider, even for cash games.
Last but not least, Jordan Zimmermann against the Marlins has my attention. Zimmermann hasn't been quite what he wanted in a contract year, but the matchup is there. With Vegas squarely on his side, and a sub-$10K price tag, he should also be on your radar, and more so than the above two options.
Stack Options
Unfortunately we miss the Blue Jays as a stack option, but underneath them in the night slate, there are a bunch of middle tier stack options to be explored.
The Pittsburgh Pirates – I know it's not a great ballpark for offense but the Pirates matchup well against left-handers and I don't expect them to have any trouble with Chris Rusin. Their implied runs total is hovering just under 5 runs, and the middle of their order all are viable options for cash games and GPPs. It seems to me that guys like Starling Marte and Andrew McCutchen always are underowned on a given night, load them up tonight.
Orioles/Rangers – If I had to guess which game had the most scoring tonight, this is the one I would pick, but it should come from both sides. Martin Perez and Ubaldo Jimenez take the mound playing into the strengths of each of the opposing teams. The O's are deep through the middle of the order and feature some southpaw mashers, most notably Adam Jones. On the other end of this, keep looking to ride out Mitch Moreland, Prince Fielder and Shin-soo Choo for extremely valuable price tags.
Arizona Diamondbacks – I love Chase Field almost as much as I love Coors Field. The D'Backs have played really well in the second half and they have a solid core of guys that fly below the radar and have extremely accessible price tags. Ender Inciarte and David Peralta are the behind the scenes guys while AJ Pollock and Paul Goldschimdt clean up in between them. I love all four of these guys against right-hander Aaron Brooks in a game that might get him bitten by the snakes.
Player Rankings
Catcher
Matt Wieters -$3,200 – Baltimore Orioles
Brian McCann -$3,800 – New York Yankees
Wellington Castillo -$3,500 –  Arizona Diamondbacks
First Basemen
Prince Fielder -$4,200 – Texas Rangers
Paul Goldschimdt -$5,900 – Arizona Diamondbacks
Anthony Rizzo -$4,400 – Chicago Cubs
Second Basemen
Steve Pearce -$3,300 – Baltimore Orioles
Scooter Gennett -$3,300 – Milwaukee Brewers
Neil Walker -$3,500 – Pittsburgh Pirates
Shortstops
Jung-ho Kang -$3,900 – Pittsburgh Pirates
Ian Desmond -$3,700 – Washington Nationals
Cesar Hernandez -$3,100 – Philadelphia Phillies
Third Basemen 
Manny Machado -$4,900 – Baltimore Orioles
Adrian Beltre -$4,200 -Texas Rangers
Jake Lamb -$3,600 – Arizona Diamondbacks
Outfield
Andrew McCutchen -$5,100 – Pittsburgh Pirates
Starling Marte -$4,800 – Pittsburgh Pirates
Adam Jones -$4,500 – Baltimore Orioles
Starting Pitchers
Corey Kluber -$12,900 – Cleveland Indians
Jon Lester -$10,900 -Chicago Cubs
Luis Severino -$10,400 – New York Yankees
JA Happ -$7,700 – Pittsburgh Pirates
Jordan Zimmermann -$9,500 – Washington Nationals
Jeff Samardizja -$8,300 -Chicago White Sox