Daily Fantasy Baseball Strategy: July 25, 2015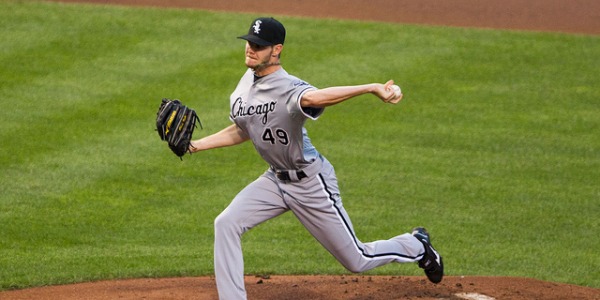 Welcome to another weekend edition of Daily Fantasy Baseball Strategy! We've survived another week of the baseball season, and sadly it's dwindling before our eyes. Also, be sure to keep monitoring the trade deadline throughout the next week for lineup shakeups.
If you haven't signed up at DraftKings yet, make sure to do so using the link!!!
Forecast
There are two games in the late slate that have some small weather concerns, although as of right now it doesn't appear as if it'll be enough to cause cancellation.
Pitching Perspective
On a shorter split slate, there are really only four pitching options that I would be considering for safe cash game usage today, with a couple stragglers that could work as great tournament options.

Matt Harvey hasn't been quite up to par with his "Dark Knight" status, but he's one of the highest upside arms that take the mound today. His K/9 is down around 8.5 and he's really struggled with giving up the long ball this year, but he still has what it takes to be dominant. His matchup isn't great, as the Dodgers are one of the best offenses in baseball, but the park plays into his favor. With an accessible price tag, I'm on board with shoveling him into tournaments as the number one option, but I'm moderating my exposure in cash games.
Rather than starting my cash games with Harvey, I'll be starting them with one of Carlos Martinez or Chris Sale. Sale is the most expensive starting pitcher today, but he's also the most dominant arm going. He's sporting an 11.67 K/9 with a measly 2.39 xFIP. The best part of this matchup for Sale is that the bulk of the Indians lineup is left-handed, including their best hitters. He's essentially unhittible for left-handed hitters and should be at the top of your options tonight.
Martinez gets a matchup with a pretty pathetic Atlanta Braves lineup that is running with an implied runs total around 2.6 right now. Martinez has been fantastic this season posting a 3.27 xFIP to help bolster the Cardinals rotation. He fits the mold I look to find with a DFS pitcher – a high ground ball rate (55%) as well as the ability to strikeout hitters (K/9 around 9.5). Couple these stats with the fact that his salary is accessible and he makes for a great cash game option.
The last guy I'm tempted to use in cash games is Carlos Carrasco. Carrasco's upside and game is something more of a tournament option, but a matchup with the Chicago White Sox is cash game worthy as they rank near the bottom in both wOBA and wRC as a team. Carrasco has incredible strikeout potential (10.08 K/9) and a solid ground ball rate near 50%, but has been bitten by the home run and unlucky BABIP. His command has actually been sharp this season, and his stuff is incredible. His price tag is right where I need it to be to warrant cash game usage, but I also love him in tournaments.
Stack Options
1. Obligatory stack options in Coors Field. Johnny Cueto takes the mound for the Reds which is bad news for the Rockies, but the scoring environment still makes them acceptable plays, although I'd prefer limiting my Rockies exposure in cash games, and hooking on to them in tournaments instead. Otherwise, every player is in play here!
2. The next best offensive environment for tonight's late slate is in Chase Field. I was expecting some more offense last night, but I think the pitcher's going tonight might yield some more runs. Taylor Jungmann and Rubby De La Rosa have both actually performed pretty well this season, but I like the offenses today. David Peralta rejoined the D'Backs lineup last night, and Ender Inciarte has been sailing well in the leadoff spot. Both of them present nice values to get Coors exposure and top pitchers into your lineup. On the other side, Gerrardo Parra revenge game, along with Adam Lind should be excellent values against DeLa Rosa who struggles with left-handed hitters.
3. Last but not least, I'll be focusing on the Twins and Yankees game as a potential stack option. The Twins pummeled the Yanks last night, and have been a source of great contrarian stacks all season long. They'll look to add one more notch to their belt against CC Sabathia tonight, and I'm all for it. The Twins lineup is better suited to handle left-handed pitchers, and they'll once again fly under the radar tonight. They've got an implied runs total hovering around 4.1, but I think that will move as the day goes on. The other side of this game is also a solid spot to look into. Tommy Milone doesn't miss any bats, and contact is a great thing for a DFS stack. The Yanks are experiencing a negative park shift, but Target Field is a better offensive environment than often given credit for. Alex Rodriguez is a great third base option tonight.
Player Ranking
Catcher
1 and 2. The Catchers that Starts in Coors Field
3. Jonathan Lucroy – $3,500 – Milwaukee Brewers
First Basemen
1. Joey Votto – $5,700 – Cincinnati Reds
2. Adam Lind – $4,500 – Milwaukee Brewers
3. Evan Gattis -$3,500 – Houston Astros
Second Basemen
1.Brian Dozier -$5,000 – Minnesota Twins
2. Jose Altuve -$4,600 – Houston Astros
3. Brandon Phillips -$4,400 – Cincinnati Reds
Third Basemen
1. Todd Frazier -$5,900 – Cincinnati Reds
2. Miguel Sano -$3,900 – Minnesota Twins
3. Alex Rodriguez -$4,600 – New York Yankees
Shortstop
1. Troy Tulowitzki -$4,500 – Colorado Rockies
2. Jung-ho Kang -$3,300 – Pittsburgh Pirates
3. Carlos Correa -$4,800 – Houston Astros
Outfield
1. Marlon Byrd -$4,300 – Cincinnati Reds
2. Charlie Blackmon -$4,400 – Colorado Rockies
3. Ender Inciarte -$3,900 – Arizona Diamondbacks
Starting Pitchers
1. Chris Sale -$13,400 – Chicago White Sox
2. Carlos Martinez -$9,800 – St. Louis Cardinals
3. Carlos Carrasco -$10,300 – Cleveland Indians
4. Matt Harvey -$10,100 – New York Mets
5. Hector Santiago -$9,100 – Los Angeles Angels