Daily Fantasy Baseball Strategy: June 24, 2015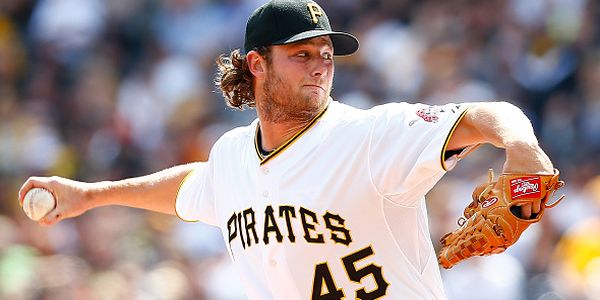 Welcome back folks to another edition of Daily Fantasy Baseball Strategy. As always, below I've included a brief intro into the weather outlook as well as a brief section on the pitching options, the best teams to stack from as well as a set of individual player rankings for tonight's slate.
As always, if you don't have an account at DraftKings be sure to sign up using the link!
Forecast
As of it right now it appears that there only seem to be a rain chance at Wrigley Field. The pitchers from this game aren't particularly on my radar, but monitor this game for PPD risk throughout the day.
Pitching Perspective
Yuck. We've been spoiled the past two days with plenty of pitching options, some which have backfired, but tonight there isn't much to choose from.  Gerrit Cole is far and away the number one starting pitcher option and should be the first guy into all of your lineups tonight. Cole has somehow gotten even better this season, posting a 9.59 K/9 while decreasing his walk rate, and increasing his groundball percentage.
His matchup with the Reds is the best you can find tonight and he carries the top skills of any pitcher on the slate. The best part about using Cole is that he's very affordable for the top pitching option.
The next biggest question of the night will be who to pair with Cole as your second starting pitcher.
I think that guy is probably going to be Jordan Zimmermann. In your initial glance at the player pool on DraftKings, you might not notice Zimmerman all the way below $8,000, but he sits in at $7,800 tonight. This is far too low for someone of his skill set, regardless of his performance so far this year. He has a matchup with a Braves team that doesn't strike out a lot, but their also missing their best hitter, Freddie Freeman. Zimmermann has struggled missing bats this year (6.4 K/9) and has also struggled with his command, increasing his walk rate by almost a full batter per nine innings. It hasn't been pretty this year, and his 4.04 xFIP will back that up, but he's the best other option on this slate.
Perhaps the last two arms I would consider using in cash games would be Shelby Miller and Jaime Garcia. Miller has been really solid this season, his first with the Braves. He has a matchup with a dinged up Washington Nationals lineup, but one that still includes Bryce Harper. Miller has shown the potential to work deep into games and rack up strikeouts, so he's also a candidate for GPPs tonight.
Jaime Garcia is the last of the four guys I'd throw out in a cash game as he takes on the Marlins tonight. The Marlins play in a big ballpark, but Garcia doesn't have much to offer us. He gets a lot of groundballs, but his lack of strikeouts concerns me (K/9 barely over 6).
Last but not least, both Roenis Elias and Danny Duffy are two of my favorite GPP plays today. A pair of left-handers with a lot of strikeout potential duke it out in one of the best ballparks for pitching. Neither one is safe enough in my opinion to use for cash games, but anything goes in GPPs.
Stack Options
Here is my obligatory blurb on the game in Coors Field tonight. Two bad pitchers square off against two decent offenses. Literally everyone that makes their way into the lineup is in play, particularly the top of the orders. Hopefully guys like Jake Lamb, Danny Dorn and Ben Paulsen find their way into the lineups at good lineup spots so we can grab some salary relief to allow us to use the best players from this game, but if not, try to find salary relief elsewhere as you'll want exposure to this game in both cash games and GPPs.
Elsewhere you'll want to try and take advantage of the run scoring environment in Texas. Kendall Graveman and Wandy Rodriguez square off in what could rival the Coors Field game in terms of offensive shootouts. The ball should really start to travel well as the whole country warms up this week. I love Joey Gallo's immense power against the likes of Graveman and can get on board with a mini-Rangers stack utilizing the left-handed bats near the top of the order. The A's don't have a lot of great right-handed bats, but I'm behind using any salary relief options against Wandy tonight.
The Red Sox offense has been incredibly frustrating all season long, but maybe they can help us out tonight against Bud Norris. This is again another decent run scoring environment tonight and one that you can utilize in cash games and GPPs. David Ortiz is always going to be my favorite Red Sox player against right-handers, but the top of this order could thrive tonight.
Last but not least, it's one of those magical Bartolo Colon nights. Colon is a frustrating stack against option, but one that is always a potential gas can. Miller Park is one of the better parks for home runs tonight, so perhaps the Brewers set off a few fireworks. Their lineup is a whole lot better with Jonathan Lucroy and Carlos Gomez in it, so perhaps tonight they put it all together.
Player Rankings
Catcher
1. Nick Hundley -$3,700 – Colorado Rockies
2. Jonathan Lucroy – $3,600 – Milwaukee Brewers
3. Wellington Castillo- $3,400 – Arizona Diamondbacks
First Basemen
1. Ben Paulsen -$3,400 – Colorado Rockies
2. Mitch Moreland -$3,800 – Texas Rangers
3. Paul Goldschmidt -$6,600 – Arizona Diamondbacks
Second Basemen
1. DJ LeMahieu – $4,000 – Colorado Rockies
2. Rougned Odor -$3,200 – Texas Rangers
3. Aaron Hill -$3,900 – Arizona Diamondbacks
Shortstops
1. Troy Tulowitzki – $4,600 – Colorado Rockies
2. Hanley Ramirez -$4,600 – Boston Red Sox
3. Marcus Semien -$3,900 – Oakland Athletics
Third Basemen
1. Nolan Arenado -$4,700 – Colorado Rockies
2. Jake Lamb -$4,100 – Arizona Diamondbacks
3. Joey Gallo -$3,700 – Texas Rangers
Outfield
1. Charlie Blackmon -$4,900 -Colorado Rockies
2. David Peralta -$4,300 – Arizona Diamondbacks
3. Carlos Gonzalez -$4,500 – Colorado Rockies
4. Giancarlo Stanton -$5,200 – Miami Marlins
Starting Pitchers
1. Gerrit Cole -$10,500 – Pittsburgh Pirates
2. Jordan Zimmermann -$7,800 – Washington Nationals
3. Shelby Miller -$8,400 – Atlanta Braves
4. Jaime Garcia -$8,800 – St. Louis Cardinals
5. Danny Duffy -$5,900 – Kansas City Royals