Daily Fantasy Baseball Strategy: May 6, 2015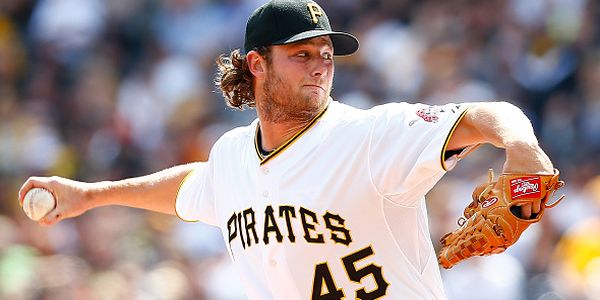 Below we've got a discussion of the starting pitching situation for the today's night slate on DraftKings as well as the best teams from which to pick hitters. We've also got projections derived from Dan Szymborski's ZiPS projections, and we have rankings of the top plays at each position.
Pitching Perspective
Here are our projections for today's starters. You'll see each starter's salary, the average number of fantasy points the starter is projected to score per game and how far above or below average his projection is compared to his salary in the value column. You'll also see adjustments being made for matchup and ballpark. As for the colors, they rank as follows from good to bad: purple, blue, green, yellow, orange, red, burgundy.
My streak of being granted a slate with less than ideal pitching options continues today. While there appear to be a few top names, each comes with some risk today. The top overall guy has to be Gerrit Cole ($9,500). Cole was fantastic in April, sporting a 10.27 K/9 and putting together a GB% of 63.2%. I'm not on board with narrative street, but the Pirates are struggling and could really use a stopper tonight. The Reds will take a huge negative park shift to PNC Park, and I think Cole runs through their lineup fairly easily.
Chris Sale ($10,000) is the most expensive pitcher of the night slate, but our model does not like his value. I have to agree that it's scary to throw Sale into cash games due to his matchup with the Detroit Tigers. The Tigers are getting a positive park shift and are primarily right-handed. Sale dominates mostly everyone, but the matchup and price has pushed him into the GPP category for me.
Jon Lester ($9,700) and Lance Lynn ($8,800) are squaring off in St. Louis tonight for a game with a total sitting at 7. Both teams have exploded for runs in the first two games of the series, but it might be a struggle to push across runs tonight. Lester hasn't quite been himself this season, but we know what he's capable of. With that being said, the Cardinals are still too dangerous of an offense for me to jump all over Lester in cash games. Because of his strikeout upside, and his ability to work deep into games, I think he's a great tournament option.
Lynn will probably be a popular cash game play and rightfully so against a Cubs team that is striking out at a 25.2% clip, leading the league in that category (Lynn's 11.05 K/9 has been unreal so far this year). His 3.07 ERA isn't indicative of his 2.02 FIP, as he's been really solid so far this year. While his command has been better so far this year, the Cubs patience at the plate is somewhat concerning. They take a lot of pitches and could rack up quite a pitch count on Lynn in the early innings. Regardless, I think he's a solid second option cash game pitcher on DraftKings tonight.
Jacob deGrom ($8,500) has come back to Earth, even if only for a little while. He's been bit by the home run (only sporting a 38% GB%) and his strikeout numbers have regressed. He drags the Baltimore Orioles away from Camden Yards, giving them a negative park shift and should be decent value for his price. The game is currently sitting at a total of 7, and deGrom is the favorite. He should be a thought for cash games and GPPs tonight.
Last but not least, don't forget about Carlos Carrasco ($8,300) and Scott Kazmir ($8,000). Both Kazmir and Carrasco have huge strikeout upside and are excellent tournament options each time they take the mound. Kazmir has the easier of the two matchups as he'll take on the Minnesota Twins at Target Field. It helps that the Twins are in the top-10 in the league in terms of K% (21.0 %).
Carrasco gets a much tougher matchup with the Kansas City Royals as the Royals are last in the league in terms of K% (15%). Carrasco's upside is hurt pretty badly by this, but that doesn't mean he couldn't twirl a gem. He's mainly a GPP play for me.
Stack Options
Unfortunately, the night slate on DraftKings doesn't contain the game at Coors Field. However, if you're playing any of the early slates, that is where you'll wish to focus your offense.
Instead, focus your offensive construction on the Rogers Centre. A pair of soft tossing left-handers, Mark Buehrle and CC Sabathia take the mound in Canada tonight and that has hitters salivating. If you take a look at our hitter projections, you'll notice that 3 of the top four hitters are Toronto Blue Jays. Jose Bautista ($5,400) and Josh Donaldson ($5,400) are both great options, but Edwin Encarnacion at ($4,400) and Devon Travis ($3,400) are criminally priced. The Blue Jays love to hit at home, and I expect them to reward us tonight.
The Yankees carry less value, but Mark Teixeira ($4,400) and Alex Rodriguez ($4,000) are both great values. Chris Young ($3,600) should also get a start and traditionally has been great against left-handed pitching. If you're trying to put together a whole stack, using the Yankees left-handers doesn't concern me too much, as they'll carry a low ownership percentage, and Buehrle doesn't miss that many bats.
Minute Maid Park should also be quite a juicy spot for hitters tonight (did you catch that?). While the Astros typically destroy left-handed pitching, aside from last night, Colby Lewis shouldn't have much success either. George Springer ($5,100) is a great value in our model, but he banged into the wall hard making a fantastic catch last night, monitor his status going forward tonight. Jose Altuve ($5,300) is the quintessential second base option, and rates really well in our model tonight. He is an exceptional cash game play, and has tons of stolen base upside as well as some power for tournaments. Both Evan Gattis ($4,600) and Chris Carter ($4,300) carry huge power upside and Colby Lewis is an extreme flyball pitcher. The Astros are a great stack option tonight.
Fenway Park also bodes well for hitters tonight. Justin Masterson is terrible against left-handed hitters, and the Tampa Bay Rays have plenty of cheap left-handed production. You'll have to scroll through our projections a while to find Evan Longoria ($4,500), but I'd use the Rays as more of a salary relief or tournament option.
The Red Sox however rate really well in our model. David Ortiz ($4,700) is awesome against right-handed pitching and you can find Hanley Ramirez (day-to-day with injury, $5,200) and Mookie Betts ($4,500) right behind him in the projections. The game currently has a total of 8.5, tied for the highest of the night. I would try to get some exposure to it.
My last but not least stack options are the Oakland A's and the Chicago White Sox. The A's have the pleasure of facing young right-hander Kyle Gibson and actually acquire a positive park shift. The White Sox get Alfredo Simon in a great hitters park. Their 1-5 carries a ton of punch and is a great option for tournaments.
You can view and download our hitter projections here. These projections are an average of what each hitter is projected to do on a per game basis according to the ZiPS rest-of-season projections. The projections have then been adjusted for splits, quality of the opposing starting pitcher and ballpark.
Player Rankings
Catcher
Russell Martin – $4,100 – Toronto Blue Jays
Stephen Vogt -$4,100- Oakland Athletics
Evan Gattis -$4,600 – Houston Astros
First Basemen
Second Basemen
Jose Altuve -$5,300 – Houston Astros
Devon Travis-$3,400 – Toronto Blue Jays
Robinson Cano – $3.700 – Seattle Mariners (criminally priced for skill set, even against LHP)
Shorstops
Hanley Ramirez – $5,200 – Boston Red Sox (day-to-day with injury)
Jimmy Rollins -$3,700 – Los Angeles Dodgers
Alexei Ramirez – $3,900 – Chicago White Sox
Third Basemen
Josh Donaldson -$5,400 – Toronto Blue Jays
Alex Rodriguez– $4,000 – New York Yankees
Luis Valbuena – $3,800 – Houston Astros (also 2B eligible)
Outfield
Starting Pitchers
Gerrit Cole – $9,500 – Pittsburgh Pirates
Chris Sale -$10,000 – Chicago White Sox (better in GPPs)
Lance Lynn– $8,800 – St. Louis Cardinals
Jacob deGrom -$8,500–New York Mets
Jon Lester -$9,700 – Chicago Cubs
Scott Kazmir -$8,000 –Oakland Athletics
Carlos Carrasco -$8,300 – Cleveland Indians