Daily Fantasy Baseball Strategy: Monday, June 8, 2015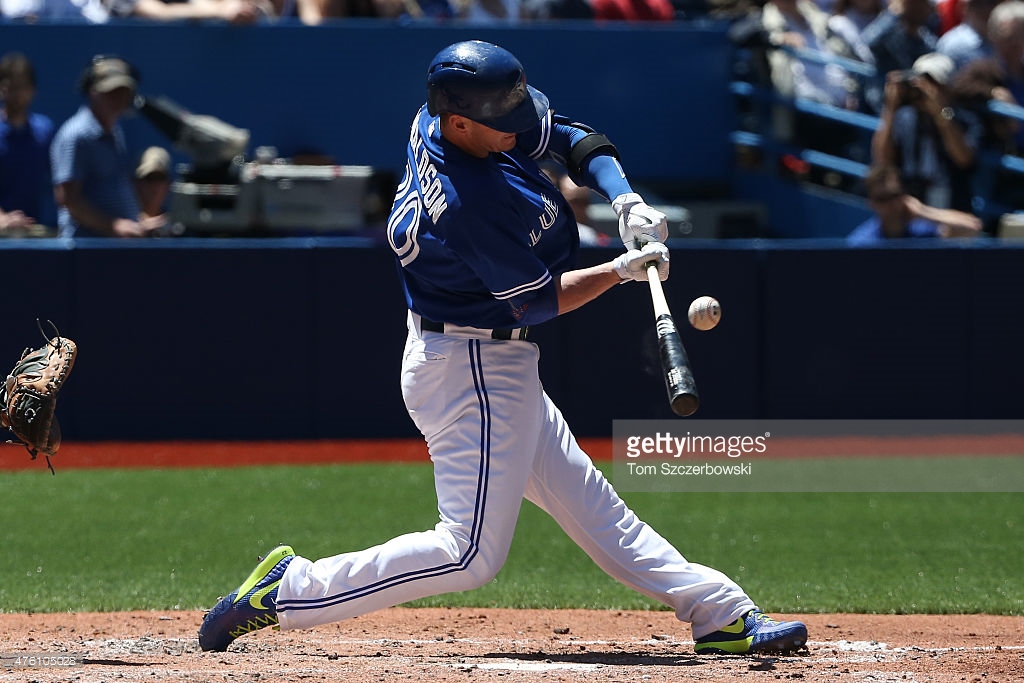 Welcome to another addition of the Daily Fix, @RyNoonan here, breaking down tonight's eight game slate on DraftKings.
Forecast
An early look at the weather shows minimal trouble, (LATE LOOK SHOWS TROUBLE EVERYWHERE, basically) but I can't believe we won't have to sweat out rain in Colorado tonight. It's been unbelievable. The easiest way to stay on top of the weather is to make sure to follow @KevinRothWx for updates.
Pitching Perspective
Our upper-echelon options tonight are southpaws, as we have Chris Sale ($11,400) and Cole Hamels ($9,400) toeing the rubber tonight. Sale is the higher priced of the two, but has the much better matchup as he faces the free-swing Astros at home in Chicago. He's coming off of back-to-back 42+ DraftKings point performances, and hasn't scored less than 26.4 DK points in over a month. His numbers look nearly identical to last season's near Cy Young Award winning totals, and we're even seeing a spike in his SwStk%, which is up near 15%. He's difficult to fit in to your lineup but you'll want some exposure.
Cole Hamels hasn't been quite as hot as Sale of late, but man, it's close. He's been an automatic 22-30 points per outing over the past few weeks, but his matchup isn't quite as appealing. The Reds are the seventh-best team in terms of wOBA against left-handed pitching, but they're second in isolated power, something that's plagued Cole Hamels at times this season.
One of the best plays on the board today is the Pirates A.J. Burnett ($9,500) who's at home against the Brewers. The Brewers are a bottom third offense against right-handed pitching and carry one of the highest strikeout rates in the league, as well. They're even worse outside of Miller Park. Their .283 wOBA on the road is tied for the third-lowest mark in the league.
The best second-tier starter tonight is Lance McCullers ($7,400). The challenge here is he's battling head-to-head with Chris Sale, and the win really helps, plus he's jumped nearly $2,000 in salary. Coming off of a complete game 11-strikeout performance against Baltimore, McCullers is an option tonight if you want to fade the top plays, and save a bit on your SP2.
I'm really having a difficult time recommending one of the cheaper options tonight.
Stack Options
1. Toronto Blue Jays
The league's best offense against left-handed pitching (.370 wOBA/137 wRC+) gets to face LHP Brad Hand in the Canadian Homer Dome known as the Rodgers Centre. The Blue Jays have one of the highest implied run totals of the day at 4.8, as well. This no-brainer stack will not only cost you a pretty penny, but it's a strong pivot on a day where Coors Field is in play. If you're only playing one Jay, it's got to be Josh Donaldson.
2. St. Louis Cardinals
We can't ingore the game in Coors, and of the two teams the Cardinals clearly face the weaker pitcher (David Hale). According to Vegas, the Cardinals have the highest implied run total of the day at 5.3. The Cardinals aren't one of the top slugging teams in the league, but they hit right-handed pitching well, entering play with the league's seventh-best wOBA. Coors isn't just a great place for power, as its large outfield gaps fit the skill set of the Cardinals best hitters, like Matt Carpenter. They're just so expensive, and with the limited discounted pitching options today you'll be hard pressed to fit a lot of them in.
3. Colorado Rockies
The Rockies are worlds better at home (.356 wOBA) than they are on the road (.302), just as you suspected. That's a pretty sizable gap, though. If you want Coors exposure in tournaments I think the Rockies players will carry lower ownership totals than the Cardinals, making them an interesting play.
4. Kansas City Royals
The Royals offense is a bad fit for Phil Hughes. The Royals have the lowest strikeout AND walk rate in the league against right-handed pitching. They're just so damn aggressive. Phil Hughes works in the zone constantly, and would need to have some serious BABIP luck to fare well today. I don't like his chances. Plus, this is an affordable stack today and still allows you to pay up for pitching.
Player Rankings
Catcher
Nick Hundley – $3,500 Colorado Rockies
Russell Martin – $4,300 Toronto Blue Jays
A.J. Pierzynski– $3,200 Atlanta Braves
First Base
Second Base
Dee Gordon – $4,600  Miami Marlins
Brian Dozier – $4,600  Minnesota Twins
Neil Walker – $4,000 Pittsburgh Pirates
Third Base
Josh Donaldson – $5,300 Toronto Blue Jays
Matt Carpenter – $5,400 St. Louis Cardinals
Nolan Arenado – $4,600 Colorado Rockies
Shortstop
Jose Reyes – $4,900 Toronto Blue Jays
Troy Tulowitzki – $4,900  Colorado Rockies
Jhonny Peralta -$4,900 St. Louis Cardinals
Outfield
Starting Pitcher
*Rankings are price sensitive