Daily Fantasy Basketball Strategy — February 27th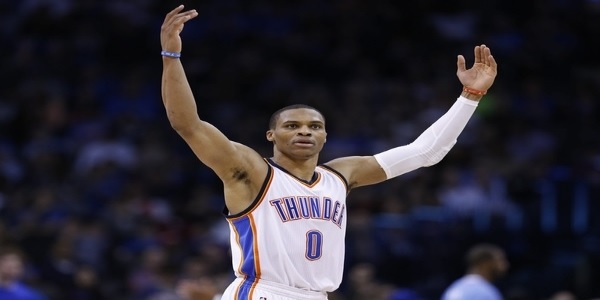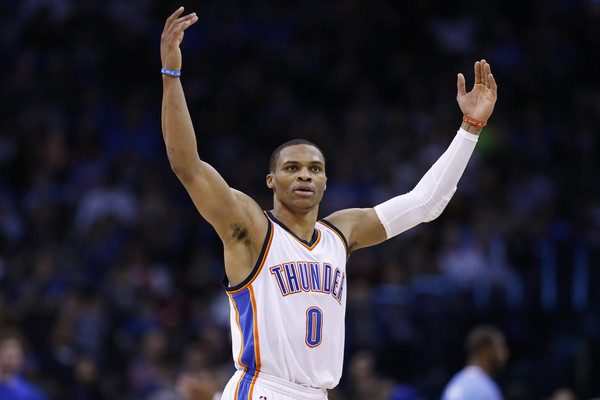 Today's NBA daily fix features a couple players at each position that I highly recommend for today's 14-game NBA slate. In addition to the two player breakdowns per position and I'll add a few cheap risk options. At the end I will list the top-7 players I'll be using at each position in cash games tonight. Remember that this is written up in advance of any starting lineup and most inactive news updates. Be sure to keep your eyes on Twitter and/or Rotoworld for updates that could change things in a big way. Good luck to you all and let's get money tonight!
I will not be around at all this evening to update the rankings if more inactives come out, etc.. I have to fill-in for a dad who chooses not to travel a couple hours on his daughter's birthday which also happens to be the night of her school's daddy daughter dance.
POINT GUARD:
Russell Westbrook ($11,200) – Start your lineup with Westbrook and build from there. I know paying $11k for a player is tough to do but when KD is out Westbrook owns. 59 – 57 – 58 – 53 in his last four games and has a good matchup against Portland tonight. He'll go at Lillard all night long and in two games this season against Portland he's averaging 62 DK points. Nothing more to say.
Ricky Rubio ($7400) – The kid from Spain has been fantastic recently and he's still at a reasonable price tonight. While the Bulls are listed as second best against opposing point guards, a lot changed in Chicago a day ago when we found out Derrick Rose needed knee surgery again. Hinrich and Brooks will have a tough time slowing down Rubes who has went for 41 – 45 – 41 – 33 DK points in his last four and that's while he shot below 25% from the field the last three games. He racks up the boards, assists and steals and that's how he scavenges his way to nice DFS showings.
Isaiah Thomas ($5900) – Sure, he's still been coming off of the Celtics bench but he's still getting it done even in just 27 minutes a night. Maybe tonight he goes over 30 minutes but if not he's still going to hit above value tonight going at Mo Williams. Zeke has averaged 35 DK points in three games with the Celtics and he should hit that or higher again in this one.
Cheap risk options: Aaron Brooks and Trey Burke both sit at $4500 tonight and neither is a safe bet and rely heavily on scoring yet aren't consistently efficient shooters but both have the 25-30 DK point upside. Isaiah Canaan ($3700) and Norris Cole ($3500) both are getting plenty of minutes to produce and are likely to land in the 20-27 DK point range at a cheap price. Andre Miller and Ray McCallum (both $3300) are splitting the PG duties in Sacramento down the middle. I like McCallum more tonight but both are worth considerations if you need a near minimum play and can't afford Cole.
SHOOTING GUARD:
Jimmy Butler ($7900) – This really isn't too bad of a price tag for Butler who is averaging 40 DK points per game when Derrick Rose is inactive. The Wolves are sure to try and get Wiggins on Butler when they can but he'll see plenty of Kevin Martin also and that's when he'll really dice them up. He's my favorite play of all of the higher priced shooting guards. James Harden being questionable and at $11k just isn't something I want to invest in.
Khris Middleton ($6400) – What, you thought after a couple weeks off I'd lose my love for Middleton? No sirs! Middleton is mid-level priced and going to get you around 30 DK points at least most nights. The last time he played the Lakers a couple weeks ago he went loco for 47 DK points and while I don't expect a repeat of that, it's still a great matchup for his skill set.
Cheap risk options: Kentavious Caldwell-Pope ($4400) is getting big minutes now and been hot the past couple weeks plus over 30 DK points in back-to-back games. Wayne Ellington ($4200) is still getting 30ish minutes and while he's cooled off lately, he's still put up 30 DK points in 2-of-4 so he has upside at this price. Corey Brewer ($4100) is a value guy at SG that I like a solid bit tonight. He's taking 12 to 15 shots a night, grabs solid boards and gets steals frequently and that can equal a nice DFS night but his has a low floor on those off nights. Henry Walker ($4000) feels like a trap here after his bursting into the Heat rotation and having a big DFS showing last game, but even with Beasley in town he should see nice minutes and he's cheap but definitely not safe. Will Barton ($3600) has played over 30 minutes in three straight games for the Nuggets and put up over 20 DK points in each and a crazy 39 last game. I'll be hoping for something around 25.
SMALL FORWARD:
Kawhi Leonard ($6700) – I am likely going to roll mid-level or lesser tonight at small forward (although if you do a lineup without Westbrook and have one with LeBron James due to Kyrie being out, I'm OK with that) and the highest priced guy that I personally will have shares of is Kawhi 5-0. His ownage will likely be down a bit due to his average play more often than not the past couple of weeks but he played well last game (38 DK points) and the Spurs are starting to feel the heat after what's been a brutal "rodeo road trip." Leonard has had success against Rudy Gay and the Kings this season also putting up an average of 37 DK points in two matchups. The third time will follow suit.
Trevor Ariza ($5900) – I was a little torn whether to go Luol Deng or Ariza here but I lean to Ariza tonight against the poor wing defending of Brooklyn. The last two Brooklyn games saw Quincy Pondexter and Danilo Gallinari go off and Ariza fits that same mold offensively but is also a plus defender, so he could really rack up the points on open threes and steal along with his always steady points, assists and boards. Look for Ariza to hit well above value tonight as a real solid cash game play.
Cheap risk options: Joffrey Lauvergne ($3500), "wait isn't he 6'11"? I think you meant to have him under PF or C." Nope. DraftKings has the rookie listed under small forward although he will definitely play mostly center tonight for the Nuggets and with Jusuf Nurkic and Darrell Arthur out tonight, he should get all the run he can handle. Joffrey put up 27 DK points in 26 minutes played last game and while he'll be outmatched by Rudy Gobert and Derrick Favors, he should still be able to hit value at this price. Dante Cunningham ($3300) is a true risk but he's gotten 30 minutes in back-to-back games and with Anthony Davis still out, he should again. He may draw a little of Hassan Whiteside but more of Udonis Haslem and Luol Deng who he matches up well against on the boards. He can probably get you above 20 DK points tonight but he can be unpredictable.
POWER FORWARD:
The three top dollar power forwards are all out tonight — Anthony Davis, Blake Griffin and Pau Gasol.
Derrick Favors ($7400) – As you know, I write almost completely towards cash games so I tend to go with guys I feel are safe bets to meet projection instead of a guy who has a lower floor but could potentially blow the lid off as well. Favors is the epitome of playing it safe tonight. He's been money recently, is at a fair price and has a terrific matchup against a depleted and defenseless Nuggets team, what's not to love here? Anything under 35 DK points would shock me but he's also highly doubtful to blow up for 50+.
Terrence Jones ($6500) – Another guy playing really well lately with a kind matchup at hand. Brooklyn is terrible against opposing power forwards and Jones is really picking up his play game-by-game since his return from injury. He's put up 35 and 40 DK points in his last two games and I think he hits right in there again tonight.
Cheap risk options: Well, you saw above that Pau Gasol was out and when he's out Taj Gibson ($4300) hops into the starting lineup and will get a little boost in minutes. I want to strongly suggest him but he's playing 30 minutes a night lately and has only put up 25+ DK points twice in the past five games, and in three games this season with Pau out, Taj only hit value in one of those. But, when Noah was out for a stint he averaged DK points in the low-30s and that's about where I have him finishing tonight. When you mention Taj you also have to mention Nikola Mirotic ($3800) who hasn't been playing a lot lately but when he does, he generally produces. At this low of a price he's an ok value guy to mix into some of your lineups but I think he's more of a GPP option, I don't have legit confidence that he'll hit for above 24 DK points.
I know above I said I tend to play it safe and now here I go listing the guy I labeled as "over-hyped" in the preseason, Kenneth Faried ($5200). He's seen a dramatic hit in playing time lately but tonight with Nurkic and Arthur out, he's going to have to play big minutes and despite his not great actual NBA game, he can rack up DFS points. He's a guy I'll take a couple shots on in lineups tonight hoping he can rack up a 15 and 12 double-double. If you have to go dead minimum somewhere, Thomas Robinson could see more court time tonight for the Sixers than he did in his first game on the team and if he sees over 20 minutes he should be able to hit at least 20 DK points. You know the risk with any minimum player though.
CENTER:
Al Jefferson ($7500) – Mr. consistent had one of his rare "down" games against the Bulls last time out but even still he put up 28 DK points. Before that, 39 – 38 -37 – 52 – 33, you get the picture. Well, tonight he takes on the weak bigs of Boston and the last time he had this matchup he put up 49 DK points on them, and there's really no reason to believe he can't do that again. Love Big Al tonight at this price.
Rudy Gobert ($6500) – You already knew, didn't you? This isn't totally bias though, it's just seeing an obvious advantage at hand. The Nuggets as I've said earlier are hurting tonight and even when at full strength they allow big DFS nights to big men. This is basically going to be like "Space Jam" and Gobert is playing the role of a Monstar and the Nuggets are the Tunes Squad and Michael Jordan is ruled out for the game. Yeah, it could be ugly. Rudy should easily compile a double-double with an impressive block total. I think a 40 DK point night is a layup tonight for the Stifle Tower.
Cheap risk options: With Kevin Garnett likely out tonight (cancel this if he plays) Gorgui Dieng ($5000) should draw a start for the Wolves and all things equal before KG arrived he had back-to-back 35 DK point showings. He's quite the gamble but I kinda like Robin Lopez ($4100) tonight against the Thunder if you go cheap at center (which I likely won't be) due to his size advantage on Enes Kanter. 30 is the upside but the floor is low as well.
Cash game rankings: (Not who I think will score the most, it's who I feel the best plays are based on price and production)
PG:
1) Russell Westbrook
2) Isaiah Thomas
3) Ricky Rubio
4) Reggie Jackson
5) Langston Galloway
6) Norris Cole
7) Tyreke Evans
8) Stephen Curry
SG:
1) Jimmy Butler
2) Khris Middleton
3) Will Barton
4) Kentavious Caldwell-Pope
5) Victor Oladipo
6) Corey Brewer
7) Eric Gordon
SF:
1) Joffrey Lauvergne
2) Kawhi Leonard
3) Trevor Ariza
4) Michael Kidd-Gilchrist
5) Luol Deng
6) Dante Cunningham
7) LeBron James
8) Andrew Wiggins
PF:
1) Derrick Favors
2) Terrence Jones
3) Taj Gibson
4) Kenneth Faried
5) Greg Monroe
6) Tim Duncan
7) Donatas Motiejunas
8) Nikola Mirotic
C:
1) Rudy Gobert
2) Al Jefferson
3) Gorgui Dieng (if KG is out)
4) Hassan Whiteside
5) Joakim Noah
6) Al Horford
7) Marcin Gortat
8) Robin Lopez
For more fantasy hoops analysis and to have any questions you may have answered, follow Zack on Twitter @BigZack44