Daily Fantasy Hockey Strategy: April 5, 2016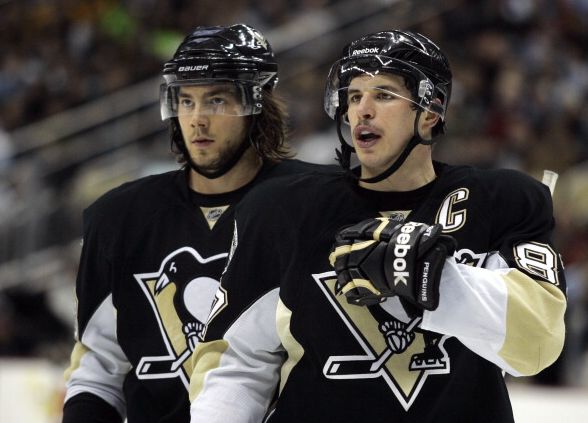 It's a loaded eleven game slate this Tuesday, with several great matchups on the board for DFS players to examine when making their selections for tonight. We'll get right to it with our stack pick of the night: Pittsburgh on the road in Ottawa.
As always, make sure to check out LeftWingLock for goalie confirmations.
All shot attempt numbers discussed are at even strength and score-adjusted unless otherwise noted.
TEAMS TO TARGET
Pittsburgh Penguins at Ottawa
Sure, the Vegas lines are pointing towards several other teams as bigger favorites on this night, but no team in the NHL has been as hot as the Penguins over the last two months. Currently riding a six-game winning streak, the Pens have won 12 of their last 13, outscoring opponents 16-4 in the last three. In their last 12 games, nine have been against teams currently locked into a playoff spot. The Pens have won all of those games, outscoring those teams 43-15 in the process.
Sidney Crosby has scored 26 points in his last 19 games and has five goals in his last four meetings with Ottawa, while linemate Patric Hornqvist has points in three straight. However, the line you may want to stack tonight is the Pens second: Carl Hagelin, Nick Bonino and Phil Kessel. The HBK line has combined for nine goals in their last ten games, ranking them as the second most productive line in all of hockey over that span. If you can fit those three into a stack with either Crosby or Kris Letang tonight, absolutely do not hesitate. Ottawa which allows a league-high 32.7 shots per game and has the NHL's second-worst penalty kill at 75.1 percent.
[cointent_lockedcontent article_labels="hockey"]
Anaheim Ducks at home against Winnipeg
The Ducks have won six-straight meetings with the Jets, averaging 4.00 goals per game in the process. This matchup would give our pick of the night a run, however the Jets have scored nine goals in their last two games, so use caution if going with the Ducks tonight.
For the Ducks, Jakob Silfverberg has nine goals in his last 14 games. His linemates, Ryan Kesler and Andre Cogliano, have had some success recently as well. Kesler has three goals and three assists in his last three games, while Cogliano 10 points in his last 14.
Nashville Predators at home against Colorado
Both teams will be looking to avoid matching season-worst losing streaks, so something will have to give tonight in Nashville. Since Colorado has only four goals on their losing streak and have dropped five of their last six while giving up 3.83 goals per game, we're leaning heavily towards Nashville and their chances of turning their skid around much sooner.
The problem with the Preds for much of the season is they don't have one clear-cut line to stack from. That has changed of late with both James Neal (15 points in his last 13) and linemate Ryan Johansen (12 points in his last 13) finally beginning to form some chemistry. The Avalanche yield the highest total of fantasy points to defensemen, so definitely consider the dynamic duo of Shea Weber and Roman Josi from the Nashville blueline when making your choices for tonight.
Notes:
Chicago has not played well recently until tallying 11 goals in their last two games, however they have the Coyotes at home tonight, and Arizona has really struggled on the road this season. The hottest line for the Hawks is Patrick Kane, Artemi Panarin and Artem Anisimov, who each had a goal in Chicago's 7-5 win over Arizona on Dec. 29. Kane scored a goal and Panarin had three assists in a 5-4 overtime victory against the Coyotes on Feb. 4. They should be heavily owned tonight.
Los Angeles, Florida, and San Jose all have decent matchups tonight, however all are on the road on a night where there are just way better games to choose from, so I'll be fading all three of those teams tonight as far as stack options are concerned.
PLAYER RANKINGS
Center
1.) Sidney Crosby – Pittsburgh Penguins
2.) Joe Pavelski – San Jose Sharks
3.) Nick Bonino – Pittsburgh Penguins
4.) Ryan Kesler – Anaheim Ducks
5.) Ryan Johansen – Nashville Predators
6.) Joe Thornton – San Jose Sharks
Winger
1.) Phil Kessel – Pittsburgh Penguins
2.) James Neal – Nashville Predators
3.) Jakob Silfverberg – Anaheim Ducks
4.) Patrick Kane – Chicago Blackhawks
5.) Carl Hagelin – Pittsburgh Penguins
6.) Patric Hornqvist – Pittsburgh Penguins
7.) Filip Forsberg – Nashville Predators
8.) Artemi Panarin – Chicago Blackhawks
Defense
1.) Brent Burns – San Jose Sharks
2.) Kris Letang – Pittsburgh Penguins
3.) Shea Weber – Nashville Predators
4.) Roman Josi – Nashville Predators
5.) Drew Doughty – L.A. Kings
6.) Sami Vatanen – Anaheim Ducks
Goalie
1.) Matt Murray – Pittsburgh Penguins
2.) Pekka Rinne – Nashville Predators
3.) John Gibson – Anaheim Ducks
4.) Chad Johnson – Buffalo Sabres
[/cointent_lockedcontent]