NBA DFS Plays and Strategy: October 20, 2017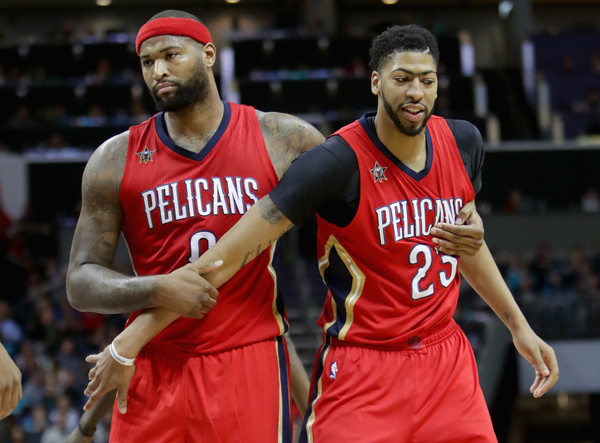 I'm going to breakdown tonight's NBA DFS slate by position, and I will point out when I am suggesting a player as more of a GPP, Cash or both play. If you're new to DFS, a "GPP" is a large tournament and "Cash" are 50/50 and h2h games. For a GPP you like to swing a bit more for the fence, while in a Cash lineup you want to play things a bit safer. I will also make it clear when a player is a better value due to price on a specific site (DraftKings or FanDuel). I'll have suggested top plays, cheap values, Vegas line outlook and more. Let's get to the daily grind.
First, let's look at the best and worst Vegas game totals for the slate. This is how you get an idea of which games are expected to have the most points scored. More points in the game means more DFS points to be had.
Portland @ Indiana — 225.5
Orlando @ Brooklyn — 223.5
Golden State @ New Orleans — 221
LA Lakers @ Phoenix — 220.5
Boston @ Philadelphia — 217
Cleveland @ Milwaukee — 210
Detroit @ Washington — 211
Utah @ Minnesota — 199
Sacramento @ Dallas — 202.5
Atlanta @ Charlotte — 202.5
So, as you can see, the top five games are expected to have a ton of points scored, the two in the middle a little less and the three in the bottom tier not that many at all. It doesn't mean that you should totally fade any players in the bottom tier games, but I surely wouldn't try any game stacks from those matchups. A "game stack" is when you use 4-6 players from the same game in hopes that the game will have end up with a massive score and you'll cash in on it. Stacking is typically a GPP strategy more than Cash.
It is key to watch the injury news in NBA DFS more than any other sport. Sometimes the news breaks just minutes before tip-off and you have to scramble to fix your lineups. Being available on your phone or pc the hour before the first games tip is critical to your NBA DFS success in my opinion. If you don't hear that LeBron James is out due to a stomach bug (I made that up) and scratched from the lineup at 6:50 when the game starts at 7:00, you will get a zero anywhere you played Bron which is basically a guarantee that you're not cashing those lineups. Also, when a player like LeBron is out, it opens up value for other players on the Cavs, like Kevin Love, Jae Crowder and Dwyane Wade would all see bumps in usage.
Injury News
Myles Turner – Doubtful (Upgrades Thaddeus Young, Domantas Sabonis, Jusuf Nurkic)
Marcus Smart – Doubtful (Upgrades Terry Rozier, Jaylen Brown)
Aaron Gordon – Questionable
Michael Kidd-Gilchrist – Out (Same as their opener)
Stanley Johnson – Questionable
If you want to get a couple of the big dollar players in your lineup, you're going to need to find some diamond in the rough cheap options. Finding that cheap value is major when forming lineups. If there's not any good cheap plays ($4,200 and under) then you may not want to go with more than one stud in your lineup, and stick more to a balanced approach. You will see me mention below when I love a players value due to potential production, opportunity and cheap price tag. Now, let's get to the top plays and values at each position.
POINT GUARD
My favorite top-tier PG tonight is John Wall. Avery Bradley will have his hands full guarding Bradley Beal, so Wall should be the focal point in the Wizards O. Damian Lillard is right there with Wall for me. The Pacers got torched Wednesday night, and Lillard isn't going to be any less lethal. One notch down from that costly duo, I love D'Angelo Russell against my Magic. DLo had a 30.6% usage rate in their opener, and with Jeremy Lin out of the picture, the Nets will rely on Russell even more. He's great for either game type, but he'll probably be my top used cash game PG. Others I will definitely have shares of include Eric Bledsoe, Stephen Curry, Kyrie Irving and Elfrid Payton out of the higher priced guys.
In the mid-tier and below, I look to Malcom Brogdon (also eligible and fine play at SG). Brogdon played a whopping 41 minutes in the opener against Boston, so I don't see that being dropped much, if any, against the Cavs at home tonight. The price x opportunity makes for a nice value option.
As for the cheapies, this is a little riskier, but there's a lot of upside here due to some injuries. Marcus Smart is out, so Terry Rozier becomes a great bargain with nice upside. Terry played 23 minutes on Wednesday with Smart active and managed 17.5 fantasy points (FPs). You're going to want Terry in most your lineups. Also, Caris LeVert (also eligible at SF) should see big minutes after the Lin injury, love his value and dual eligibility.
Shooting Guard
I'm personally going to save some money at SG tonight, my favorite top guy is Victor Oladipo. He was already setup to have a big night against the Blazers who loves to run uptempo as well, and now with Myles out, Dipo is sure to be fed as much as he can handle. I'm also on the Khris Middleton train tonight, in a game against Cleveland that should show Middz take advantage of his matchups against the likes of elder D-Wade and JR Smith. Khris fills out the stat sheet, very fantasy friendly game and priced well for us. Lastly, Jaylen Brown should see an uptick in usage with Smart sidelined, but his price is creeping up, so while he's a fair play, he'll need to play his best game yet to hit value. I'll use the two names above more tonight.
As for the bargain bin, there's plenty to be interested in. Terrence Ross looks to be a high scorer tonight in a fast paced game against Brooklyn and is priced way too cheaply. Stanley Johnson is questionable and shot horrifically (0/13) Wednesday, but the fact he played 40 minutes and had the freedom to shoot the ball 13 times, means there's a lot of upside at his low cost. Keep tabs on his status though. Yogi Ferrell isn't my favorite option, but he'll start and has a positive matchup on the offensive end, so he should be able to hit value at his price.
Small Forward
Coming off of a not stellar opening game, look for the Slim Reaper, Kevin Durant to bust back onto the scene in a big way against the Pelicans. I have KD projected around 55 FPs with upside for more if the Pels can keep it anywhere close. While LeBron and Giannis are worth plays as well in their head-to-head showdown, I just kinda like saving about $1000 and rolling w KD. I have them all projected within 3 FPs of one another, so taking the savings to spend up elsewhere makes sense, although any one of these three could get hot and run away with it. I'm sure I'll have a team or two with Ben Simmons manning the SF spot since he has the rock so often for Philly and is still under $8k. He just doesn't have the ceiling the other three do, and I'm not sure he can out-value the cheaper options today, so maybe I'll actually use him at PG.
In the mid-tier and below, sign me up for lots of Thaddeus Young with Turner out. Thad already had a big game on Wednesday and will see a usage boost and a similar matchup. At his price, he'll likely be in 80% of my lineups. Other than Thad, I am looking at guys I have mentioned at other positions, LeVert, Middleton, Ross and maybe Jonathon Simmons, especially if Aaron Gordon is out.
Power Forward
My top play of all the top-dollar studs on the board tonight is Anthony Davis. He's crushed the Warriors no matter who they put on him, and I don't see that stopping tonight. Last season in three matchups, AD averaged 35 points, 12.7 rebounds, 2.3 assists, 2.3 blocks and 1+ steal. He's costly, but I will have him in a good bit of my lineups tonight looking to post 60+. Cousins will be manned by Draymond Green and Dray actually has given him fits, so all the more reason I am ride or die on the Brow tonight. I like Kevin Love at his price tonight, but more than likely if I don't roll with Davis at this spot, I am going cheaper.
Speaking of cheaper, my favorite mid-tier and below options at PF are led by Larry Nance Jr. Whether it be at SF/PF/F, you're probably going to want some shares of Nance, who started over Julius Randle and went for a dub-dub last night. He has an even better matchup tonight, so I am expecting similar results. If you want to get a little risky in a GPP or just need a non-chalky play, look at Frank Kaminsky going against the Hawks. Frank shot badly last game, but should get better opportunities and be able to hit above value at his low cost. Last but definitely not least, Domantas Sabonis is near minimum price and managed to put up over 25 FPs last game in just 19 minutes of play. He should see over 25 minutes tonight with Myles Turner likely out of the game. He's ideal for the studs-n-duds lineup strategy.
CENTER
Aside from Anthony Davis, my top play at center tonight is Nikola Vucevic. Despite squaring off with Hassan Whiteside on Wednesday, Vucci Mane still put up 19 points, 13 boards with 2 steals and 2 blocks. Tonight he faces a much easier matchup and in a game that should be even higher scoring. Don't be surprised to see him go for a 20-20 night. Also, with Myles out, it's a nice boost in value for Jusuf Nurkic who is fairly priced. The Pacers will not have anyone who can stop him in the paint now, so he should have a beastly night. Nurk is a great cash game play.
In the mid-tier and below, I am buying into Dewayne Dedmon tonight for the Hawks. He should see plenty of minutes and could get you a low-end double-double with a couple blocks, which is just fine at his price. Trevor Booker will also continue to appear on my DFS write-ups until they get his price up a grand. He's very efficient with the PT he's given, so he will do work in the paint against the Magic. Booker is a great GPP or Cash play tonight, fairly safe floor.
If you can't tell from my picks, I won't be going full studs-n-duds tonight. I am more likely to start with Anthony Davis (or Durant) and then a few players in the $7-8k range, then filling out the remainder with nice values of $4500 and under. Rozier, T Booker, Thad Young, LeVert, Nance and TRoss will probably be my most used non-elite players tonight.
Good luck, and I will continue to update this as more news on injuries, late game scratches, etc… come about. Let's get that money!
Big shouts out to BasketballMonster for making checking stats and prices quick and easy. They're my go to for stat references.
Any questions or comments, hit me up on Twitter @BigZack44