NBA DFS Plays and Strategy: October 23, 2017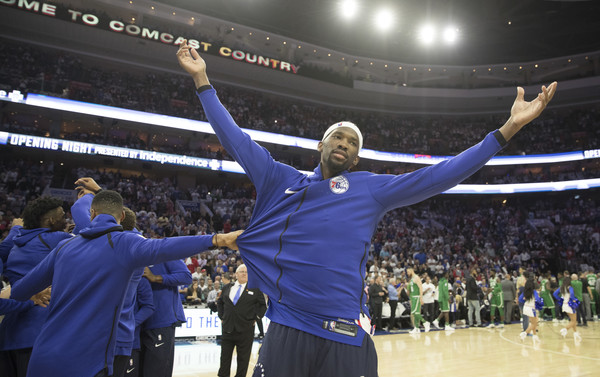 What a mess tonight has become after several players being ruled out. There are so many cheap value options to consider, and in all likelihood, 75% of DFS'ers will have the same gameplans. Eric Bledsoe has been asked to stay away, likely until he's traded, plus the Suns coach Earl Watson got canned. As fantasy players, we should be elated with this news, as it likely means we see more of players like Marquese Chriss, Dragan Bender and Alex Len and hopefully a lot less Tyson Chandler.
Today, I will be going over the 8-game NBA DFS slate ahead. I will talk about the Vegas lines, injured players and who sees a boost in value due to those injuries, my top plays at each position, as well as great value/cheap options. If you want to fit in a couple of the high salary studs, you have to find the cheap gems. So let's get digging.
Vegas Projected Game Totals
Wizards @ Nuggets — 222.5
76ers @ Pistons — 214.5
Warriors @ Mavericks — 213
Grizzlies @ Rockets — 211
Kings @ Suns — 210
Raptors @ Spurs — 205.5
Hornets @ Bucks — 205
Hawks @ Heat — 203.5
So, obviously the Wiz/Nugs game stands out, but there will be plenty of value throughout the games in this slate. If Steph Curry plays/sits will be a big sway of who you want to target in that game, so we will definitely keep tabs on it and update accordingly. The games that I'll likely invest the least in are the Raps/Spurs and Hawks/Heat games. Let's move on to the top plays.
Point Guard
If you're going to spend up at PG, you may as well go with the unstoppable Giannis Antetokounmpo (also SF eligible). He's playing at an MVP level right now, and now that he's figured out he can score at will on basically any defender, he's doing just that. 62, 63 and 65 points DFS showings through his first three games, and lowish projected game total or not, Greek Freak is gonna get his. I'll definitely be rolling out some John Wall and Mike Conley as well if I don't go Freak or the cheap route.
Bargain Bin:
Other than Giannis though, I am probably going cheap at PG tonight with some of the values available. My highest owned (assuming Dennis Schroder is out) will be Malcolm Delaney. Delaney will likely start with Schroder out, and while he's not a superb player, opportunity is king, and he's minimum price which makes him irresistible. Even as a back-up he's put up 12, 12 and 15 FPs, so with that in mind, with a boost in minutes I would say low-20s is his floor tonight, and I'm good with that. I like the Kings PG duo of George Hill and De'Aaron Fox also. I know Fox has been more consistent, but I think Hill costing a tad less is wrong, boosting his appeal.
I had Malcolm Brogdon here previously, but he's been ruled out, so now Matthew Dellavedova will start and see 25+ minutes, and while he's not a huge stats guy, he's still just $3100 on DK. At that price and with those minutes, he should hit value with ease, but don't be shocked if it's around 20 FPs, because there could be a lot of Giannis running point.As if there wasn't enough value to be had in the PG area, now Eric Bledsoe has been ruled out as well. Now, Mike James steps into the spotlight of value options at guard. While Tyler Ulis should see a minutes bump, I'm not sure he's ready for big minutes yet, so James should be the guy tonight, or at least I don't have the sack to roster Ulis til I see it play out.
Shooting Guard
James Harden hasn't went off in a major way yet, so he'll be under-owned in GPPs tonight. Bradley Beal is a primary target for me at this spot tonight. He's in the game with the by far highest projected game total, so I love loading up on the top scorers on those teams. With his sure bet minutes and scoring along with sneaky good defensive numbers, Beal makes for a money Cash/GPP play. If Curry is ruled out, I boost up Klay Thompson, while Devin Booker has GPP upside, but isn't a safe bet for Cash. Update: Booker now will surely have the ball in his hands more with Bledsoe ruled out.
Bargain Bin:
Josh Richardson is a nice target in a low scoring game like Mia/Atl with his stat filling abilities. He gets around 35 minutes, little over 10 points and pads his total with a few of everything else, including blocks. My projection on him tonight is at 30 FPs. In that mid-$5k range, it's a tough spot. So many could solid players, only a few will excel and all have scary low floors (Dion Waiters, Gary Harris, Avery Bradley, Eric Gordon), but when in doubt, I look to Vegas, so that makes me lean to Gary Harris of the bunch.
Small Forward
All hail, Greek Freak! If you didn't use him at PG, here's another chance. Kevin Durant is a solid play regardless, but if Steph Curry is suspended tonight, KD would see even more volume and would be a potential bargain at under $10k. Khris Middleton hasn't put together a full game yet, he's had a night where his shot was falling but didn't get the other stats and twice that he got the other stats but shot was off. Despite that, he's been right around his value line two of those three games, and all signs point to tonight being his first complete game. I like Middz for GPP lineups, as most will be locked into Otto Porter instead.
Bargain Bin:
Wilson Chandler is a mid-tier option that I'll use in a high scoring game. He can score a bit, but will make his value line due to his other stats. Trevor Ariza is another value at his low cost, just not a lot of upside. Stanley Johnson hasn't been great, but at under $4k with the minutes he's playing, I think he's a viable cheap play in a GPP with a floor around 20, ceiling closer to 30. Andre Iguodala is a safe bet to clipse 20 FPs if Steph is out. Josh Richardson I mentioned in the SG section.
Power Forward
Joel Embiid, game of destruction ahead. The Process has put up 39 and 40 FPs in two games played, despite shooting an inefficient 11/31 from the floor, 0/10 from beyond the arc. Tonight he makes closer to 50% from the floor and goes for 50+ FPs against a Pistons team that has zero answer for Joel other than to pray he gets in early foul trouble. I love the price of James Johnson, especially now that Whiteside has been ruled out. It's hard to imagine JJ not hitting above value at his price and role.
Bargain Bin:
In the mid-tier, I am going to have some exposure to Zach Randolph, especially in GPP lineups. He's hit 26 FPs his first two games of the year while shooting just 10/28 shots. Give him 15 shots against the hapless Suns and I'm aboard the ZBo Express! John Collins at $4k is a gift from DK, take advantage while he stays that cheap. He's done a lot in his 20mpg, and hopefully that gets him a few extra tonight. Update: Now Ersan Ilyasova has been ruled out, so Collins will be an even better play, but also mean he'll be MUCH higher owned. I'd love to say that Marquese Chriss or Alex Len will absolutely see more PT tonight and crush value, but there's no certainty of that at all. I may use Len in a GPP or two, but the floor is scary low.
Center
It's time to admit that Dwight Howard is getting it done and still a bit under-priced. The Hornets rely on him right now as an offensive piece with Batum still sidelined, and he's cleaning up the glass every game. He's a fine cash play tonight against the Bucks who have allowed bigs nice numbers in the paint this season. Embiid is still my top play here if unused at PF. You can note, I'm never going to feel confident about Andre Drummond, but the BasketballMonster.com system is a big fan of his tonight to put up 40+ FPs. I don't love the price for Kelly Olynyk, but with Whiteside out, he's all but assured to play about 30 minutes, making him a fair play.
Bargain Bin:
Pau Gasol isn't a sexy play at all, but he's likely to play close to 30 minutes and with Jonas Valanciunas out, Pau should have a lot of opportunity to do work in the paint tonight. Feel like he at least nets you 25 FPs, with 35 in play. If you're feeling lucky and want to save some big cash at the center spot, look at Jakob Poeltl who should play around 20-25 minutes with Valanciunas out, and that may be enough for him to put up 20 FPs. He somehow managed 27 FPs in 17 minutes in their last game, that's a bit optimistic though. I'd love to recommend Dewayne Dedmon, but his minutes have been shaky thus far, making him just a value GPP option. The matchup is good for him, so if he does play 25+ minutes, he should put up about 1.0 fantasy point per minute.
Guys, there is SOOOO much value to be had tonight, and it's incredibly easy to throw Dellavedova, Delaney, JCollins and Mike James in your lineup and then fill the rest out with studs like Giannis and Durant, and I do recommend you having a similar lineup, but the odds of each of those value guys hitting is quite low, so I also advise you to have a lineup that fades the majority in GPPs. Throw one or two of those cheapies in the lineup, *gulp* fade Giannis and roll with a more balanced lineup with mostly $7k types like Booker, Embiid and Conley, or just go with Harden and KD and no Giannis. My point isn't that you're more likely to cash, it's that when you know 70% of a huge pool of people is dropping the same type of lineup, why follow them when you can take a shot at them being wrong, thus already being ahead of those 70% of people. If Giannis puts up just 45 FPs, Dellavedova 15 FPs and Mike James 20 FPs, meanwhile you went Harden for 60 FPs, Booker for 55 FPs and GHill for 35 FPs, you have the advantage. Don't be afraid to be different in a GPP.
Good luck, and I will continue to update this as more news on injuries, late game scratches, etc… come about. Let's get that money!
Big shouts out to BasketballMonster for making stat and price checking quick and easy. They're my go to for stat references.
Any questions or comments, hit me up on Twitter @BigZack44