45 Prospects in 45 Days: St. Louis' Oscar Taveras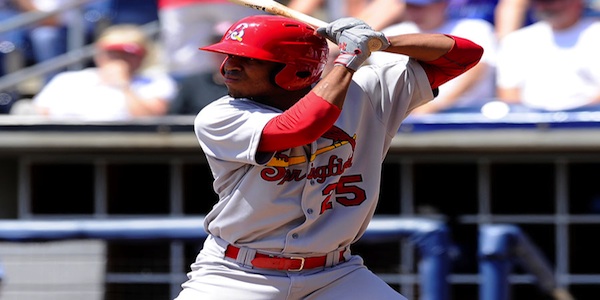 One of the better known prospects last season, Oscar Taveras was just waiting for an opportunity to present itself in the crowded Cardinals outfield. Instead Taveras got hurt and spent the better part of 2013 on the shelf. The 6'2'' 200 pound, left-hander is already known as one of the better  ''good, bad ball hitter.'' And he has shown all the tools offensively and defensively to be a perennial All-Star for years to come.
Most preseason publications have Taveras somewhere in the top five of their prospects rankings for the second year in a row. Baseball America's John Manuel, Matt Eddy, J.J. Cooper and Ben Badler all have him as their third overall prospect entering 2014. Taveras grades out at least average in all aspects of his game according to Baseball America. The bat, which we all care about in the fantasy world, will be his calling card as B.A. grades at a MVP level 75 (on the 20-80 scale) with his power at 60. ESPN's Keith Law has him at five overall after having him at two in 2013, stating that he believes Taveras still ''peaks as a .300 hitter with 30-home run power.''
The injury that hampered Taveras's 2013 season was a right ankle sprain that he attempted to battle through. Unfortunately, he was only able to play in 46 games before having surgery on said ankle. During that time, all with the AAA Memphis Redbirds, Taveras tripled slashed .306./.341/.462 with 5 home runs and 32 RBI. He also struck out only 22 times in 174 ABs. A good average, solid power and not a ton of strikeouts have been a constant for Taveras throughout his minor league career. That statement is most evident by his 785 ABs during the 2011-2012 seasons (spent in A and AA). In that time, Tavares hit .346, with 31 HRs while only striking out 106 times.
There's a wide variation to the numbers Taveras could put up for 2014. Adjusting to major league pitching shouldn't be the problem, opportunity is. All forms of projections seem to agree that Taveras should find his average in the .280 range with a OBP in the .320s-.330s while his SLG % could be as low as .420 and as high as .460. If you dig a little deeper into his projections you would see his K% in the 14-15% range while his BB% projects in the 5-6% range. If those numbers were a reality in the 2013 season, Taveras lines up nicely with Brandon Phillips-like season (14.7%, 5.9%) who hit .261 with 18 homers in 666 2013 plate appearances.
How healthy Taveras truly is and all the moving parts in St. Louis leave the amount of playing time he will get in 2014 up in the air. For the moment, the Cardinals outfield goes Matt Holliday, Peter Bourjos and Allen Craig, left to right but that could all change with Jon Jay and Matt Adams lurking for playing time. Therefore, barring any drastic change this spring training, Taveras is going to spend time in AAA limiting his fantasy numbers this season. Taveras's lost 2013 season will likely cost him stardom in 2014 but he should remain on all fantasy radars in any short term and definitely long term leagues.