2016 Fantasy Baseball: Week 16 Two-Start Pitchers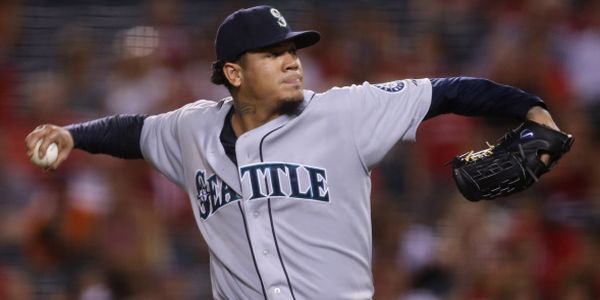 Christopher Morais
A fantasy owner's best friend is the waiver wire—where finding value can make the difference between a great week and a very disappointing one. Most pitchers see the mound once every seven days, but if you want to maximize the number of starts per week, it's important to look for players pitching twice and exploit favorable matchups if they exist. With that being said, let's take a look at some pitchers you should be starting this week, and some you should just leave on your bench.
Elite
Felix Hernandez | Seattle Mariners
Opponents:  Francisco Liriano (PIT), Kyle Hendricks (CHC)
In his first start since coming off the DL, Felix Hernandez didn't exactly dominate. The righty gave up five runs, on ten hits, while striking out just two in 6.2 innings of work. Not a great stat line, but we'll chalk that up as shaking off the rust. This week, Felix gets two starts– one against the Pirates, and the other against the Cubs. Both clubs are about league average in terms of team batting average, but they also rank top-10 in strikeouts. Hernandez has the ability to rack up strikeouts, so if he can locate his fastball and get hitters to swing and his nasty curveball, he should be fine. As far as elite pitchers go this week, "King Felix" is as good as it gets.
Jake Arrieta | Chicago Cubs
Opponents: Miguel Gonzalez (CHW), Wade Miley (SEA)
After having an incredible start to the 2016 season, Jake Arrieta has come back down to earth over his last four starts. His last start was Arietta like– punching out eight hitters in seven innings while allowing just one run on five hits– but that was against the Mets, who, let's face it, aren't very good at hitting the baseball. Nonetheless, the Cubs ace is a solid option every time he takes the mound, and this week is no different. The 30-year-old will take on the White Sox in his first start, followed by the Mariners in his second start. Both teams don't strikeout very often, but only the Mariners are close to the top-10 in team bating average (11th, .261). For fantasy owners still fighting for a playoff spot, benching Arrieta isn't an option. Sure, he hasn't been his MVP self lately, but he's probably the reason your fantasy team is still even in the hunt for a championship. If anyone can have two strong outings this week, it's him. Trust the process and roll him out there.
Noah Syndergaard | New York Mets
Opponents: Carlos Martinez (STL), Jorge De La Rosa (COL)
For some reason, fantasy owners are worried about starting Noah Syndergaard. CBSSports.com has Syndergaard projected at a 55% start rate, which is bizarre to say the least. The 23-year-old has a cannon for an arm, and even if Colorado and St. Louis don't strikeout as often as other teams, there's no reason for the Mets ace to not be in your lineup. The only team that poses a real threat to Syndergaard is Colorado (3rd, .270), but this game is being played at Citi Field, putting the Rockies at a huge disadvantage. Any pitcher who throws a slider close to 90MPH should be able to rack up double-digit strikeouts almost every start, even against teams who have good plate discipline. Is there some risk here? sure, but the reward is too good to pass up on.
Other Must Start Pitchers: Carlos Martinez.
Mediocre
Michael Pineda | New York Yankees
Opponents: Dallas Keuchel (HOU), Blake Snell (TB)
There's definitely some value in starting Michael Pineda this week, but be warned, it comes with a ton of risk. The Yankees starter is the definition of inconsistent, making him almost impossible to trust. His 5.25 ERA is certainly concerning, but his matches against the Houston Astros and Tampa Bay Rays are above average. Even if he gives up three earned runs in both starts, if Pineda can rack up 8-plus strikeouts and pitch about six innings, that should make fantasy owners really happy. Is there a chance that he gets destroyed in either start, yes, but at this point in the season, it might be time to take some risk, and the 27-year-old is a calculated risk worth taking.
Jamie Garcia | St. Louis Cardinals
Opponents: Bartolo Colon (NYM), Tom Koehler (MIA)
Yes, Jamie Garcia is a fantasy option this week. There aren't many elite pitchers to choose from, and the pool of mediocre pitchers is thin as well, so if you need a pitcher to just not be bad this week, Garcia is your guy. The veteran lefty is capable of pitching six innings and picking up about five strikeouts in both contests, but don't expect anything more. There is some risk with Garcia taking on the Marlins, but not enough risk for him to be left on the bench. Again, Garcia isn't a sexy play, but he just might be able to get the job done.
James Shields | Chicago White Sox
Opponents: Kyle Hendricks (CHC), Ervin santana (MIN)
Remember when James Shields was so bad that he game up a home run to this guy? (Bartolo Colon for those of you who didn't click the link).Well, the veteran right-hander has become fantasy relevant again. Over his last five starts, Shields has only given up eight earned runs in 34.1 innings. Of those eight runs given up, six of them were via the long ball. He's also recorded just 16 strikeouts in those five games, which is defiantly a huge concern. There's no evidence to support the idea that Shields has moved from a strikeout pitcher to a more complete pitcher who changes speeds and spots his pitches, but regardless, the fact that he's pitching well is good news for owners who have managed to snag him off the waiver wire.
Other Options to Consider: Bartolo Colon, Drew Pomeranz, Aaron Sanchez, Kyle Hendricks, Jeremy Hellickson, Justin Verlander, Steven Wright,Francisco Liriano, Gio Gonzalez,
Bench
Dallas Keuchel | Houston Astros
Opponents: Michael Pineda (NYY), Justin Verlander (DET)
Houston starter Dallas Keuchel has pitched well over his last four starts– bringing his ERA down from 5.13 to 4.70– but I'm still not confident that the southpaw has returned to being an elite pitcher in the Majors. Both the Yankees and Tigers are average hitting teams against left-handed pitchers, but Keuchel's inconsistency throughout the season just makes it hard to trust him. Recent numbers say he should have a decent amount of success this week, but personally, he's not worth the risk. Bench him one more week and see if his recent success continues into August.
Ian Kennedy | Kansas City Royals
Opponents: Hector Santiago (LAA), Martin Perez (TEX)
Royals' starter Ian Kennedy is good at two things: giving up homers and striking out hitters. The righty have given up 26 long balls so far this season, while racking up 114 strikeouts, an average of six per game. The Rangers and Angels are top-10 in team batting average, so Kennedy is going to have his hands full in both starts trying to get hitters out. To make matters even worse, the Angel are ranked 30th in strikeouts this season, while the Rangers rank 24th. This isn't a good matchup for Kennedy, so it's best to leave him on the bench and wait for next week.
Jake Peavy | San Francisco Giants
Opponents: Anthony DeSclafani (CIN), TBA (WAS)
Jake Peavy is not good at throwing baseballs anymore, period. Must we go on? The veteran has a 5-8 record, a 5.15 ERA and a 1.40 WHIP. nothing exciting about those numbers. Yes, Cincinnati and Washington are below-average hitting teams, but that doesn't make Peavy a better pitcher. He's #NotGood, so leave him on the water wire where he belongs and stack against him in DFS. It's literally free money.
Other Pitchers to Avoid: Matt Cain, Ervin Santana, Patrick Corbin, Martin Perez, Chad Bettis, Matt Garza, Chris Tillman, 
Stats and references provided by www.MLB.com and www.ESPN.com