2020 Fantasy Baseball: Fun with PECOTA– Shortstops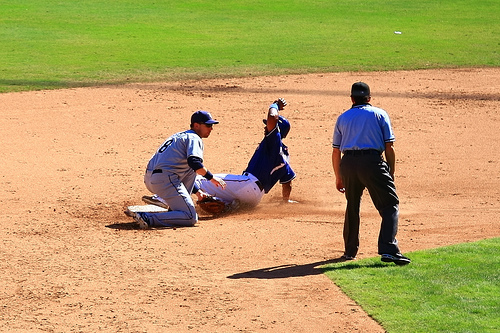 This time around we are going to combine a couple of different features into one article. We had started a variation of the three to keep, add, and drop when I shifted gears to fun with PECOTA. So, we will combine those here. We are taking a look at three shortstop that typically went undrafted (drafted by less than 50 percent of Yahoo leagues), but are somehow rated highly by PECOTA. We will add in the Steamer and Rotowire projections to offer a basis of comparison.
PECOTA comes from Baseball Prospectus and is one of the few things I look forward to every Spring. Unfortunately, supply chains and delivery delays brought this series a little later than I normally would like. Fortunately, we have plenty of time until the season actually begins. All projections are based on a 162 game schedule. As we know, that is highly unlikely. The current estimates are a 100 game season. Numbers can be adjsted there, but we will keep to 162 game projections to keep things easier to comprehend.
Rankings for shortstops for Baseball Prospectus are based on two points. First, we use Value Over Replacement Player (VORP). That compares all shortstops with the typical AAA shortstop. Secondly, we took the top 25 shortstops that will primarily play shortstop. There will be players that are eligible at shortstop than will be used elsewhere because that is where they will play most of the time this year.
Three to Add
Willy Adames– Tampa Bay Rays
VORP: 17.5 (15th)
Yahoo Owned: 11%
Yahoo 5: 20th
Yahoo 6: 19th
PECOTA: .242/18 HR/64 Runs/69 RBI/7 SB/54 BB
Rotowire: .266/17 HR/77 Runs/61 RBI/7 SB/56 BB
Steamer: .256/18 HR/65 Runs/66 RBI/7 SB/52 BB
As per usual, this is a case where you have a player that isn't good enough to be a starter, but should be rostered by almost everyone. A part of the disparity between projection systems is systemic to the systems themelves. We notice for instance that Steamer tends to have higher offensive numbers across the board (and worse pitching numbers). That means that Rotowire is pretty bullish on him overall. Either way, he should be a backup somewhere in your league and chances are he's better than the one you have.
Andrelton Simmons–Los Angeles Angels
VORP: 10.0 (21st)
Yahoo Owned: 7%
Yahoo 5: 21st
Yahoo 6: 22nd
PECOTA: .263/10 HR/56 Runs/58 RBI/10 SB/37 BB
Rotowire: .270/10 HR/59 Runs/62 RBI/12 SB/32 BB
Steamer: .278/11 HR/63 Runs/65 RBI/10 SB/37 BB
Simmons is the direct fielding descendant to Ozzie Smith. In a similar way, his counting numbers will end up looking better than his actual offensive value demonstrates. When you are a two or three win player defensively you are going to play. When you play you put up basic counting numbers. If he is your fantasy regular you are in a heap of trouble. If you have to play him a week here or there you should be okay.
Nick Ahmed–Arizona Diamondbacks
VORP: 5.5 (24th)
Yahoo Owned: 9%
Yahoo 5: 22nd
Yahoo 6: 21st
PECOTA: .224/16 HR/60 Runs/67 RBI/8 SB/47 BB
Rotowire: .248/17 HR/70 Runs/74 RBI/6 SB/45 BB
Steamer: .244/17 HR/59 Runs/68 RBI/7 SB/44 BB
PECOTA is not very fond of him, but the other two projection systems are. Ahmed is a lesser version of Simmons. He is a plus defender, so he will play and last year he began to put up some decent numbers. Again, most of the shortstops were pegged accurately and it's a fairly deep position. If you are looking for a quality backup he could be an underrated solution.
Three to Avoid
Adalberto Mondesi–Kansas City Royals
VORP: 2.0 (25th)
Yahoo Owned: 97%
Yahoo 5: 14th
Yahoo 6: 17th
PECOTA: .242/15 HR/53 Runs/59 RBI/32 SB/25 BB
Rotowire: .269/15 HR/69 Runs.67 RBI/41 SB/22 BB
Steamer: .254/19 HR/77 Runs/71 RBI/46 SB/31 BB
There's always a gap between real baseball and fantasy baseball. Five category leagues are basic and easy to understand, but it is much more valuable to steal first base than it is steal second. In five category leagues, having someone capable of stealing 40 bases is worth it's weight in gold. The problem is he will get you just about everywhere else.
Elvis Andrus–Texas Rangers
VORP: 12.2 (20th)
Yahoo Owned: 87%
Yahoo 5: 12th
Yahoo 6: 12th
PECOTA: .267/11 HR/62 Runs/63 RBI/20 SB/40 BB
Rotowire: .274/13 HR/86 Runs/70 RBI/24 SB/37 BB
Steamer: .268/14 HR/77 Runs/74 RBI/22 SB/42 BB
Andrus is rated as a regular in five and six category formats. He just isn't a regular when you look at the rest of the position. Like Mondesi, he gives you steals, but he doesn't really give you much else and like Mondesi he doesn't steal first base often enough. He should be rostered, but he shouldn't be a regular in a standard mixed format.
Didi Gregorius–Philadelphia Phillies
VORP: 13.0 (19th)
Yahoo Owned: 82%
Yahoo 5: 18th
Yahoo 6: 18th
PECOTA: .243/21 HR/61 Runs/71 RBI/6 SB/32 BB
Rotowire: .259/28 HR/87 Runs/98 RBI/6 SB/38 BB
Steamer: .259/23 HR/67 Runs/79 RBI/5 SB/34 BB
If you treated Gregorius as the 18th ranked shortstop you might not be thar far off. There probably is no reason to make a change. He will offer power numbers if healthy, but like the other two he will struggle to steal first base. The trouble comes from those that practice magical thinking. Magical thinking involves putting him in a small ballpark and expecting him to prodice huge numbers.
Author's Note: The Hall of Fame Index Part II is available for order on Amazon.com. Digital copies can he had for $5.99 and paperback copies can be had for $14.99. If you love baseball and love good old-fashioned debates with a modern flare you will love this book.