2020 Fantasy Baseball: Fun with PECOTA– Starting Pitchers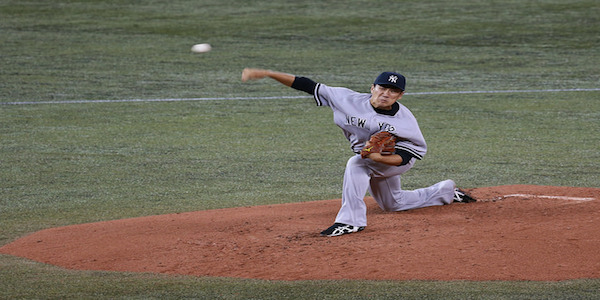 This time around we are going to combine a couple of different features into one article. We had started a variation of the three to keep, add, and drop when I shifted gears to fun with PECOTA. So, we will combine those here. We are taking a look at three starting pitchers that typically went undrafted (drafted by less than 50 percent of Yahoo leagues), but are somehow rated highly by PECOTA. We will add in the Steamer and Rotowire projections to offer a basis of comparison.
PECOTA comes from Baseball Prospectus and is one of the few things I look forward to every Spring. Unfortunately, supply chains and delivery delays brought this series a little later than I normally would like. Fortunately, we have plenty of time until the season actually begins. All projections are based on a 162 game schedule. As we know, that is highly unlikely. The current estimates are a 100 game season. Numbers can be adjsted there, but we will keep to 162 game projections to keep things easier to comprehend.
Rankings for starting pitchers for Baseball Prospectus are based on two points. First, we use Wins Above Replacement Player (VORP). That compares all starting pitchers with the typical AAA starting pitchers. Secondly, we took the top 75 starting pitchers. There will be pitchers that are eligible as starters and relievers, but we are going with what they are projected to spend most of their time doing this year.
Three to Add
Sandy Alcantara
VORP: 27 (37th)
Yahoo Owned: 46%
Yahoo Rank: 40th
PECOTA: 9 wins/4.23 ERA/1.39 WHIP/143 SO
Rotowire: 9 wins/3.67 ERA/1.30 WHIP/150 SO
Steamer: 9 wins/4.74 ERA/1.44 WHIP/158 SO
It's hard to explain how a player ranked 40th by Yahoo (amongst the 75 starters I profiled) and 37th according to PECOTA can go undrafted by more than half of the fantasy universe. Most of it has to do with wins. The Marlins suck and there is no getting around that, but wins are only one category. Alcantara is probably a SP4 in most mixed leagues, but you can do a lot worse.
Garrett Richards–San Diego Padres
VORP: 27 (39th)
Yahoo Owned: 31%
Yahoo Rank: 69th
PECOTA: 8 wins/3.81 ERA/1.28 WHIP/148 SO
Rotowire: 6 wins/4.04 ERA/1.35 WHIP/97 SO
Steamer: 9 wins/3.86 ERA/1.32 WHIP/145 SO
Like with most pitchers during this crazy time, value gets redefined. During a normal season, pitchers that can pitch 180 or more innings are worth more. During this season, no one will be pitching 180 innings. If he can give 120 quality innings then he might be worth more than a SP5 as he is being currently valued. He may be a SP4 or SP3 in some leagues.
Pablo Lopez–Miami Marlins
VORP: 26 (44th)
Yahoo Owned: 9%
Yahoo Rank: 71st
PECOTA: 7 wins/3.71 ERA/1.22 WHIP/107 SO
Rotowire: 6 wins/4.50 ERA/1.23 WHIP/116 SO
Steamer: 9 wins/4.15 ERA/1.29 WHIP/136 SO
Like Alcantara, the masses are scared away because it's the Marlins. The Marlins actually have better starting pitching that you might think. Unfortunately, they don't have much of a lineup or bullpen yet, but wins only stands as one category. If you put these numbers together you get between seven and eight wins with an ERA just north of 4.00. That's not half bad. He's not a bad flier to take with SP5 or SP6.
Three to Avoid
Dylan Bundy–Los Angeles Angels
VORP: 14 (74th)
Yahoo Owned: 71%
Yahoo Rank: 43rd
PECOTA: 10 wins/4.57 ERA/1.32 WHIP/139 SO
Rotowire: 10 wins/4.72 ERA/1.30 WHIP/168 SO
Steamer: 11 wins/4.47 ERA/1.26 WHIP/178 SO
I remember a time when Bundy was the hottest prospect out there. Those buying in on him are hoping that a change of scenery will unlock something. The SP5 and SP6 market is rife with inefficiency. You could do better with two good middle relievers than one mediocre starting pitcher. Just do the math. If they both give you 60 innings then you get maybe ten wins, an ERA in the threes and around 130 or 140 strikeouts. We aren't even counting saves. Going with someone with an ERA north of 4.50 just doesn't make sense.
Masahiro Tanaka–New York Yankees
VORP: 17 (71st)
Yahoo Owned: 88%
Yahoo Rank: 59th
PECOTA: 11 wins/4.13 ERA/1.24 WHIP/135 SO
Rotowire: 12 wins/4.47 ERA/1.29 WHIP/144 SO
Steamer: 11 wins/4.56 ERA/1.28 WHIP/160 SO
I get it. I watched in horror as Tanaka locked down my beloved Astros in Game 1 of the ALCS. You imagine their great bullpen and that dominant offensive lineup and you have visions of 15 wins dance in your heads. The problem is that Tanaka just has never really delivered on the promise he had coming from Japan. It's easy to buy into tantalizing stuff and the supporting cast. Like with Bundy, you get more bang out of two good relievers.
Andrew Heaney–Los Angeles Angels
VORP: 17 (71st)
Yahoo Owned: 83%
Yahoo Rank: 63rd
PECOTA: 10 wins/4.29 ERA/1.26 WHIP/158 SO
Rotowire: 6 wins/4.47 ERA/1.25 WHIP/164 SO
Steamer: 11 wins/3.89 ERA/1.18 WHIP/183 SO
The Angels have well over 100 million dollars invested in five players. None of them are pitchers. They will score runs, but it's hard to see them being successful. Still, some have high hopes for Heaney, it's just that the folks at Baseball Prospectus aren't one of them. Rotowire really isn't a fan either. If he slipped to SP5 or SP6 then he's still a good bargain. There's too many people that think he's a SP3 or SP4.
Author's Note: The Hall of Fame Index Part II is available for order on Amazon.com. Digital copies can he had for $5.99 and paperback copies can be had for $14.99. If you love baseball and love good old-fashioned debates with a modern flare you will love this book.