Daily Fantasy Hockey Strategy: February 12, 2016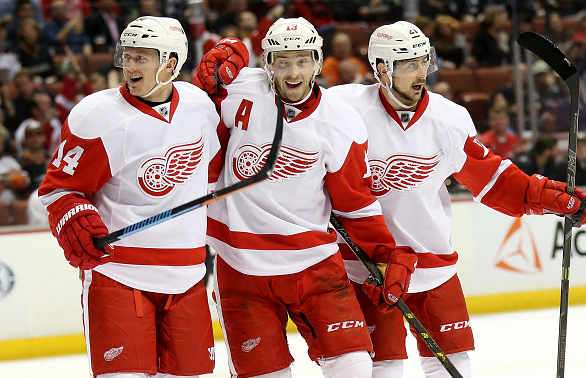 Admittedly, we have a tough slate to choose from tonight. Seven games are on the schedule this Friday night, and only one matchup stands out as one with a definitive edge.
In discussing the overview of the favorable matchups and stack possibilities as we usually do, today we will have to look a little deeper to find the players who are in the best spots to have a big night in fantasy. But first, we will talk about the one clear cut game of interest: Detroit at home against Colorado.
All shot attempt numbers discussed are at even strength and score-adjusted unless otherwise noted.
And as always, make sure to check Twitter for any injury news, and check LeftWingLock for starting goalies and line combos.
TEAMS TO TARGET
Detroit Red Wings at home against Colorado
Colorado ranks 29th in the league for puck possession on the road, a putrid 42.6 percent. Conversely, the Red Wings are a good possession team at home, they been consistently around 53 percent for most of the season.
Puck possession is great, but there's a lot more going on in this matchup. Colorado played last night in Ottawa, and despite beating the Senators 4-3, they only put 26 shots on goal against one of the weaker defenses in the league. The Avs were able to take advantage of the Senators terrible goaltending and penalty kill to steal a win.
Though the first line of Datsyuk, Zetterberg, Abdelkader carries more value — particularly because they see more time on the power play and will be matched against Colorado's bottom six for most of the night — I would definitely try to get leading scorer, shot taker, and possession player Dylan Larkin in your lineup if you are taking the stack route.
Colorado also gives up a ton of fantasy points to defensemen, so use Mike Green with confidence as well.
[cointent_lockedcontent article_labels="hockey"]
Tampa Bay Lightning and the Nashville Predators
These two teams combined for nine goals the last time they met, and the results could be similar again tonight.
The top lines will likely be matching up against each other for most of the night, and much like the last meeting, this is where most of the goals will be coming from. Give a slight edge to Tampa for being at home and having the top line with better goal and possession numbers, but the trio of Johansen, Neal and Jarnkrok would make for good plays from Nashville. Still, I like Stamkos, Palat and Namestnikov from Tampa as the better play in a more favorable spot. For value, look to the third line of Callahan, Flippula, and J.T. Brown who have combined for the fifth-most goals for linemates the last ten games.
Notes
– The hottest line in hockey right now is Sidney Crosby, Patric Hornqvist and Chris Kunitz who have combined to score 14 goals in their last ten games. Though they are playing a Carolina team who has continued to be a good possession team throughout the season, and given the Penguins trouble in the past, this line deserves top consideration when making your lineup for tonight. Fade the rest of the Penguins lineup, however, as the team is starting to feel the effects of not having Evgeni Malkin and depth centers Eric Fehr and Nick Bonino in the lineup.
– Another very hot line right now — despite playing on a submarining team — is Montreal's Brenden Gallagher, Thomas Plekanec and Alex Galchenyuk. Though the Canadiens are squaring off against a pretty bad Sabres team who played last night, I'd be paying very close attention to the price tag of these players if they are on your radar tonight as they are likely to matchup against Ryan O'Reilly for most of the game. It would be tough to take any other Canadiens with confidence tonight, so this may be a game to look away from.
– With Alexsander Barkov out, the line of Jussi Jokinen, Vincent Trocheck and Reilly Smith should see plenty of ice time against a St. Louis Blues team they beat earlier this season. Also, the Blues have scored only four even-strength goals in the past six games and one goal or less in five of the last six games. Aaron Ekblad and Brian Campbell would make for nice plays from the Florida blue line if the price is right.
PLAYER RANKINGS
Rankings are price sensitive
Center
1.) Sidney Crosby – $8,100 – Pittsburgh Penguins
2.) Pavel Datsyuk – $6,000 – Detroit Red Wings
3.) Dylan Larkin – $5,600 – Detroit Red Wings
4.) Henrik Zetterberg – $5,600 – Detroit Red Wings
5.) Steven Stamkos $6,800 – Tampa Bay Lightning
Winger
1.) Nikita Kucherov – $6,700 – Tampa Bay Lightning
2.) Patric Hornqvist – $6,600 – Pittsburgh Penguins
3.) Brendan Gallagher – $5,900 – Montreal Canadiens
4.) James Neal – $5,700 – Nashville Predators
5.) Reilly Smith – $4,900 – Florida Panthers
6.) Max Pacioretty – $7,000 – Montreal Canadiens
Defense
1.) Victor Hedman – $6,100 – Tampa Bay Lightning
2.) Oliver Ekman-Larsson – $6,100 – Arizona Coyotes
3.) Andrei Markov – $4,100 – Montreal Canadiens
4.) Mike Green – $4,900 – Detroit Red Wings
5.) Brian Campbell – $3,700 – Florida Panthers
Goaltender
1.) Petr Mrazek – $8,000 – Detroit Red Wings
2.) Roberto Luongo – $8,300 – Florida Panthers
3.) Louis Domingue – $6,600 – Arizona Coyotes
4.) Ben Scrivens – $7,000 – Montreal Canadiens
[/cointent_lockedcontent]