Daily Fantasy Hockey Strategy: January 16, 2016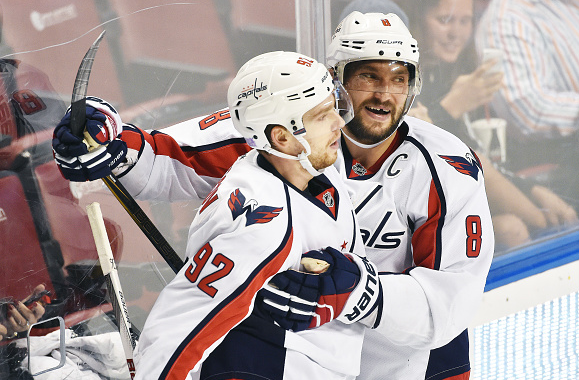 We have ten games on the slate for Saturday, however only seven will likely be available for DFS players this evening. Let's get right to it with our best matchup tonight, the Washington Capitals on the road against Buffalo.
All shot attempt numbers discussed are at even strength and score-adjusted unless otherwise noted.
And as always, make sure to check Twitter for any injury news, and check LeftWingLock for starting goalies and line combos.
TEAMS TO TARGET
Washington Capitals at Buffalo
This is the no-brainer of the night. The Caps are the best team in the league right now. They've won five straight, have outscored opponents 22-8 during that span, and have lost only twice since December 12. The Capitals have also won four straight over the Sabres and are 8-of-13 on the power play in the last six matchups.
Typically you'd want to find your matchups away from Sabres forward Ryan O'Reilly, but that doesn't apply here. The Caps heavy hitters should all be in play tonight, with the obvious stack being Alex Ovechkin, Nicklas Backstrom and TJ Oshie. I would throw Caps leading scorer Evgeny Kuznetsov into that mix as well, coming off a three-point performance Thursday night.
[cointent_lockedcontent article_labels="hockey"]
LA Kings vs Ottawa 
If you can pick the early games, this is the one you want. The Kings are the best puck possession team at home, coming in at a stout 61.5% –a two percentage point lead over the next closest team. The Senators on the other hand are one of the worst possession teams on the road, coming in ranked 27th in the league. The Kings are 2-0-1 on their current four-game homestand, are 14-3-1 in the last 18 at the Staples Center, and have gone 7-2-1 in their last ten games overall. Conversely, the Sens have struggled of late, going 3-6-1 in their last ten. They are enduring a 2-10-1 road stretch and have been outscored 11-2 while dropping the first two on a five-game trip. Also, the last time expected starter Andrew Hammond was in net, he gave up seven goals.
Anze Kopitar is on fire since signing his contract extension. The center has 15 points in his last nine games, and should be in play tonight. In fact, I'm in favor of stacking the Kings top power play unit which has produced nine goals in their last 27 opportunities. The Sens PK is really bad at 76%, and they give up a lot of PP opportunities (3.32 per game). Tyler Toffoli, Milan Lucic, Jake Muzzin and Drew Doughty should all be on your radar tonight –again, if available to you.
San Jose Sharks at home against Dallas
Dallas fell to 0-4-2 in its last six on the road after falling behind by four goals after one period in last night's 4-2 loss to Anaheim. It's the Stars' longest road slide since dropping seven in a row in 2010-11. They're really struggling in general, going only 1-4-1 since the beginning of January.
The Sharks are finally turning things around at home. They're won two straight at SAP Center and four straight overall. They're 7-1-1 in their last nine at home against Dallas.
Though I'd pay up for Joe Pavelski tonight, the true value will come further down the Sharks lineup where the more favorable matchups will lay. The second line of Matt Neito, Patrick Marleau and Joel Ward should see significant amounts of time away from Seguin and Benn, thus making them the better play even though those two Stars have really struggled to put up points on the road of late.
Notes
Despite being on the road, Colorado's power play unit against a Columbus team that commits the most penalties in the league would make for a strong play.
Edmonton plays pretty good hockey at home, and tonight they get a Calgary team that is terrible away from the Saddledome. The asking price for Taylor Hall will be steep, but Leon Draistl will give you exposure to Hall and comes much more affordable.
Boston's power play is the best in the league at 28%. Toronto has a putrid PK, killing only 79.8% of the chances against it. Ryan Spooner has been hot of late and should come with a very reasonable price tag.
PLAYER RANKINGS
*-Rankings are price sensitive
Center
1.) Nicklas Backstrom – $6,600 – Washington Capitals
2.) Evgeny Kuznetsov – $6,300 – Washington Capitals
3.) Anze Kopitar – $5,800 – LA Kings
4.) Patrice Bergeron – $7,300 – Boston Bruins
5.) Joe Pavelski – $7,700 – San Jose Sharks
6.) Nathan MacKinnon – $7,100 – Colorado Avalanche
Winger
1.) Alex Ovechkin – $8,700 – Washington Capitals
2.) Taylor Hall – $7,100 – Edmonton Oilers
3.) Tyler Toffoli – $5,800 – LA Kings
4.) TJ Oshie – $5,800 – Washington Capitals
5.) Gabriel Landeskog – $6,400 – Colorado Avalanche
6.) Patrick Marleau – $5,900 – San Jose Sharks
7.) Mike Hoffman – $5,900 – Ottawa Senators
8.) Brad Marchan – $6,200 – Boston Bruins
Defense
1.) Drew Doughty – $5,700 – LA Kings
2.) Brent Burns – $8,300 – San Jose Sharks
3.) Erik Karlsson – $7,400 – Ottawa Senators
4.) Shea Weber – $6,200 – Nashville Predators
5.) John Klingberg – $6,000 – Dallas Stars
6.) Torey Krug – $5,900 – Boston Bruins
Goaltender
1.) Braden Holtby – $8,600 – Washington Capitals
2.) Jonathan Quick – $8,400 – LA Kings
3.) Tuukka Rask – $7,700 – Boston Bruins
4.) Devan Dubnyk – $7,700 – Minnesota Wild
[/cointent_lockedcontent]