Fantasy Baseball Final: August 29th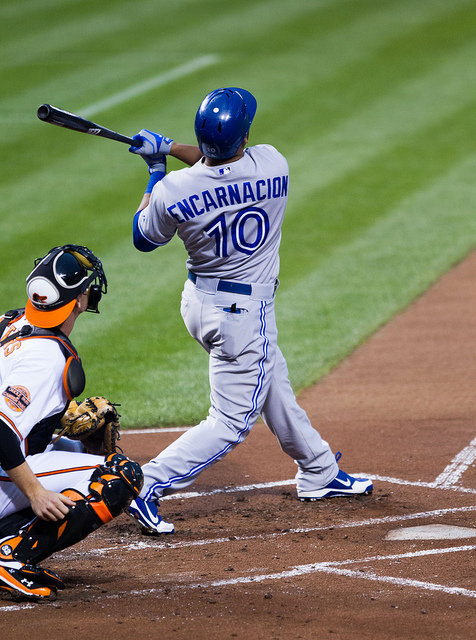 If You Only Read One Thing…
Edwin Encarnacion had arguably the best night of any fantasy baseball player all season long. He finished the game going 3/5 with three home runs and NINE runs batted in. He also scored four runs himself. The nine runs batted in tied a franchise record and gave him a total of 90 on the year. He has also extended his hitting streak to 24 games, which is the longest in the major leagues this season and has 29 home runs on the year. Encarnacion has been on an absolute tear in August and he is finally giving his fantasy owners that invested in him so high the kind of numbers that they were expecting from him. Although we might have suspected 40 home runs or more from him this season, he is just one shy of thirty on the season and if he stays hot, with his kind of power and ability to get going when he's hot, there is no reason to think he can't reach that 40 home run mark this season.
Just As We Expected…
Jacob deGrom bounced back from allowing a career high seven runs to the Phillies on Monday but going six innings and striking out 10 batters in the process. He was back to his efficient ways Saturday, as his previous outing was likely just a hiccup. This outing came against the Red Sox as well, who have been swinging the bat well as of late. He took the unfortunate loss, however, but pitched brilliantly. Jacob deGrom has had an outstanding season for the Mets, who have one of the best rotations in the league, which is saying something because he might be their best pitcher. He is charging up the rankings and keeper rankings for next season and should get some consideration for the NL Cy Young award.
But We Didn't See This Coming…
If there is a rule that I have to use a new player for each category, I'm going to break it with Edwin Encarnacion because of how good he was tonight. Once again, three home runs and nine runs batted in, which tied a franchise record and extended his hitting streak to 24 games. Even when a player is as scorching hot as he is, it's hard to see a three home run and nine RBI game coming from anyone. Good news for Encarnacion owners in weekly head-to-head formats, as the Jays play all six of their games next week at home at the hitter friendly Rogers Centre.
Save Chances…
Andrew Miller, Wade Davis, Mark Melancon, Luke Gregerson, Aroldis Chapman, Jean Machi, Drew Pomeranz, Tom Wilhelmsen, Shawn Tolleson and Ken Giles all recorded saves on Saturday night. Francisco Rodriguez blew his save opportunity by allowing four earned runs in just 2/3 of an inning.