2013 Fantasy Football Daily Fix: September 7, 2013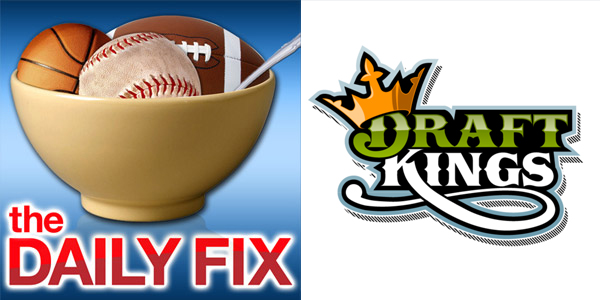 Saturday's Fantasy Football Fix delivers news, notes, and nuggets along with Week 1 QB recommendations for DraftKings NFL Fantasy Games.
News, Notes and Nuggets
MRI results confirm Ravens wide receiver Jacoby Jones suffered a sprained MCL in his right knee during Thursday's season-opening loss to the Broncos. He is expected to be out four-to-six weeks.  Jones' absence opens the door for rookie Marlon Brown, who showed flash and awareness is his NFL debut. He caught 4-of-6 targets for 67 yards and a garbage time touchdown. Baltimore's offense needs a shot in the arm, and Brown has the speed to make big plays and the size to be another red-zone option for Joe Flacco. From a fantasy perspective, he's a solid speculative pickup in deeper or larger leagues where upside isn't easy to find on the waiver wire.
The Patriots listed wide receiver Danny Amendola as probable for Week 1 versus the Bills. He was a full participant in Friday practice after being limited earlier in the week by a groin injury. Amendola should shred a Buffalo secondary that will be without cornerback Stephon Gilmore and safety Jarius Byrd. If he's on your fantasy roster, he belongs in your starting lineup. Anything less than high WR2 production from Danny A. would be a shocker.
Cam Newton's and the Carolina Panthers' prospects for the 2013 season-opener at home are a little brighter with the news that Seattle defensive end Cliff Avril (hamstring) has been downgraded to doubtful and cornerback Brandon Browner (hamstring) is listed as questionable. While Seattle has defensive depth, Avril's absence would certainly hurt the pass rush. Seahawks coach Pete Carroll said both players will be game-time decisions on Sunday.  It's hard to love any Carolina skill player as a fantasy option this week against the formidable Seattle D, but the loss of two starters could open things up a bit more.
"Tuel Time" has been put on indefinite hold as Buffalo quarterback E.J. Manuel (knee) practiced in full on Friday and has been named the Week 1 starter against New England. Fantasy owners in very deep leagues or start 2QB formats should keep expectations in check if you plan to use him. As if returning from an injury isn't bad enough, he'll face a Patriots defense that will take pleasure in making his life miserable for four quarters. Steve Johnson is a WR3/flex play, but don't count on big numbers from E.J. to Stevie this week.
Jaguars quarterback Blaine Gabbert's availability for Week 1 against the Kansas City Chiefs will be decided after pre-game warm ups according to head coach Gus Bradley. Gabbert was limited in practice all week by a thumb injury.  Backup Chad Henne would get the start if Gabbert can't go. From a fantasy standpoint, there is little drop-off between Gabbert and Henne, and Henne is a little ballsier when it comes to throwing downfield. If you're a Cecil Shorts owner, ballsier is better.
With Mark Sanchez (shoulder) ruled out for Week 1, Jets rookie signal caller Geno Smith will be thrown into the fire—a.k.a. get his first professional start against the Tampa Bay Buccaneers.  Avoid, avoid, avoid Smith and the Jets receivers at all costs. Running backs Chris Ivory and Bilal Powell aren't great starts this week against Tampa Bay's solid run defense. On the other hand, if the Buccaneers DS/T is available on your waiver wire, pick them up and use them.
DraftKings Quarterback Recommendations
If you like free money, and you've never played on DraftKings before, you can get a deposit bonus by signing up. There are a number of great options for opening week— try the Kickoff Bash, the $30,000 Play Action or the $100,000 Hail Mary.
I'll be here every Saturday to offer suggestions on appealing quarterback options from three different tiers—the luxury options, the reasonable choices, and cheaper/underpriced bargain options. While you should have no trouble finding a number of workable options for this week', one key to salary cap success is identifying the best bang-for-the-buck players for your roster.
Before we get to the recommendations, here are the rules for the various NFL games DraftKings offers and a quick look at how quarterbacks score points:
Passing TD = +4PTs
25 Passing Yards = +1PT (+0.04PT/ per yard is awarded)
300+ Yard Passing Game = +3PTs
Interception = -1PT
10 Rushing Yards = +1PT (+0.1PT per yard is awarded)
Rushing TD = +6PTs
100+ Yard Rushing Game = +3PTs
Luxury Options
 Drew Brees, New Orleans Saints ($9,600)—If getting what you pay for in fantasy terms means opting for the quarterback whose statistical floor is higher than many quarterbacks' ceilings, then put your money on Brees at home against the Atlanta Falcons. Brees will look to avenge one of the all-time worst games of his career—the second meeting with the Falcons in late November in which he completed just 56 percent of his attempts; threw five interceptions and zero touchdowns. With the NFL's best play caller, Sean Payton back at the helm, Brees should march his way into a top-3 or better performance among fantasy quarterbacks in Week 1.
  Matt Ryan, Atlanta Falcons ($9,500)—Ryan may not be the flashiest of this week's $9,000-plus club Draftkings quarterbacks, however he should provide a high-return on your investment with minimal risk.  His 2013 campaign kicks off with a bang on Sunday night in New Orleans against a Saints pass defense that ranked 31st in the league and allowed the second-most passing touchdowns (31) last season. Ryan torched them for 411 yards and three touchdowns in their first meeting in 2012, and he should be able to match those numbers with little trouble in Week 1. Look for Ryan to use the Saints almost non-existent pass rush to his advantage by spreading it out and going up-tempo with Julio, Roddy, Tony G. and new addition Steven Jackson.
Reasonable Choices
Robert Griffin III, ($8,600)—While there is a chance the Redskins could take a more conservative approach with Griffin in his first game action since suffering a major knee injury in January, his upside is hard to pass up in a favorable  "welcome back Bobby" matchup against the Eagles on Monday night. As a rookie, RGIII posted a combined 398 passing yards, 88 rushing yards and six touchdowns in two games against Philly. If the Eagles D is as bad as it looked in preseason play, Griffin should be able to pick them apart with his strong arm even if Washington's gameplan limits what he does with his legs. Expect plenty of looks for No. 1 target Pierre Garcon and tight end Fred Davis in what could be a high-scoring showdown at FedEx Field.
Tony Romo, Dallas Cowboys ($8,400)—Interceptions can be a buzz kill where Romo is concerned, but he always seems to put up consistently solid fantasy numbers despite the occasional bad decision or bout with erraticism. Romo passed for 4,903 yards in 2012 and if 5,000 yards is a goal for 2013, he should be off to an excellent start when he faces the divisional-rival New York Giants at home. He had two strong performances against the G-Men last season, and he'll look to make it three straight by exploiting New York's sketchy pass-rush and weakened secondary. He certainly has the weapons to do it with Cowboys pass-catchers Dez Bryant, Miles Austin and Jason Witten all healthy. There's very little not to like about rolling with Romo this week unless you're thinking with your hater-heart and not your head.
 Cheap Choices
Michael Vick, Philadelphia Eagles ($7,000)—If your opponent in seasonal fantasy football started Peyton Manning on Thursday night and you have Vick on your bench, then chances are you'd consider rolling with him with the hope that he channels his 2010 Monday Night Football performance (49-61 FPs depending on scoring system) against the very same Redskins this week. Draftkings players looking for a homerun option at a bargain rate should also have Vick on their shortlist.  His running ability and big arm make him an especially appealing option in a Chip Kelly offense that is expected to run a ton of plays. It doesn't hurt that Washington's defense gave up the fourth-most fantasy points to quarterbacks in 2012 and did little to significantly improve the D over the offseason. If you're risk averse, then Ben Roethlisberger might be the better play for you at the same price point. But if you're the swing-for-the-fences type, you can't beat the potential return-on-investment if the "good" Vick shows up Monday night.
Sam Bradford, St. Louis Rams ($6,000)—Bradford has a great opportunity to make a fantasy splash this season and that could start as soon as Sunday when the Rams host the Cardinals. Arizona was the third-best fantasy defense against quarterbacks last year, however former defensive coordinator Roy Horton signed with the Cleveland Browns in the offseason. They'll also be without one of the NFL's best blitzer's—linebacker Daryl Washington, who is serving a four-game suspension.  Washington's absence plus an upgraded St. Louis O-line should give Bradford more time to find his much improved corps of pass catchers anchored by sure-handed second-year starter Chris Givens, speedy rookie Tavon Austin and athletically gifted tight end Jared Cook.  Bradford threw two touchdowns in each of his meetings with the Cardinals last season. Surrounded by a more talented supporting cast and consistent coaching for the first time in his career, Bradford could deliver low-end QB1 numbers at a value price.
Beyond Cheap Bonus Pick
Terrelle Pryor, Oakland Raiders ($5,000)—Pryor is the ultimate cheap date  if you're looking to allocate your money elsewhere this week, but he's clearly a "use him at your own risk" play. Starting Pryor means you're hoping that he racks up fantasy points with his legs and feet while running for his life behind a scarily bad Raiders O-line, because throwing mechanics and accuracy aren't his strengths. Fortunately for Pryor, Indy's defense has struggled against the run and running quarterbacks, so he could be a low-cost source of fantasy goodness for those with the stomach to start him.