2015 Fantasy Baseball: Finding Catching Depth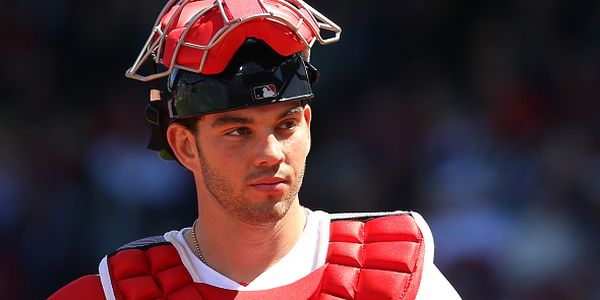 The catching position is usually one of the hardest to fill. There are very few elite hitting catchers, and once they're gone the drop off is quite steep. That being said, it is still possible to pick one up that could help make an impact throughout the season.
Blake Swihart
While the Red Sox likely wanted to wait longer to promote their top prospect, Swihart's timeline was accelerated when Ryan Hanigan broke his finger. Swihart's promotion isn't unwarranted however, as he hit .338/.392/.382 with a wOBA of .367 and a wRC+ of 130 in 18 games with AAA. His new manager, John Farrell, said that Swihart is "going to get a lot of exposure" meaning that he could soon be the everyday catcher. He doesn't hit for power, as his combined 22 home runs in 325 games show, but he's consistently gotten on base throughout his minor league career and been a better than league average hitter overall. In 2013 and 2014 Swihart produced a wRC+ of 121 and 131, respectively. He's also a switch hitter, which for a legitimate catching prospect, makes him a rare talent.
Last year, Jim Callis even went so far as to compare him Buster Posey, who is on a Hall of Fame track. While he didn't retract his statement, Callis was quick to clarify what he meant. "I'm the guy who keeps writing the line, and I always qualify this by saying I'm not saying Blake Swihart will be this. But Blake Swihart has the closest thing to Buster Posey's tools since Buster Posey." Callis later said that if Swihart could be a .280 hitter with 15 home runs per season, the Sox would be thrilled, however that HR total seems high given his meager ISO.
He's owned in just 19% of Yahoo leagues and 6.7% for ESPN, so there's a fantastic chance he's available in your league. There may be some growing pains with Swihart, so it would be wise to use him as depth for now until he starts playing regularly and producing offensively. He should be added in all formats if possible, and especially keeper leagues. Depending on the seriousness of your league, Swihart could fill your catcher slot for years to come.
Nick Hundley 
Hundley has never spent a full season behind the plate but so far has been the everyday man for Colorado. Through 73 PAs, he has a slash line of .328/.384/.463 and an out of this world BABIP of .404. Hundley is a career .241/.297/.389 hitter, so this is very out of character for the eight-year veteran. Playing his home games in Coors is likely helping, but his home and away splits are currently .333 and .325, respectively. Among qualified catchers, Hundley owns the fifth best batting average and on base percentage. His RBI total is light (5), but Hundley can help out tremendously in both AVG and OBP, while contributing every now and again to runs and RBI.
A.J. Pierzynksi 
As a Giants fan, it pains me to say this, but Pierzynski (from now on referred to as AJP) is actually having a good year thus far. Through 53 at-bats, he's hitting .377 and has an OBP of .400. AJP surprisingly has three home runs and 14 RBI, after hitting just five and driving in 37 all last season. He doesn't play every day, as the Braves are getting Christian Bethancourt regular work. He's owned in 47% of Yahoo leagues and 51% for ESPN and should definitely be picked up if possible.
Mike Zunino (sort of)
Zunino has yet to fulfill any of the promise he had as a prospect, but he's not owned in the majority of leagues and may be worth taking a chance on. His K% is way too high (37.8%) and his ISO is just .152, but Zunino is currently getting BABIP'ed to death. It's been low throughout his entire career (.246 average), but this year is remarkably bad (.167). It's difficult to imagine that continuing for the course of an entire year. His power has seemingly disappeared, as his ISO has gone from .205 to .152 in just a season. If it's the only option on this list, there's no harm in trying him out, but like Swihart, you will need a better option for the immediate future until his statistics improve.