2016 Fantasy Baseball: Waiver Wire — First Basemen Edition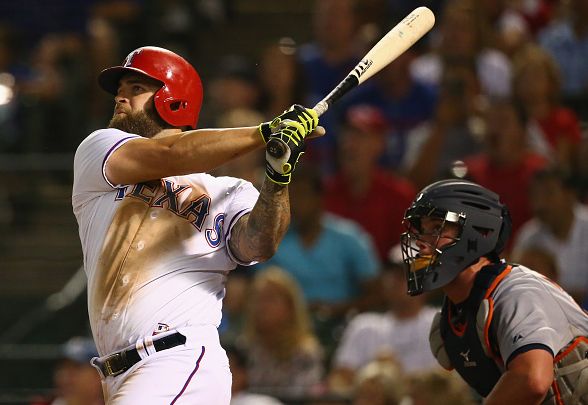 It's still very early in the fantasy season, but we all get itchy trigger fingers sometimes. That key player you were counting on has gotten off to a slow start. At first base, we can see a number of players that aren't living up to the advanced billing. Of course, through 40 or 50 plate appearances, anyone can look like a dog or a hero. The two biggest early season goats are Freddie Freeman and Lucas Duda. Naturally, that can turn around at any moment.
One possible solution is to transfer those guys to the bench and pick up a player playing a little better at the moment. That way you aren't completely giving up on them, but you aren't keeping them in your lineup where they can bring down the ship. So let's take a look at a few guys that might be available. Keep in mind that players must be available in at least 90 percent of leagues in Yahoo and ESPN for consideration here.
A part of proper scouting for waiver wire adds is understanding what to look for. Granted, if someone better than these guys is available in your league you should add them. I just don't want to get your hopes covering a guy that has a fifty/fifty chance of being available. What we like to do is compare players with their average competitor to get a frame of reference. If a player is at or better than the average in almost every category, they likely will be a good addition. Let's look at the average first baseman in comparison with the average catcher (who we will covered last week) so we can get a better idea of what we are working with.
| | | | | | | |
| --- | --- | --- | --- | --- | --- | --- |
| | AVG | HR | Runs | RBI | SB | BB |
| Catcher | .255 | 11 | 39.6 | 45.2 | 1.6 | 30.8 |
| First Base | .269 | 20.7 | 63.2 | 73.2 | 3.1 | 54.6 |
When we look at the players below, we are simply going to rate them in each individual category as to how they compare with the average regular at their position. If they rate better than the average they will get a + sign. If they rate as worse than the average they will get a – sign. Of course, we will look at each player individually later.
| | | | | | | | | |
| --- | --- | --- | --- | --- | --- | --- | --- | --- |
| | Yahoo | ESPN | AVG | HR | Runs | RBI | SB | BB |
| Mike Napoli | 6% | 7.9% | – | M | – | – | – | + |
| Ryan Howard | 5% | 5.4% | – | – | – | – | – | – |
| John Jaso | 5% | 18% | + | – | – | – | – | – |
| Mark Reynolds | 2% | 1.4% | – | – | – | – | – | M |
| Billy Butler | 2% | 4.2% | + | – | M | + | – | + |
In keeping with the as much in common with the last piece, if the player was particularly close to the average at the position, then we put a M in the slot for median. It is fairly certain that the player is a middle of the pack performer in that particular category. Let's look in order of preference for these particular players.
The numbers above represent the player's four year average in each category. Jaso's highest point in plate appearances during that time was 344. He is also eligible at catcher in some leagues, so he has some added value. If he reaches 500 plate appearances, he will likely surpass the average in batting average and walks. He could approach it in runs scored as well.
Butler is one of those players where the four year average is not particularly helpful. He has been in steady decline in each of the past four seasons since his career best season in 2012. The Athletics will platoon him, so he likely won't get the counting numbers you are looking for, but he might be okay to preserve batting average in the short term.
Anything is possible I suppose, but the odds seem to be against Napoli being a quality offensive player, but the numbers following his trade to Texas were solid and they are solid in the early going this season. The problem is that his best asset (patience) is only useful in six category leagues. He could be a nice stopgap until your regular guy is ready to produce again.
In Spring Training in Major League the manager is watching Pedro Cerrano deposit balls into the trees and off the scoreboard and openly wondering why no one else picked him up. Then he saw him try to hit curveballs. There's always a place for someone that hits a ton. There's also a reason why those guys go from team to team to team to team. Colorado is the latest destination for the slugging first baseman. If he plays regularly he will hit 20 or more home runs. He will also hit around .220 and strike out over 100 times.
Believe it or not, he's off to a good start. This is his contract year and probably realizes he will be unemployed if he doesn't hit better than he has in recent seasons. He seems destined to hit .230 with over 100 strikeouts. If he can accompany that with 20+ home runs, he will have some fantasy relevance. This is particularly true in leagues that utilize the 1B/3B and UTIL slot. Otherwise, he won't offer you league average performance in any category other than home runs.