2013 Fantasy Baseball Rankings: The Fix's 16th-20th Ranked Closers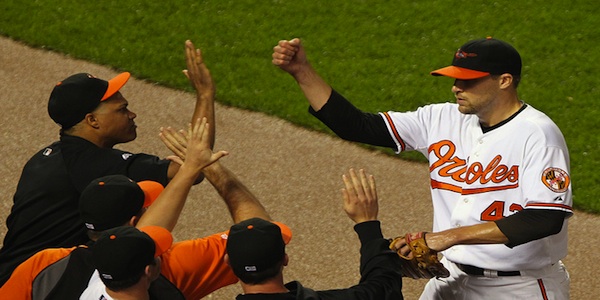 Over the last week, we released teasers of our staff consensus rankings with the hopes that you will break the bank and purchase our 2013 Fantasy Baseball Draft Kit to see the full versions, and more importantly, show us your support.Thanks in advance.Here are our relief pitchers ranked 16-20:
16. Addison Reed | RP | CWS
Reed finished his first full season in the bigs 29-of-33 in save opportunities with a 4.75 ERA (3.64 FIP) and a 1.36 WHIP. Not exactly the prettiest of stat lines, but it's important to point out that the White Sox brass stuck with the rookie through his struggles and he got that first season under his belt. The optimist assumes adjustments have been made in the off season and Reed will allow fewer runners on the bags, see a spike in his K% and continue to convert saves in his sophomore season. Current ADP: ~187.
17. Jim Johnson | RP | BAL
Over 140 games (159.2 IP) in the last two seasons, Jim Johnson is 8-6 and 60-of-68 in save chances with a 2.58 ERA (3.24 FIP). The 15.5% K% over that same time frame is far-from-stellar, but his 5.65% BB% and 1.065 WHIP indicate he's doing a good job of keeping the opposition off the basepaths. The culprit: a two-seam fastball that Johnson worked into his repertoire causing an extreme spike in the ground balls he induced over the past two seasons (61.9% GB%). Don't expect the Oriole to lead the league in saves again and you won't get disappointed, but he should be in line for a fine season. Current ADP: ~140.
18. Rafael Betancourt | RP | COL
Betancourt saw a dip in his K% and a slight spike in his BB% for the second straight year in 2012. But despite this, the Rockies' ninth-inning man closed out 31 games in 38 chances while sporting a 2.81 ERA (3.09 FIP) and a 1.13 WHIP in twenty-twelve. Admittedly, Betancourt's current ranking reflects the possibility of him being dealt at the trade deadline — like he almost was last season. If that wasn't a concern, he'd likely be right outside of the top 10. If you're in need of saves, feel confident drafting Betancourt, but don't forget to handcuff him with someone like Matt Belisle or Wilton Lopez. Don't be surprised if Rex Brothers earned some save opportunities against lefties as well. Current ADP: ~170.
19. Chris Perez | RP | CLE
Fantasy analysts warned of a Chris Perez implosion in 2012, and as expected, he did exactly the opposite. He locked down 39-of-43 save chances with a 3.59 ERA (3.34 FIP) and a 1.13 WHIP. Both Perez's K% and BB% trended in the right direction, resulting in the Indians' closer posting a career best 3.69 K/BB. Vinnie Pestano still may be the reliever with the best "stuff" in the Cleveland bullpen, but until Perez falters, he'll man the eighth inning for Terry Francona. Current ADP: ~152.
20. Ryan Madson | RP | LAA
Ryan Madson missed the entire 2012 season after undergoing Tommy John surgery. But that didn't stop the Angels from inking the 32 year-old to a one-year deal to be their closer in 2013. Madson has already experience a minor setback this Spring, but that just means you will probably be able to grab him even later on draft day. Despite having just 52 career saves, Madson is a low-risk, high-reward selection at or before his current ADP of ~236.
And, just in cased you missed them, here are our rankings teasers for each of the other positions:
Catcher
First Base
Second Base
Third Base
Short Stop
Outfield
Starting Pitcher
You can follow Alan's nonsense on Twitter @TheFantasyFix