Daily Fantasy Baseball Strategy: June 14, 2016 – DraftKings & FanDuel Analysis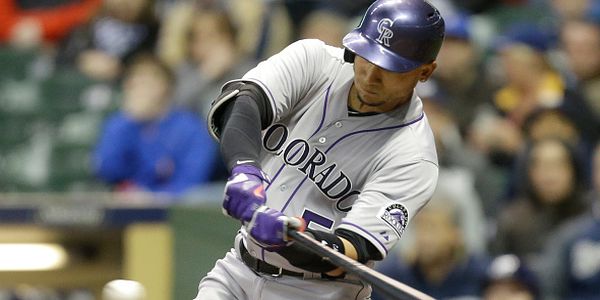 Below we've got a discussion of the starting pitching situation as well as the best hitters to use for Tuesday's 14-game evening slate on DraftKings and FanDuel. Brett Talley covered the pitching options while Alan Harrison covered the bats.
Pitcher Rankings
After the jump we'll take a look at each of Brett's top 10 projected pitchers for the evening. His projections are derived from ZiPS projections which are cut down to a per-game basis and then adjusted for ball park and matchup.
1. Madison Bumgarner – DK: $13,800, FD: $11,900
Bumgarner is pretty clearly the top pitching option tonight, though perhaps it's not as clear cut as things were on Monday night when Max Scherzer was the top option. But Bumgarner is matched in xFIP and SIERA by only John Lackey among the pitchers in action tonight. And only Lackey, David Price and Drew Pomeranz are on Bumgarner's level in terms of strikeout ability. But each of those guys lacks something Bumgarner has going for him. For Lackey and Price it's the lack of a great pitcher's park. Pomeranz has the park going for him in San Diego, but his control doesn't hold a candle to MadBum's. So MadBum is the guy today if you're looking for the absolute safest option.
The Giants will host the Brewers who rank 21st in wRC+ vs. LHP and have a slightly higher-than-average K% vs. LHP. The biggest obstacle to rostering Bumgarner is price as his $13,800 price tag on DK could be a deterrent. As we'll see, this slate lacks reliable cheap options, so it may be difficult to offset Bumgarner's cost with your SP2. He's safe enough that he's definitely still an option in cash on DK, but no one would blame you for passing on him, especially with some other expensive-but-less-expensive-than-Bumgarner options in play on DK. Over on FD, pricing for pitching is pretty sharp across the board and MadBum is a bit more affordable there, so he's tougher to fade in cash on FD than he is on DK.
2. Jacob deGrom – DK: $10,100, FD: $9,800
DeGrom is priced pretty appropriately on both sites, and he does have some strikeout upside with a swinging strike rate of 11.3 percent that is only a tenth of a point behind Bumgarner's rate. But deGrom has a tough matchup with the Pirates who have the fifth highest wRC+ and tenth lowest K% vs. RHP. The upside makes him a GPP option, and he should be fairly low owned with good options elsewhere. But deGrom probably isn't the best cash game play.
3. David Price – DK: $9,700, FD: $10,500
You can probably ignore Price on FD where he's over-priced, but he's definitely in play at that price tag on DK. His matchup with the Orioles looks pretty good with the O's ranking 25th in wRC+ vs. LHP with a slightly higher-than-average K% vs. LHP. However, it should be pointed out that the O's may be suffering from a bit of bad luck against LHP with the second lowest BABIP vs. LHP (.256). The whole team only has 539 PA vs. LHP this season, so we're still at the point where the sample size is too small to say definitively that they'll hit less against lefties. They also have the fifth highest ISO vs. LHP, so this matchup is not without peril. The ball park is also a bit iffy for Price, so perhaps he's a better GPP play than cash. But if you find Bumgarner's DK price tag too much to stomach, Price is cheap enough to carry cash appeal as well.
4. Drew Pomeranz – DK: $10,400, FD: $9,700
You have to like the matchup for Pomeranz tonight at home against the Marlins. The Marlins are below average in wRC+ vs. LHP with a slightly higher-than-average K% vs. LHP. And as Broc Miller pointed out in today's Double Dong Daily Fantasy Baseball Podcast, the Marlins have the fifth lowest walk rate vs. LHP. That's important because Pomeranz's biggest weakness is easily his control, and that's mitigated significantly in this matchup. Like Bumgarner, Pomeranz seems to be a bit pricey on DK but remains an option simply because he's not grossly over-priced and has cash appeal as a safe option. Also like MadBum, Pom price a bit better on FD, so if you can't fit MadBum into FD cash lineups, Pomeranz is an alternative.
5. Kenta Maeda – DK: $9,900, FD: $8,500
As mentioned, pitcher pricing on FD appears to be pretty sharp today, but Maeda is one of only a couple guys that appears to be under-priced there according to the projections embedded at the bottom of this post. He'll face the D'Backs who have the 11th lowest wRC+ and seventh highest K% vs. RHP, so the matchup is definitely good. The downside is that this game is in Arizona and not Los Angeles, but that's not a prohibitive factor. Maeda has the strikeout upside and value potential to make him a GPP option, and he's by far the most reasonably priced on FD among the good starters in action tonight, so he has cash appeal as well.
6. John Lackey – DK: $11,300, FD: $9,900
Lackey is the only pitcher in action today with a SIERA better than Bumgarner, yet he doesn't strike me as a great option. The matchup with Washington is completely average as the Nats rank 15th in wRC+ and 17th in K% vs. RHP. Perhaps his performance to date warrants some cash consideration on FD where he's close to reasonably priced. But he's too expensive on DK to consider in any format.
7. Julio Teheran – DK: $9,500, FD: $8,500
Teheran does not deserve his 2.85 ERA. Not remotely. His .228 BABIP is by far the lowest of any pitcher in action today, and his strand rate is unsustainably high at 82.9 percent. And this isn't one of those situations where a guy deserves his low BABIP thanks to a bunch of soft contact induced. Among tonight's starters Teheran has the fifth highest hard contact rate allowed. He's also woeful against lefties with an xFIP over 5.00 against them, and that problem dates back to last season as well. Pass, pass, pass on Teheran. And definitely consider lefties like Joey Votto and Jay Bruce against him.
8. Jaime Garcia – DK: $7,700, FD: $8,100
Garcia is certainly interesting at his price point on DK because we've seen previous iterations of Garcia that would make him worth well more than that, especially in this matchup. He'll get Houston tonight who has the second highest K% vs. LHP and is slightly below average vs. LHP according to wRC+. But be wary of how much strikeout upside Garcia really has as he has completely lost his ability to miss bats lately. After posting a swinging strike rate in double digits in five of his first seven starts this season, he's failed to hit double digits in any of his last five starts. He's faced teams that rank sixth, 12th and 13th in K% vs. LHP in that stretch, so it's not like it has been a matchup problem. Perhaps he's an SP2 option in GPPs on DK, but even that seems like a stretch with the way he's been going.
9. Brandon Finnegan – DK: $8,100, FD: $6,100
There's no point in paying more for Finnegan on DK than you'd have to pay for Garcia. Yeah, Garcia has his problems, but Finnegan's 4.93 xFIP is much more concerning. That said, Finnegan is cheap enough on FD that perhaps he's worth a look there in a GPP. The matchup with the Braves is a great one as Atlanta ranks dead last in wRC+ vs. LHP, coming in a whopping 42 percent worse than league average. And the Braves have the tenth highest K% vs. LHP. You probably need more upside on a one-pitcher site like FD than Finnegan can give you, but the matchup and price tag at least make him a consideration.
10. Taijuan Walker – DK: $8,900, FD: $8,300
Walker has some strikeout upside against a Rays team that is tied for the second highest K% vs. RHP. However, be aware that Walker himself isn't a strikeout machine. His strikeout rate of 22.3 percent is a bit better than average, but his 9.6 percent swinging strike rate is barely better than the league average of 9.4 percent. Were he a bit cheaper he might have more value potential with the strikeout upside, but as it is there's a cap on how much value he can really provide. He's not a bad option, but there are likely better options.
Hitting Options
Some stack options for cash games to consider on Tuesday include the Coors Field matchup between the Yankees and Rockies, the Dodgers in Arizona, Red Sox at home, Tigers at the Cell and Indians in Kansas City.
There's a game at Coors Field today, so that game is definitely in play for cash games and tournaments. The Yankees are running out hard, but straight-throwing Nathan Eovaldi against the Rockies' Jorge de la Rosa in a game with an over/under at 11 runs at the time of this writing. Per RotoQL, the Yankees' have an implied team total of 6.1 runs, so we'll first want to target right-handed batters against Colorado's southpaw. Double check the lineup when posted, but Alex Rodriguez, Carlos Beltran and Chase Headley are the names to look at there. Brian McCann owns a .321 wOBA and .179 ISO against lefties since the start of '15 and with the thin air and high game total that should make him one of the chalkier plays on the night.
Carlos Gonzalez, Nolan Arenado, Nick Hundley, Charlie Blackmon and Trevor Story have all posted a wOBA of .350 or better against right-handed pitchers since the start of 2015. Both Arenado (.309) and Gonzalez (.307) own an ISO of .300 or better against righties, with Trevor Story slightly behind them at .289 since last season. Eovaldi has surrendered a significant amount more of fly balls to left-handers (36.3% FB%) this season than to righties (25.9% FB%) and he's also allowing lefties more hard hit balls (41.3% Hard%) than right-handed hitters (27.9% Hard%). Start with Gonzalez/Blackmon, trickle in some Arenado/Story and Hundley, but understand the projected high ownership.
The Indians draw Chris Young in Kansas City with a game total that sits at 8.5. Cleveland's implied team total is 4.8 and the wind appears to be blowing straight out to center at the time of this writing. Against the right-hander, we'll want to look for lefties Jason Kipnis, Francisco Lindor, Carlos Santana and potentially Jose Ramirez. Tyler Naquin owns a .380 wOBA and a .207 ISO against southpaws since the start of '15 (still only 88 PAs) so he makes for a fine tournament option if he's in the lineup.
Player Rankings
**Players are listed according to their FD positional eligibility
Catcher
Brian McCann
Nick Hundley
First Base
Carlos Santana
Joey Votto
Second Base
Jason Kipnis
Third Base
Nolan Arenado
Alex Rodriguez
Chase Headley
Jose Ramirez
Shortstop
Trevor Story
Francisco Lindor
Outfield
Carlos Gonzalez
Carlos Beltran
Charlie Blackmon
Starting Pitcher
Madison Bumgarner (better value on FD)
David Price (DK only)
Drew Pomeranz (better value on FD)
Jacob deGrom (GPP only)
Kenta Maeda (better value on FD)
John Lackey (FD only)
Jamie Garcia (GPP only on DK)
Brandon Finnegan (GPP only on FD)
Taijuan Walker
Research Chart
Download today's research chart from this Google Sheet.