2013 Fantasy Baseball Daily Fix: May 10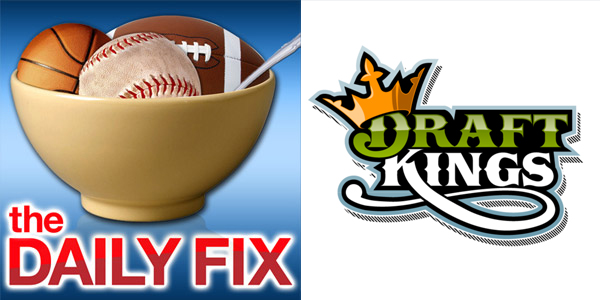 DraftKings.com Team of the Day
Today I'm playing the $3 Double Up! contest where you've got a 50/50 shot of making money. When you sign up to play at DraftKings don't forget to claim your deposit bonus.
Pitcher: Jose Fernandez vs. Dodgers – The Dodgers are 28th in wRC+ against right-handers and have the third fewest runs scored in the majors.
Alexi Ogando vs. Astros – The Astros strike out the most against righties
Catcher: Russell Martin – Martin has a .941 OPS against righties like opposing starter Shaun Marcum.
First base: Yonder Alonso – Alonso was a good value pick as he has hit righties well throughout his career.
Second base: Robinson Cano – I had money to spend so why not go with the highest upside guy at the position?
Third base: Miguel Cabrera – Third-highest OBP with a 1.088 OPS against righties.
Shortstop: Dee Gordon – I had to go a little cheap here since I picked Cano and Miggy, but I'm just hoping Gordon can steal a base or two and get a run.
Outfield: Shin-Soo Choo – Choo should be the priciest outfielder, but he's $1,600 less than Mike Trout even though Choo is averaging the fourth most fantasy points per game of players who've played the whole season. And he's crushing righties right now.
Marcell Ozuna – Ozuna was a bargain at only $2,000.
Nate McLouth – Nine steals and a .425 OBP against righties.
Thursday Recap
Robinson Cano recorded his 1,500th hit in the major leagues in the Yankees' 3-1 win in Colorado becoming the fifth-fastest Yankee to reach 1,500 hits. Cano also hit his ninth homer, which puts him on pace for just about 42 homers.
Twenty-twelve Cy Young winners R.A. Dickey and David Price squared off in Tampa and Price came out on top pitching his best game of the season – 8 IP, 7 H, 1 ER, 1 BB, 8 K. Expect more lines like that from the Vanderbilt product in the near future. Dickey, on the other hand, continues to struggle. He walked five in six innings, and like Price is allowing a lot of home runs. But, unlike Price, Dickey is walking a ton of guys – about 4 percentage points more than last year. Dickey's had struggles like this before – a 4.45 April '12 ERA and a 5.13 July '12 ERA – so I think you just have to ride out the storm unless you get a really good offer for him.
Scott Kazmir struck out 10 and walked none in a six-inning, one-run start against the A's. He's now had three decent to good starts in a row.
The Twins won 5-3 and took three of four from the Red Sox. Minnesota is now 16-15 on the season and a respectable 9-9 on the road. John Lackey struck out eight in seven innings but allowed five runs in total, only one of which was earned. He lowered his ERA to 2.82 even though his WHIP is still not that pretty. Lackey's ERA in the mid-'00s always seemed to be better than what his WHIP indicated it should be, so he could be a decent spot starter in the coming weeks.
Brian McCann hit his first home run of the season off Ryan Vogelsong in San Francisco. Eric Hosmer also hit his first homer of 2013. He's now six for his last 16.
Dan Haren picked up the W against Detroit, but he allowed four earned in six innings and gave up nine hits. Haren's strikeout rate still isn't very good, and his home run and ground ball numbers are career-worsts.