2013 Fantasy Baseball Daily Fix: May 3, 2013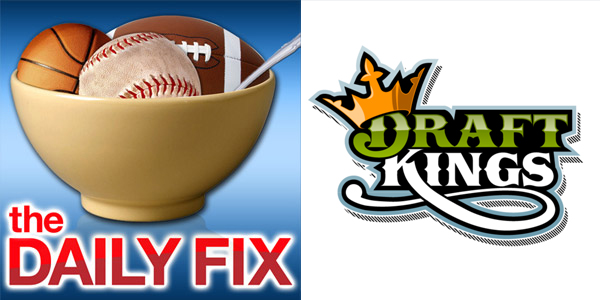 DraftKings.com Team of the Day
The calendar has turned to May, but the same story lines keep coming through. The New York Yankees and Boston Red Sox are on top of the division again like normal. Meanwhile, the so-called power division in the American League (AL West) is sputtering along. The big picture doesn't necessarily matter at Draftkings where you can take advantage of their deposit bonus.
Today, we we will be playing the $11 Double Up. Sure, it's a bit of an investment, but you have a 50 percent chance of collecting a twenty spot for your trouble. There is definitely a lot of room for error in this one and it still satisfies those that want a little more juice in play.
Pitchers: Shelby Miller vs. Milwaukee, Wade Miley vs. San Diego – Both pitchers cost $8,700 and were reasonable values. The Brewers are a pretty good-hitting team, but Miller's been on fire and won't hamstring your budget. Anytime you can go against the Padres in San Diego you have to go with that pitcher.
Catcher: Matt Wieters – Wieters is much better against lefties like Jason Vargas, whom he'll face tonight.
First baseman: Mark Reynolds – Reynolds is crushing this season, and opposing starter Pedro Hernandez isn't exactly Pedro Martinez.
Second baseman: Jose Altuve – Altuve's hitting righties like opposing starter Doug Fister very well.
Third baseman: Nolan Arenado – Arenado only cost $2,000, and while he's got a tough matchup against Matt Moore better pitchers have gone to Coors and never survived to tell the tale.
Shortstop: Ian Desmond – Desmond has 13 extra-base hits against righties this season, and righty A.J. Burnett is starting against Washington tonight.
Outfield: Matt Kemp, Torii Hunter, Austin Jackson – Kemp is .436/.508/.655 in his career against scheduled opposing starter Barry Zito. Hunter and Jackson were very good values against Bud Norris
Thursday Roundup
With only eight games played Thursday there were still several good pitching performances by several unforeseen top pitchers of the early season.
The National League ERA leader, Jake Westbrook, pitched six effective innings in Milwaukee and struck out four while allowing only one run. His ERA rose to 1.07 from 0.98. Even though Westbrook obviously won't keep his ERA that low all year (as a Cardinals fan I hope he does) his FIP is a nice 3.56, which is the best of his career. His ground ball rate is over 60 percent, which is good for second in the majors behind teammate Jaime Garcia, and he hasn't allowed a home run yet because he's only giving up a fly ball on 21 percent of balls in play.
Travis Wood was in line for the win in Chicago, but he gave up three runs in the eighth and was taken out after 7.2 innings. He only gave up four hits and one walk as his ERA rose to 2.50. Wood now has a quality start in every start this season, but is still owned in less than 40 percent of ESPN leagues. He's one of the best streaming options available on most waiver wires.
Kyle Kendrick's now owned in 58 percent of ESPN leagues, but that number should rise after his fifth straight quality start, a seven-inning, two-run outing against Miami. The righty struck out five and walked two, and his ERA is now at 2.43. Todd Zolecki, the Phillies' MLB.com beat writer, tweeted Thursday night that Kendrick has a 3.30 ERA in 29 starts dating back to May 5, 2012. The advanced stats like Kendrick the least of the three starters I've touched on, but I like Kendrick at least a bit better than Wood because the former does a good job inducing ground balls and limiting his walks. And his BABIP has nearly always been below the .290-.300 area that's considered average. I think he's worth a roster spot in most leagues.
News and notes
Josh Johnson was placed on the 15-day DL with right triceps inflammation. The Blue Jays will start Ricky Romero in Johnson's spot on Friday.
Jake Peavy was scratched from Thursday's start due to back spasms. Peavy could start as early as Saturday in Kansas City.
Joel Hanrahan picked up his fourth save of the season Thursday taking over the ninth-inning duties from Andrew Bailey, who's dealing with soreness in his biceps.