2013 Fantasy Baseball Rookie Report, Week 1: Gyorko, Bradley, Ryu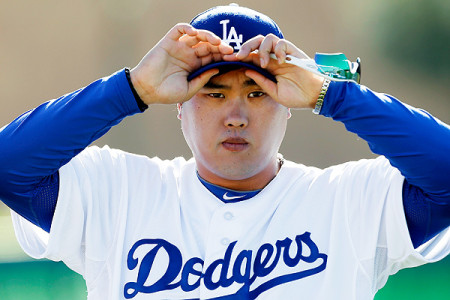 Welcome to the first 2013 installment of the Rookie Report. Each week I'll highlight a few rookies who have consistent playing time, see how they've done and try to predict what we'll see from them in the future. Also, since the minor-league season just started today, starting next week I'll write up a few bullet points about several top minor leaguers to see how they've been doing and when/if we might expect them to come up to the big leagues this summer.
Jedd Gyorko | 3B | San Diego – Gyorko won a spot with the Padres due to a hot start in spring training and a combination of injuries to Chase Headley and Logan Forsythe. So far, in three games against the Mets Gyorko's 3-for-12 with two doubles, two runs and an RBI. He's struck out twice while being fairly underwhelming at the plate in his first taste of big-league action, which isn't shocking. Gyorko finished spring training with 16 strikeouts, only three walks and an OBP of .286. Now, in facing three quality starters in Jon Niese, Matt Harvey and Dillon Gee, Gyorko has failed to make any hard contact. All three of his hits have been ground-balls; both doubles hopped past third base staying just fair. Eighty-three percent of balls he's put in play have been grounders with only one fly ball reaching the warning track. It's expected that Gyorko would struggle to begin his rookie season – he's been especially susceptible to off-speed stuff – and in shallow leagues you can cut bait with him as there should be a capable replacement on the waiver wire. In deeper leagues, hold on to him unless you really need to clear a roster spot.
Jackie Bradley, Jr. | OF | Boston – Bradley also won a job on the major-league roster thanks to an impressive spring training. Bradley and the Red Sox have only played two games so far, so we don't have that good of a sample to go on. But in his limited time Bradley has done an OK job in his first big-league games. He only has one hit – a well-hit groundball up the middle that came on a sinker low in the zone. But he does have three walks, a hit-by-pitch and only one strikeout. Granted, the walks are partly a product of him batting eighth, right in front of Jose Iglesias, who has a career .626 OPS in the minors. But Bradley's first plate appearance on Opening Day, against CC Sabathia, was an impressive one. He worked a walk after falling behind 0-2. So there is some skill there from a guy who has a career .423 minor-league OBP. Just like Gyorko, Bradley shoudln't be an option for shallow leagues. But in deeper leagues that count OBP, Bradley could help you as a reserve outfielder as he should score a good amount of runs batting eighth, right in front of the top of Boston's order.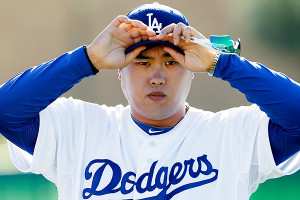 Hyun-Jin Ryu | SP | Los Angeles Dodgers – The lefty from Korea made his MLB debut Tuesday night against the Giants, and while his final line of 6.1 innings, one earned run, five strikeouts and no walks looks good it really wasn't much to write home about. Ryu allowed 10 hits, most of which were hard-hit line drives. He did keep the ball mostly close to the ground, as evidenced by his 55 percent groundball rate. But 30 percent of balls in play against him were line drives, and most Giants hitters, including Madison Bumgarner, were able to square up Ryu's pitches and hit them well. Ryu averaged just over 89 mph on his fastball, and topped out at 92 only a couple of times, according to Brooks Baseball. However, his change-up was very good, throwing it for strikes 82 percent of the time and getting a 17 percent whiff rate on it, according to Brooks. But Ryu benefited from three double plays, two of which came with two runners on base. And San Fran's hitters weren't very patient, either, not allowing for Ryu to get in too much trouble going deep into counts. Even though Ryu's the Dodgers' No. 2 starter, he shouldn't be yours. In most leagues he should be on the waiver wire, where you could pick him up for friendly matchups against San Diego or the Giants but not many other teams.