2014 Fantasy Baseball: Week 12 Two-Start Pitchers and Streamers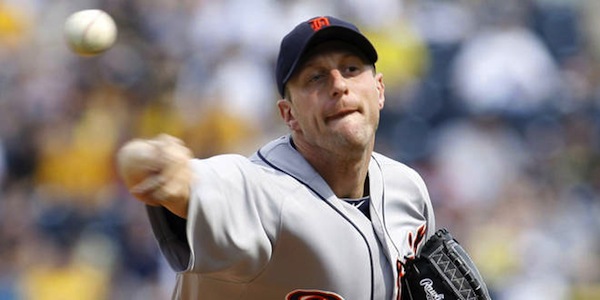 There are several two-start pitchers who qualify for the streaming portion of this article, starting with Tanner Roark, who's listed as a must-start. For sake of brevity I'll only cover them in the top portion of the article, but you should definitely pick up any of the two-starters you want to stream. If you have any questions about these starters, other pitchers or general fantasy baseball questions hit me up on Twitter @44AMiller.
Adam Wainwright was scheduled to make two starts this week, but due to a sore elbow he'll miss his scheduled Monday start while planning on making his start Saturday. The move is "more precautionary than anything else," according to St. Louis GM John Mozeliak. All along Wainwright has insisted he's fine and is just battling tendinitis. The Cardinals haven't named a starter for Monday's game.
Mat Latos made his first start of the season Saturday and is scheduled to start Friday against Toronto. Gio Gonzalez is also scheduled to come off the DL soon, and while he hasn't been officially listed as a starter on any day this week it's most likely he'll start Wednesday against Houston.
Must-start
Wacha and Teheran are both coming off their worst starts of the season. It was the first time Wacha allowed more than three earned runs all season, and Teheran's outing was only the second time he's allowed more than three earned all season. Wacha has two bottom-four teams in wOBA against righties, and while Teheran's non-Philly matchup is the 17th-ranked team in wOBA against righties he's still got two plus matchups to go with his 32:5 K:BB in his last five starts.
Ross has moved up to must-start status, thanks to allowing one or fewer runs in six of his last eight starts. In those other two starts he allowed nine earned runs, but struck out 11 while walking three. Ross has seen his ground ball and swinging strike rates go up from last year thanks to an increase in slider usage. He threw it 28 percent of the time last year; that number goes up to 39 percent this year. His whiffs on the slider have gone up from 42 percent of swings to 48 percent, and he's allowing fewer fly balls on his slider, which ranks 11th in fly balls per balls in play.
Roark has moved up, too, posting a 2.31 ERA since April 21 and a 1.93 ERA since May 10 with 34 strikeouts and eight walks in 46.2 innings. Keuchel's breakout is one of the most fun stories of the year. He's got a 65 percent ground ball rate, which is tops in the game by far. His 2.38 ERA is backed up by a 2.81 FIP and 2.79 xFIP. He's got arguably the best slider in the game, getting whiffs on over 50 percent of swings against it.
Start in 12-teamers
Hughes has a measly 52 strikeouts to two walks in his last nine starts, and it looks like his June 6 start against Houston (three home runs) is just an aberration; he's only allowed two other home runs since April 20. He has the seventh- and 16th-ranked offenses against righties this week, but he just dominated Toronto, which has the second best wOBA and Isolated Power against righties. So I'm not concerned about his matchups. He's been a beast for most of the season.
Ryu has the top offense against lefties and the worst offense against lefties. He has a 3.73 ERA in five starts since coming off the DL with 27 strikeouts and just five walks. In daily leagues I wouldn't start him against Colorado, due to no fault of his own, though. In deeper weekly leagues I'd start him and not worry if the Rockies get to him. His start against San Diego will make up for it somewhat. Hammel has increased his slider usage from 19 percent for his career to 30 percent this year, and it's paid off big-time: hitters are batting just .157 in 115 at-bats that end in one while walking just twice and striking out 46 times. He's getting batters to chase more often and make less contact than at any time in his career. He has put up a few small clunkers, but even in those games he gets you a good amount of strikeouts and doesn't hurt your WHIP too much.
Stroman has been very good since moving to the rotation, posting three straight quality starts with 17 strikeouts and two walks. He's got five pitches, three of which are inducing ground balls around 75 percent of the time. His swinging strike rate is right around league average, but his walk rate is excellent. He's got two below-average offenses this week, and even though they're both at hitters' parks he should be fine.
Deep-league starts
Odorizzi is someone you can roll the dice with in a lot of leagues due to his strikeouts. His matchups this week aren't the best, but he's struck out 24 and walked just three in his last four starts. His ERA is ugly, but his future ERA indicators (FIP, etc.) say he should have an ERA in the mid-3's. In his three recent bad starts he's had a BABIP at or above .400 in all of them as well as a really low/unsustainable left on base rate. Pomeranz has gone seven innings in consecutive starts after not getting through six in his first five. He's lost a few strikeouts while keeping his walks in line, but there are a few concerns here. His left on base rate of 90 percent would be the highest for a starter if he had enough innings, and his .235 BABIP would be tied for the fourth lowest. With that said I still like him some this week with both starts at home, but if you can try to sell him off sometime soon that could be wise.
Despite a 2.54 ERA and 1.13 WHIP, Niese is pretty much the same pitcher he's been his whole career. His K-BB% is right at his career rate, but his BABIP and left on base percentage are well below his regular rates. He hasn't changed anything in his pitch mix, and his batted ball profile remains fairly similar to his career profile. So he's not worth a pickup to hold on to, but he's got the 15th ranked offense against lefties and the 26th ranked offense so he could be a good pickup to stream for both starts this week. Lohse has been so good this year and just loses out of starting status in most leagues due to his matchups. Colorado is the best offense against righties, and while Arizona ranks 15th against them on the season the Snakes are the seventh-best offense in the past 30 days.
The Tigers are a top-10 offense against lefties, while the Mariners are in the bottom three. If you can and want to start Vargas just against the Mariners that's fine as the Tigers rank sixth in wOBA and third in Isolated Power in the last 30 days.
AL-/NL-Only starts
With Verlander I think the best thing you can do is bench him and hope he turns it around. Chen has walked just one batter in his last five starts while striking out 24, and the Rays rank 24th in wOBA against lefties. In Milone's last seven starts he has a 2.00 ERA and a 1.06 WHIP. If you've got some room to spare in ERA Miley, who has a 33:3 K:BB in his last four starts, could help you in strikeouts and WHIP against two average offenses against lefties.
Pitchers to avoid
Top streaming options available in at least 50 percent of ESPN leagues
Jake Arrieta – Wednesday at Miami – Miami ranks 12th in wOBA, but it has the highest strikeout rate against righties. Arrieta has struck out 16 with one walk in his last two starts, and thanks to an increase in sliders and curveballs he has seen his swinging strike and strikeout rates reach career highs this year.
Danny Duffy – Thursday at Detroit – Duffy's prone to some bad starts, but when he's on he's very good. In three of his last six starts he hasn't allowed a run, and in his last three starts he's struck out 18. The Tigers are a tough matchup, but Duffy's arguably got the best talent out of any pitcher available on the waiver wire.
Henderson Alvarez – Friday vs. New York Mets – Alvarez left last Sunday's game in the sixth inning after landing awkwardly and injuring his hip covering first base, but he's scheduled to start today, as the removal was just precautionary. He's only allowed one earned run in his last four starts, striking out 15 and walking just two.
Charlie Morton – Friday at Chicago Cubs – Chicago ranks second to last in wOBA against righties, and Morton has 22 strikeouts and six walks in his last three starts, only allowing five earned runs.