2015 Fantasy Baseball: Rookie Report – Syndergaard, Spangenberg, Kang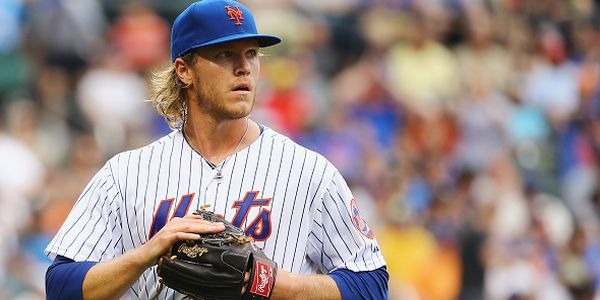 Noah Syndergaard, the Mets' top prospect, made his MLB debut Tuesday against the Cubs. Syndergaard was in the top 10 of many prospect lists this offseason, and that praise was well-warranted. He averaged almost 98 mph with his fastball against Chicago, and he has a quality changeup with a sharp-biting curveball that got four strikeouts in seven at-bats against the Cubs. Syndergaard only went 5.1 innings Tuesday, allowing three earned runs, four walks and inducing six strikeouts.
Results don't always tell the whole story, though, so don't be scared off by his debut. Syndergaard is highly regarded for many reasons, and he showed why several times Tuesday night. His pitch arsenal is, I'd guess, close to second to none among 22-year-olds. According to Fangraphs' Chris Mitchell, Syndergaard's 30 percent strikeout rate in Triple-A this year led the offense-heavy Pacific Coast League, and his 7 percent walk rate is also encouraging. And he was much better in his second start over the weekend allowing one run and just four baserunners while striking out fiev in six innings.
Syndergaard should remain in the Mets' rotation all year long as he has nothing left to prove in the minors and he's a better option than what New York will have later in the year. If you've got a spot to spare on your bench in pretty much any league he's worth picking up.
San Diego's Cory Spangenberg hit two home runs in Thursday's game against Washington. Since starting the season as a reserve, Spangenberg entered the starting lineup for good May 3 and has hit .297/.400/.514 with those two homers, a triple and 11 hits in 11 games. He also has seven walks to eight strikeouts in that span while hitting leadoff or second in every game save one. The 2011 first-round pick hit 12 homers in 374 games in the minors and averaged over 25 steals a season from his debut in '11 to 2014. He got on base at a .355 clip in the minors, and his BABIP was .364. Spangenberg has a 10 percent walk rate and .343 OBP this season, so those skills seems real. His .333 BABIP is also sustainable, although it's only reasonable to expect it to decline a bit.
With Jedd Gyorko and Will Middlebrooks the incumbents at second and third base, respectively, Spangenberg doesn't have much competition for playing time as long as he keeps producing. Spangenberg won't hit more than 10 home runs, but he did average nine triples a season in his past three minor-league seasons so some extra-base pop is legit. In deep leagues he should be a legit asset for some steals, runs and average.
Following a path similar to Spangenberg to regular playing time is Pittsburgh's Jung Ho Kang. Kang has started 11 of Pittsburgh's last 13 games after starting just five of its first 12. Since entering the lineup on a more permanent basis he has two home runs and four doubles, and he's upped his seasonal line to .299/.360/.463, which is good for a wRC+ of 128. So he's been 28 percent better than league average so far in his rookie season. The 28-year-old has seen his starts split almost evenly between shortstop and third base, where he's outproducing his competition – Jordy Mercer and Josh Harrison – by 113 and 51 wRC+ points, respectively.
Kang has arguably the most natural skill of those three as evidenced by his .356 average and 40 home runs last year in the Korean Baseball Organization. Kang still isn't a full-time player, but he's working his way there. He's worth a pickup in any deep league, and if he ever gets a full-time job he's going to give you a lot of power and RBI at the least.