2016 Fantasy Baseball: Jose Quintana, Undervalued Starter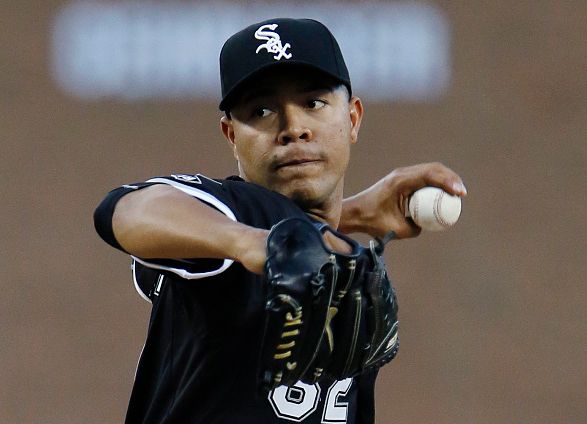 Jose Quintana only had nine wins in 2015, so if you're still stuck in the middle ages you should continue reading this post. But if you're stuck in the middle ages I don't know how you're accessing this, unless you're a time-traveler, and if that's the case hit me up Twitter I want to know your ways. So, if you're just looking at wins Quintana isn't "elite." But look at a plethora of other statistics and Quintana is quietly an undervalued ace in the Major leagues and in fantasy.
In the past two seasons Quintana has amassed 9.9 WAR, which ranks ninth among all qualified starters. Looking at more fantasy-friendly stats, Quintana has a 3.46 career ERA with the last two years coming in under that mark. That undersells him a little, because in the last two seasons his 3.00 FIP ranks 13th among qualified starters. Despite an average ground ball rate and a poor pitchers' park, Quintana has always been able to keep the ball in the park, ranking sixth among starters in the past two seasons in home runs allowed per nine innings at 0.58. Four of the pitchers above him are Jake Arrieta, Clayton Kershaw, Tyson Ross and Gerrit Cole.
So not only does he limit home runs, he's also great at the other two things he can control – strikeouts and walks. He's thrown 200 innings three straight years with improving walk and K%-BB% numbers each season. He doesn't get great strikeout numbers, but his 21 percent strikeout rate the last two years is 35th among qualified starters. Last year Quintana continued to make strides as a pitcher, growing his ground ball rate to a three-year high of 47 percent and lowering his walk rate to a career-low 5.1 percent. Some of that growth can be attributed to increased use of his curveball, which he threw a career-high 30 percent of the time – his second most-used pitch: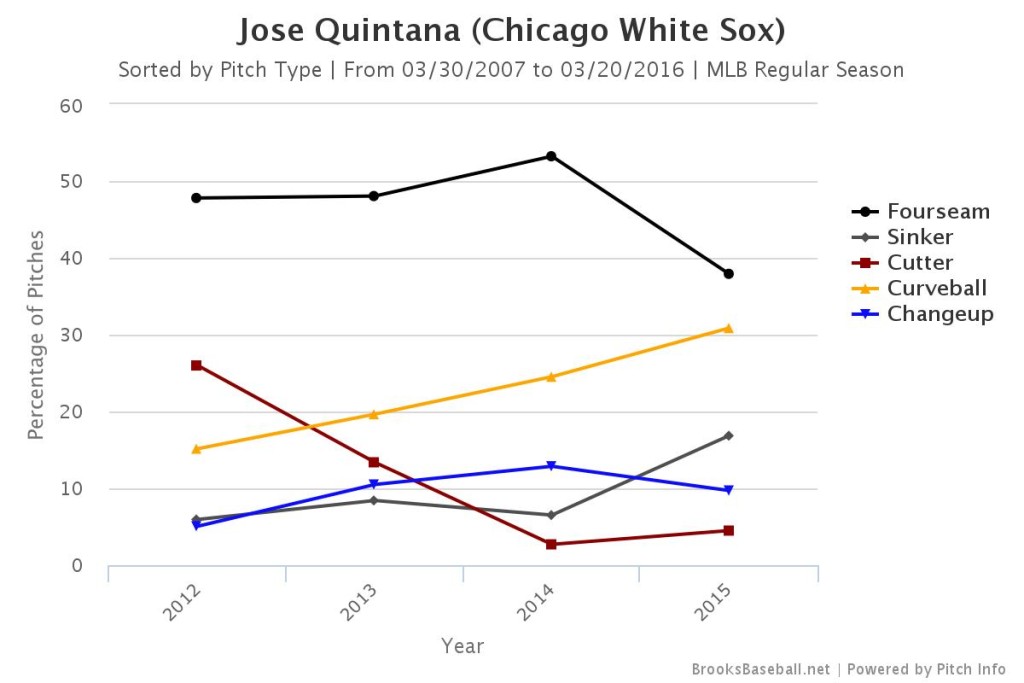 It's his most effective pitch on a whiff-per-swing basis, and it also gets 54 percent of the time it's put in play it's on the ground, which is also his best rate on a pitch.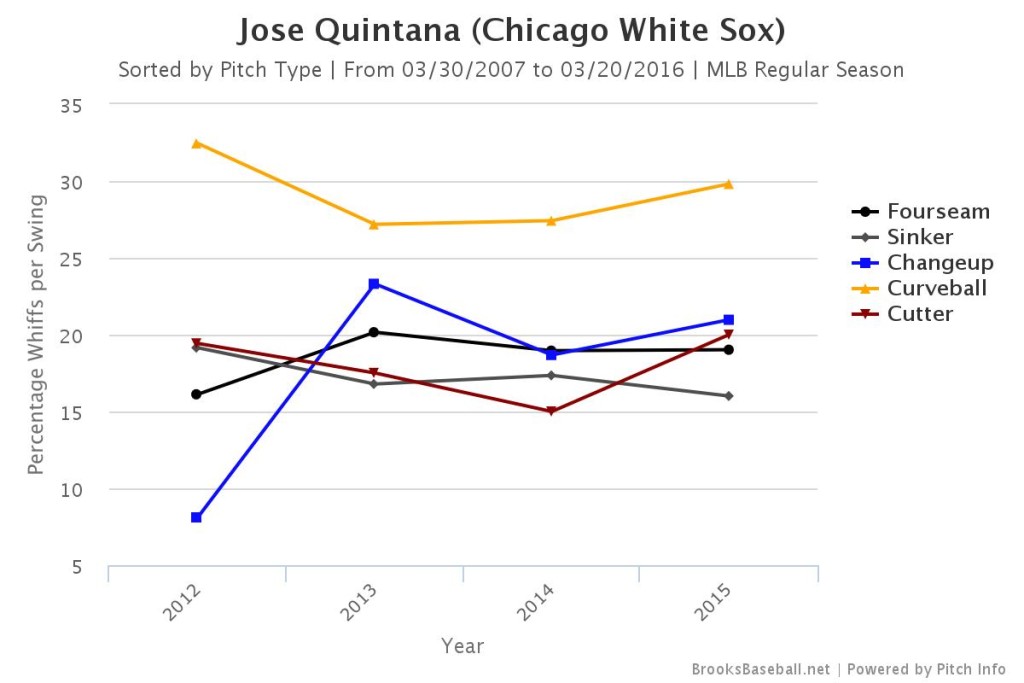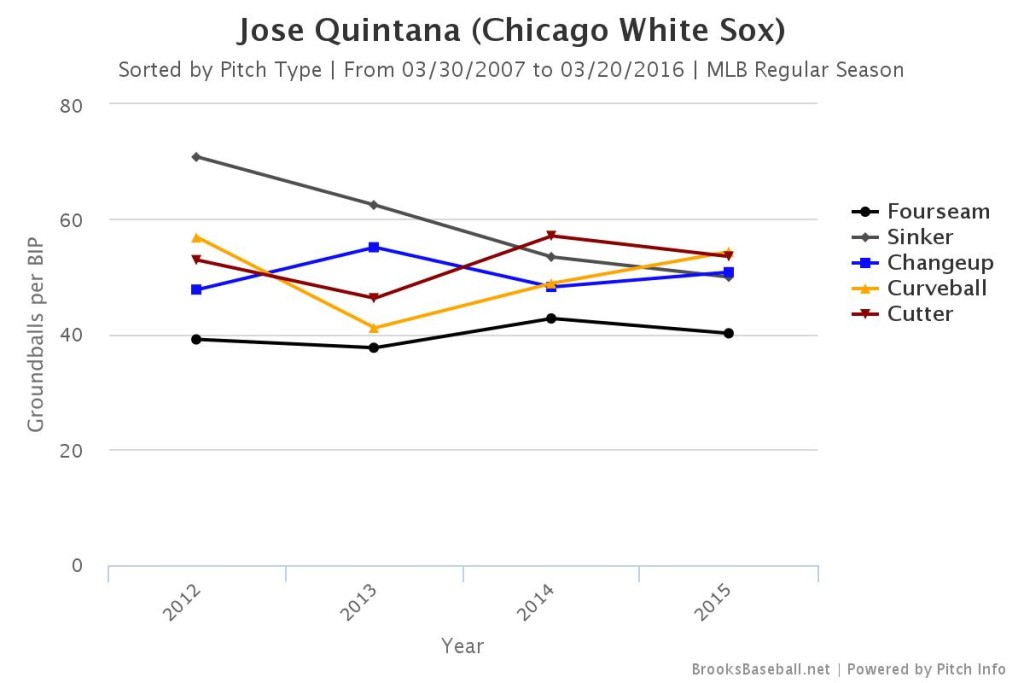 Each chart shows a steady progression of his curveball usage. According to Baseball Prospectus Quintana threw 1,000 curveballs last year, by far the most in the league. That tells me there's not much more room for him to rely on his curveball. But that doesn't mean he won't get better. He has a solid repertoire and can mix and match his pitches very well, and he still uses his curveball about a quarter of the time when he's behind in the count. Hitters can't wait on his fastball when they're ahead, and he's got such great command of his curve (76 strikeouts, eight walks on it last year) that he's able to use it unabashedly when he's behind.
I think Quintana has almost reached his peak. However, he's young, has a great pitching coach, and has shown he can make adjustments and grow as a pitcher, so I believe he still has some room to grow. Quintana's average rank at Fantasy Pros is 36th right now with a high of 26. I have him 33rd with a few higher-upside arms ahead of him (Stroman, Wacha, Carlos Martinez) and a few of those same types below him (Iglesias, McCullers, Walker). I think taking him depends on whom you've already rostered. If you have a couple surefire stud pitchers you can afford to gamble on the higher-upside arms, but if you gambled early on some less-proven pitchers Quintana is a great No. 3 pitcher to roster.
Unless otherwise credited, stats assembled from Fangraphs and Brooks Baseball