2016 Fantasy Baseball: Outfield Risers and Fallers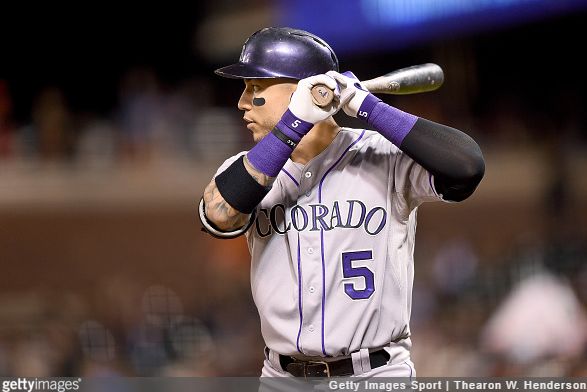 Stock Up: Carlos Gonzalez – CarGo leads all outfielders in wOBA and is, even more impressively, tied for the lead in wRC+ over the past 30 days at .200 with Michael Saunders. He's hit 10 homers with a .381 average in that time span, and despite an almost career-low walk rate he's managed to keep his strikeout rate right at his career average (22 percent).
A lot of aspects of CarGo's performance look similar, but he's hitting what amounts to a career-high of batted balls to the opposite field – 29 percent of the time – which is equal to the amount he hit in 2009, his first year in Colorado. Obviously, he's been really good hitting wherever the balls go in his career, but this year he's hitting .579 on balls to left field and he's on pace for a career-high in hits and home runs that way. His output hitting the opposite way has led to a .314 average and .579 slugging, which would rank second and third, respectively, in his career if the season ended today.
Stock Up: At 13th in wRC+ and tied with his more famous teammate, Kole Calhoun has a 137 wRC+ over his last 30 days thanks to six home runs and a .236 isolated power mark. Calhoun has improved his plate discipline to a career-best .52 BB/K, and that's lead to a career-best .361 OBP. He has five home runs in June after hitting just two apiece in the first two months of the season. His Iso is at what appears to be a yearlong peak, and that can be explained by simply hitting more fly balls and fewer ground balls. His .167 Iso is right in line with his previous outputs, so I don't expect much more power coming from him. But with his increased fly ball rate he should approach mid-20s in home runs again.
Stock Down: Billy Burns had a pretty good debut in 2015, stealing 26 bases and hitting five homers in 125 games. This year he has 13 steals and should top his 2015 output, but he has zero home runs and eight – yes, 8 – RBI. Last year he almost hit .300, but now he's hitting only .248 and the power isn't coming. He's hitting more ground balls (54 percent) than last year and his fly balls are down to only a quarter of balls in play. Even worse, his infield fly ball rate is 23 percent, which is second-worst in the Majors. That's bad news for him, because with his speed he needs to hit the ball on the ground or even on a line. But if he's popping up so much he can't use his speed to get on base and steal bases for you, so he's essentially worthless except in the deepest of leagues.
Stock Down: Colby Rasmus – I fell for Rasmus in April when he hit seven home runs, but since then he had one in May and one in June. His 36 percent strikeout rate in the last month is second-worst among outfielders, and his .071 Iso in the last 30 is positively Aoki-ian. His plate discipline has eroded throughout the season, and he's hitting far too many balls on the ground to get back to his power-happy ways. Until he starts hitting more fly balls he's not going to give you much production at all.