Daily Fantasy Hockey Strategy: February 2, 2017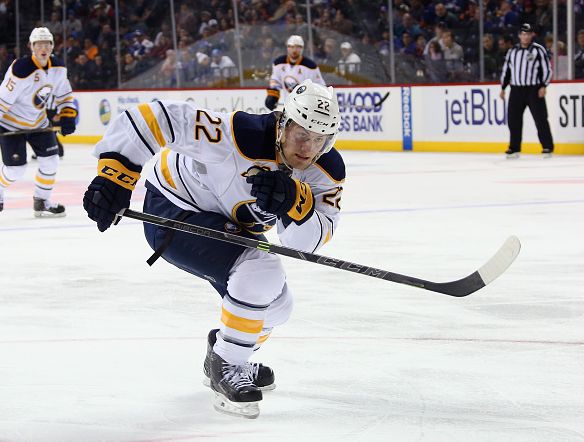 Below we've got a discussion of the best matchups and potential stacks of the day followed by player rankings for Thursday's eight-game evening slate of NHL contests on DraftKings and FanDuel.
As always, make sure to check Twitter for any injury news, and check LeftWingLock for starting goalies and line combos.
Teams to Target
Montreal Canadiens @ Philadelphia Flyers
The Flyers have allowed the third most goals so far, and tonight they start Michael Neuvirth in net who has the absolute worst even-strength save percentage in the league this season (minimum 500 minutes). The line to pick on is Philly's second centered by Brayden Schenn, and that's especially true with that line's normal left winger, Travis Konecny, being a scratch tonight. That line tends to see opposing third lines in home games as one of Philly's depth lines usually jumps up to take on an opposing top six line.
Artturi Lehkonen from Montreal's third line is second on the team behind only Max Pacioretty in iCF60, and he has gotten his shot totals back up recently with 12 shots in his last four games. Lehkonen makes for a nice value option on both sites. The aforementioned Pacioretty is also an option, though you might fade him in GPPs given that he should be a popular option coming off a hat trick in his last game. Patch is the only guy on Montreal's top line who shoots the puck consistently at a high rate, so pay up for him if you want top line exposure instead of going cheaper with Radulov or Danault.
The blue line is another option for getting exposure to Habs. Shea Weber is almost a lock to give you 24+ minutes and three shots per game. The other defensive option is Weber's blue line mate on the top power play unit, Nathan Beaulieu. Beaulieu has three assists in his last five games and is a nice value on FD, which is also where Weber is priced best.
Dallas Stars v. Winnipeg Jets
This could well be a very high scoring game as the Jets have allowed the second most goals in the league, and Dallas is tied with Philly for third most allowed. Kari Lehtonen is on a rare hot streak and actually has an impressive even-strength save percentage this season, so picking on Ondrej Pavelec with the Stars is the way to go in this one.
Dallas has stuck with their current line configuration for awhile now in which Jamie Benn and Tyler Seguin are split up. Benn's line tends to draw tougher matchups at home as does Radek Faksa's line while Seguin's line is often left some of the softer individual matchups. Winnipeg's depth lines are what you want to pick on, so Seguin's line is unsurprisingly in a good spot tonight. Seguin is priced a bit better on DK as is his line mate Jason Spezza, and defenseman John Klingberg, who joins Seguin/Spezza on the top PP unit, is also priced a bit better on DK. Consider stacking Stars there. Patrick Eaves is also an option as he continues to be reasonably priced and has the privilege of playing on Dallas' top PP unit.
Toronto Maple Leafs @ St. Louis Blues
This is a matchup of contrasting styles as the Blues are one of the most low-event teams in the league while the Leafs push the pace. St. Louis allow the fewest even-strength shot attempts per 60 and ranks 21st in shot attempts taken per 60 while Toronto allows the fourth most shot attempts and takes the fourth most as well. St. Louis and new head coach Mike Yeo will surely do all they can to hold the Leafs in check, but the Leafs are good enough to get their chances even against a stingy opponent.
The Leafs have shuffled their lines for this one after mixing them up late in a loss to Dallas on Tuesday, so it's a bit tough to know how the matchups are going to go in this one. For that reason I'm going with Auston Matthews' line because Matthews leads the league in iCF60 and ixG60 and because his new line mate, William Nylander, is priced well on both sites for a guy playing on Matthews' wing. The pair should also stay together on the top PP unit.
New York Rangers @ Buffalo Sabres
This is another situation where recent line changes make it difficult to know which line to go with. The idea here is to avoid Ryan O'Reilly's solid possession line, and ROR's line always matches up with the opposing top line in home games. The question is which New York line gets treated as NYR1 after a recent line mix up. My guess is that the line with Chris Kreider on it gets treated as NYR1, and Kreider is with Mika Zibanejad and Mats Zuccarello. That means Derek Stepan's line, with wingers Rick Nash and Jimmy Vesey, is where I'm leaning in this one. Vesey is a nice value option on both sites, and Stepan is priced well on FD. Defenseman Ryan McDonagh should join Stepan and Vesey on the top PP unit, and he's priced well on both sites.
On the other side of this game, Jack Eichel's line could be worth a look. Eichel's line tends to get matched up with opposing depth lines in home games, and New York's depth lines are not intimidating possession units. Eichel leads the Sabres in ixG60 and is worth considering as a pricey option, especially in GPPs. Eichel's line mate and PP1 partner, Sam Reinhart, is priced very well on DK and makes for good salary relief there.
Player Rankings
Centers
Auston Matthews (better value on FD)
Jason Spezza (better value on DK)
Derek Stepan (better value on FD)
Jack Eichel
Tyler Johnson (better value on DK)
Defensemen
Shea Weber (better value on FD)
Ryan McDonagh
Duncan Keith (better value on DK)
Victor Hedman
John Klingberg (better value on DK)
Mattias Ekholm (as long as Roman Josi is still out)
Nathan Beaulieu (better value on FD)
Wingers
Tyler Seguin
William Nylander
Rick Nash
Patrick Eaves
Brian Boyle
Max Pacioretty
Sam Reinhart (better value on DK)
Marian Hossa
Jaden Schwartz
Vladimir Tarasenko
Jimmy Vesey
Brayden Point
Alex Killorn
Goalies
Carey Price (cash games preferably, DK only)
Corey Crawford (cash games preferably, FD only)
Kari Lehtonen (cheaper cash game option on both sites, GPP option on FD)
Mike Smith (GPP only)
Goalies with an asterisk next to their name are not expected to start tonight but haven't been ruled out, so don't count on them playing. Any players in bold have been confirmed as the starter for the day. Make sure you always check LeftWingLock for starting goalie updates in case I am unable to update the list throughout the day.