Daily Fantasy Hockey Strategy: November 16, 2015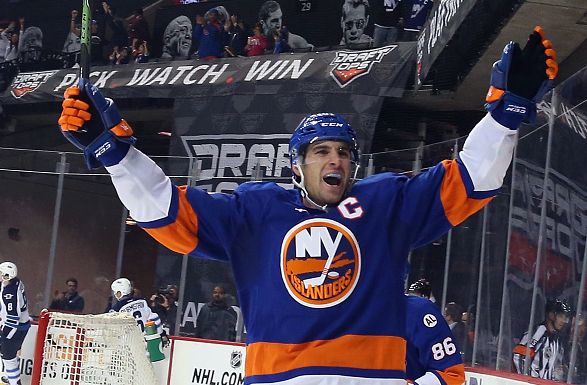 Below I've got a discussion of the best matchups and potential stacks of the day followed by player rankings for Monday six-game evening slate of DraftKings contests. At the bottom of the post I've embedded my research chart for the day. Here is just a snippet of an old chart I'll use to explain what you're looking at.

First the colors. Purple/blue is amazeballs, green is great, yellow is good, orange is bad, red is awful and deep red is no effing way.
The first column that isn't self-explanatory is the seventh one, the one that is titled 'z' to the right of salary. That is how far above or below average the player's salary is compared to all other players in action today. 'Proj.' is a projection from numberfire.com's rest-of-season projections, which I have cut down to a per-game basis and adjusted for matchup. The 'z' next to the projection is how far above or below average the projection is compared to all other players in action today. And then 'Value' is the projection z-score minus the player's salary z-score.
Make sure to check Twitter for any injury news, and check LeftWingLock for starting goalies and line combos.
Teams to Target
[cointent_lockedcontent article_labels="hockey"]
We've got a fairly short six game slate tonight, and there's only one matchup that sticks out as an obvious target. That would be the New York Islanders hosting the Arizona Coyotes. I have a little matchup stat that combines projected save percentage and Corsi against, and the Coyotes rank as the third best matchup for opposing skaters according to that metric. Perhaps more importantly, Arizona is the only one of the ten best matchups in action tonight. So Isles it is!
But which Isles? The key here is to avoid Arizona's top line and top D pair. The top line of Martin Hanzal, Tobias Rieder and Anthony Duclair along with the top D pair of Oliver Ekman-Larsson and Michael Stone are the top five Coyotes in Relative Corsi For Percentage of Total. In layman's terms, they possess the puck more when they're on the ice than their teammates do. That quintet possesses the puck more than their opponents, but most of the other Coyotes possess the puck less than half the time they're on the ice.
Ok, so which Isles, Talley? This game is in New York, so they'll have the ability to dictate matchups with last change. Their recent history is a bit tough to parse to see how they'll choose to match up, but in their most recent home game against Boston, the Isles got the John Taveras line away from Boston's top line. That game with Boston is their only home game of the month. Going back to the end of October they hosted Carolina and Calgary. Carolina had their lines very jumbled in that game, so it's hard to say who the Isles considered the top line. But against Calgary New York put the Tavares line up against Calgary's clear top line. I'm going to give the most recent game against Boston more weight in part because it was the most recent. But I also like that Boston game as a comparison because Boston has a top line that really suppresses offense, somewhat like Arizona's top unit. Perhaps the Isles will approach the Yotes the same way.
Long story short, I like Tavares and his linemates, Brock Nelson and Kyle Okposo. Okposo makes more sense as a mini-stack partner as he joins Tavares on the top power play unit, while Nelson plays on the second unit. But in GPPs, I'm good with the whole line. If you were picking Isles purely based on value, the second line pair of Frans Nielsen and Anders Lee is a little more price accessible.
I like the first line more, but I can't say with absolute certainty that the second line will see the most ice time against Arizona's top guys. If the Tavares lines ends up drawing the tougher matchup, Nielsen/Lee could have a big night. That pair also plays on the top power play unit, which is another pro in their favor. On the blue line, Nick Leddy plays on the top power play unit. Johnny Boychuk on the second power play unit is a particularly good value if you don't decide to target the guys on the top PP unit for whatever reason.
Now that we've exhaustively discussed the Islanders, let's discuss other options. With so few bad defensive teams playing tonight, I'm tempted to look towards the better possession teams in action. St. Louis and Montreal rank third and fifth in Corsi For Percentage in the league, respectively. They will both be at home hosting Winnipeg and Vancouver, respectively. Vancouver is basically an average matchup for opposing skaters, while Winnipeg is a slightly below average matchup. Montreal has the better matchup and has also been a better offensive team to date, so they would be my second choice.
The line to avoid from the Canucks is unsurprisingly the Sedin line. But the defensive pair to target is a bit surprising in that it's their top pair of Alexander Edler and Chris Tanev. Edler and Tanev tend to play with the Sedins about half the time, but they also see time with the Vancouver depth lines. So if you don't go with the Montreal top line, their third line could be an option. I would go with David Desharnais and Dale Weise, who stay together on the second power play unit. But more likely the top line makes more sense. Max Pacioretty is too pricey for my liking, but Tomas Plekanec and Brendan Gallagher remain affordable. If you go with that top line mini-stack, Andrei Markov can be played with them as he joins them on the top power play unit.
As for the Blues, I don't really see a specific line or D pair to target from Winnipeg. Everyone of their top six forwards is on the plus side of Corsi for Percentage, and they have their lesser possession D men paired with their better possession D men. You'll just have to pick Blues based on value. David Backes is the best value on the team, but he's playing with some crappy linemates lately, so the only option for a stack with Backes is to mini-stack him with Kevin Shattenkirk who joins him on the top power play unit. On the top line, Jori Lehtera and Alex Steen are affordable enough, but Vladimir Tarasenko is too expensive.
Player Rankings
Center
Winger
Defensemen
Goalies
Frederik Andersen – $6,900 – Anaheim Ducks
Eddie Lack – $6,300 – Carolina Hurricanes
Ondrej Pavelec – $6,500 – Winnipeg Jets
Goalies with an asterisk next to their name are not expected to start tonight but haven't been ruled out, so don't count on them playing. Any players in bold have been confirmed as the starter for the day. And players with a line through their name will not be starting tonight. Make sure you always check LeftWingLock for starting goalie updates in case I am unable to update the list throughout the day.
Research Chart
You can download the research chart from this Google Sheet page here.
[/cointent_lockedcontent]