Daily Fantasy Hockey Strategy: October 8, 2015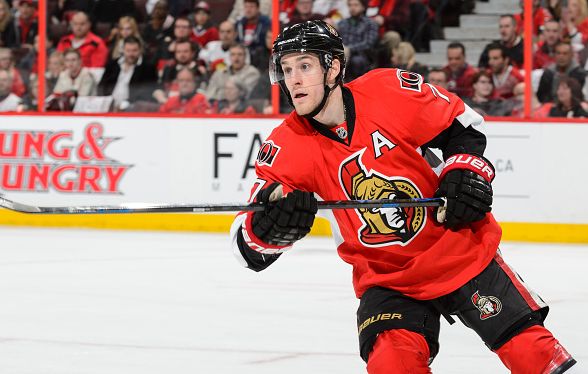 Welcome back, hockey season! The season kicked off last night with four games, but we get our first substantial slate of the season tonight with seven games. We'll get into the meat of the slate shortly, but first I want to give a quick word of caution on early season DFS. My model relies a lot on having good data, and that's something we simply don't have early in the year. I'm still relying on last season's data to make contextual adjustments to projections, and last season's data will not be this season's data. We really need about 15 games from each team before we start to get an idea of what each team really is. So for now, play less than you normally would. I'll be investing about half what I normally would for at least three weeks. Be conservative, it's a long season.
Enough disclaimer. Let's get to it.
[cointent_lockedcontent article_labels="hockey"]
Below I've got a discussion of the best matchups and potential stacks of the day followed by player rankings for tonight's seven-game evening slate of DraftKings contests. At the bottom of the post I've embedded my research chart for the day. Here is just a snippet of the chart I'll use to explain what you're looking at.

First the colors. Purple/blue is amazeballs, green is great, yellow is good, orange is bad, red is awful and deep red is no effing way.
The first column that isn't self-explanatory is the sixth one, the one that is titled 'z' to the right of salary. That is how far above or below average the player's salary is compared to all other players in action today. 'Proj.' is a projection derived from numberfire.com's preseason projections which I have cut down to a per-game basis and adjusted for quality of opponent.. The 'z' next to the projection is how far above or below average the projection is compared to all other players in action today. And then 'Value' is the projection z-score minus the player's salary z-score.
Make sure to check Twitter for any injury news, and check LeftWingLock for starting goalies and line combos.
Teams to Target
That disclaimer up top about not knowing how good or bad teams are early in the season has to be discussed again here. The Buffalo Sabres were historically bad last year, but they're likely not going to be that bad this year. They'll probably still be bad, but how much do they come back to the field? I regressed last year's numbers pretty strongly when making my matchup adjustments to the projections, but the Sabres were so, so bad last year that any calculation I do based on last year's data is going to make them far and away the best matchup of the day.
So for that reason, the Ottawa Senators are probably the safest team to target tonight. The Senators were a middling possession team last year, but they were much better offensively than they were defensively. They were ninth in goals scored, and they have some young talent in their top six that could have some more room for growth. If I had to pick a mini-stack from Ottawa, I'd go with the top line pair of Kyle Turris and Mark Stone, who should also see PP1 time together. Mike Hoffman is also an option if you'd like to stack the whole line. Mika Zibanejad and Bobby Ryan on the second line are also an option. On the blue line, Erik Karlsson is worth paying up for if you can afford it. He's about the only defenseman who ranks anywhere near the top of the skater projections today. Patrick Wiercioch is also a cheaper option on the blue line. His projection is only slightly above average, but he sees PP1 time and his price tag is below average.
After Ottawa, Pittsburgh is probably the next best team to target. They'll be in Dallas to face my Stars in what could be a high-scoring affair. The Stars were second in goals scored last year but they allowed the fourth most goals against. In fact, they ended up allowing as many goals against as they scored. Dallas was an above average possession team who forfeited that advantage with bad goaltending. Were they to get better goaltending, they might not be such an obvious team to pick on in fantasy. But unless newcomer Antti Niemi shows us something or unless Kari Lehtonen gets some of his groove back, skaters facing the Stars will frequently be DFS considerations.
The tough thing with Pens is that they ain't cheap. All the Sens are priced reasonably enough, even Karlsson to some degree. But while the model thinks Sidney Crosby and Phil Kessel are really good options today, it doesn't think that they're necessarily worth their price tags. For that reason, I'm probably leaning toward the slightly cheaper second line pair of Evgeni Malkin and Patric Hornqvist.
Other teams with theoretically above average matchups are Minnesota against Colorado and Nashville against Carolina. Colorado has been a bad possession team for a couple years running, but Semyon Varlamov is a pretty great equalizer. So while I could see using some Wild skaters, it does come with some risk. Zach Parise and Jason Pominville would be the preferred par if affordable, but the second line pair of Mikko Koivu and Nino Niederreiter could provide decent value. As for the Preds, I like the price on Mike Ribeiro centering the top line between James Neal and Filip Forsberg. Ribeiro and Forsberg should see PP1 time together, so that's probably the mini-stack I would go with there.
Player Rankings
Center
Winger
Mark Stone – $5,000 – Ottawa Senators
Bobby Ryan – $5,400 – Ottawa Senators
Patric Hornqvist – $6,100 – Pittsburgh Penguins
Mike Hoffman – $4,800 – Ottawa Senators
Filip Forsberg – $6,000 – Nashville Predators
Jason Pominville – $5,200 – Minnesota Wild
Nino Niederreiter – $3,800 – Minnesota Wild
Blake Comeau – $3,000 – Colorado Avalanche
Defensemen
Erik Karlsson – $6,800 – Ottawa Senators
Kevin Shattenkirk – $4,800 – St. Louis Blues
Torey Krug – $4,800 – Boston Bruins
Ryan Ellis – $3,400 – Nashville Predators
Patrick Wiercioch – $3,000 – Ottawa Senators
Ryan Suter – $4,000 – Minnesota Wild
Goalies
Pekka Rinne – $7,700 – Nashville Predators
Carter Hutton* – $6,800 – Nashville Predators
Brian Elliott – $7,000 – St. Louis Blues
Ondrej Pavelec – $7,100 – Winnipeg Jets
Goalies with an asterisk next to their name are not expected to start tonight but haven't been ruled out, so don't count on them playing. Any players in bold have been confirmed as the starter for the day. And players with a line through their name will not be starting tonight. Make sure you always check LeftWingLock for starting goalie updates in case I am unable to update the list throughout the day.
Research Chart
You can download the research chart from this Google Sheet page here.
[/cointent_lockedcontent]