2013 Fantasy Baseball: The Week 16 Closer Report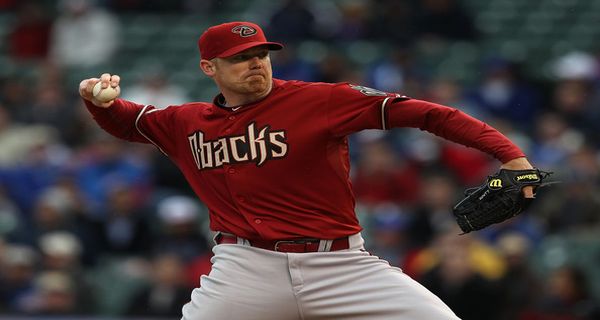 So, work conspired against me this week and I'm a day late, but hopefully not a dollar short. We haven't seen any huge trades yet, but as we head into the All-Star break, we could start to see some movement as teams look to solidify the pen with a run into October as the goal. We've got a lot of quick hitters below so let's dive right in.
Arizona Diamondbacks
The Diamondbacks have no closer according to GM Kevin Towers. I covered the D'backs in depth last week so I won't go back over the combatants in as much depth as I did last week.
J.J. Putz is back into the setup role after being moved into earlier game situations. Putz has five clean appearances since the demotion and has holds in his last two times on the hill. He's making his move back toward the closer's role. I don't think anything gets decided until after the All-Star break.
Brad Ziegler picked up a save this week and he's most likely among these guys to be available in your league. Ziegler has closed previously (with the Oakland A's in 2008 and 2009). He's not a strikeout guy, but his high groundball rate (around 75% each of the last two seasons) gives him a chance to limit damage and be successful. He's got huge career splits against lefties as they've manhandled him in his career. He picked up his second save of the week against the Brewers on Saturday night after Heath Bell pitched part of the eighth and J.J. Putz stayed glued to the bullpen. He's worth a reasonable investment this week as Kirk Gibson will certainly ride the hot hand.
David Hernandez also picked up a save this week, but he's been a poor as Bell and Putz this year. I he's probably fourth on the pecking order behind Ziegler, Putz and Bell at this point.
Josh Collmenter is still hanging around and still very effective, but I think he's too valuable as a long reliever to be moved into shorter situations.
Close Calls
Vinnie Pestano has been moved out of the setup role and Joe Smith has moved into the eighth inning role for the Cleveland Indians. Interestingly, Cody Allen got a save (his second of the season) this week when Chris Perez was unavailable. I think Pestano gets the setup job back and would be the handcuff for Perez owners. However, Smith has the chance to usurp Pestano and be in line for saves should Perez be dealt or end up suspended at some point.
Jose Valverde was put on the restricted list at AAA as he deals with a personal issue. I mention this as  way to note that Valverde still leads the Tigers in saves with nine.
Jake McGee also picked up a save this week as Fernando Rodney was not available due to workload. The speculation is that McGee would actually be the handcuff to Rodney as Joel Peralta is more comfortable in the setup role. Rodney has been fine this season and without an injury or a trade, McGee will likely see only a small handful of opportunities for the rest of the season.
Andrew Bailey is inching closer to regaining the closer's role in Boston. Since blowing a save on June 28, he's put together four appearances spanning 5 1/3 IP without giving up a run while striking out seven. Don't be surprised if Bailey is closing again by the end of July. Now, I can't promise he'll stay healthy, but he's almost always good when he is.
Matt Thornton also changed his Sox from White to Red this week as Boston went about replacing highly effective lefty Andrew Miller who is lost for the season.
Francisco Rodriguez blew a save for the Brewers this week. Well, he would have if not for Carlos Gomez's fantastic leaping catch at the wall. The Brewers will almost have to deal K-Rod and Jim Henderson should be back in the closer's role in due time. John Axford couldn't hit the broad side of a barnyard on Saturday night and might be a candidate to be sent to AAA.
Carter Capps was demoted this week and I'd be surprised if we see him before mid-August. He needs some time to figure out how to pitch again. Tom Wilhelmsen is the closer for now, but Oliver Perez continues to be the most consistent pitcher in that bullpen.
Rafael Betancourt is a free agent after this season, so make sure Rex Brothers is owned in your league as he'll likely inherit the job next year and could be a good play down the stretch if the Rockies can find a taker for Betancourt.