2013 Fantasy Baseball: The Week 7 Closer Report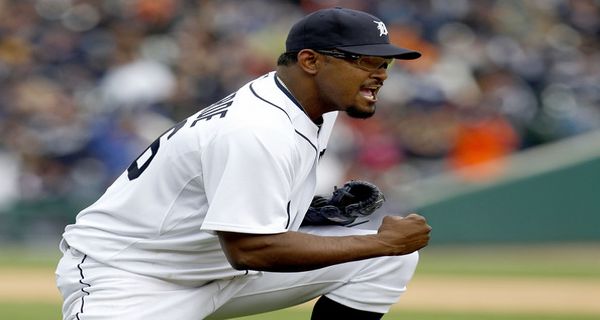 If you are chasing saves, I hope you've been paying attention to some of my recommendations this year. We've seen Heath Bell and Junichi Tazawa elevated to the closer's role in the last week – both of those players were likely far off you radar at the season's start. Not to mention Papa Grande – Jose Valverde – in Detroit. Are there any other diamonds in the rough in those bullpens? Should we trust any of these new closers? As Yogi Berra said, it's getting late early. Let's see what those bullpens have for us this week.
Arizona Diamondbacks
J.J Putz issued a four pitch walk and then sauntered off the mound and onto the DL. Putz isn't scheduled for surgery…yet. Putz's injuries seem like a combination that will eventually lead to surgery. In shallow leagues, he's not worth a roster spot (even on the DL). In deeper leagues, I'd think of dropping him as well. I can see him heading to season ending surgery sooner rather than later.
The first save chances have gone to Heath Bell even though he was told that he would share with David Hernandez based on matchups. As I noted last week, Hernandez has not pitched well and Bell has been lights out since his first appearance. I can see Bell keeping the gig all year long even with the more "talented" Hernandez behind him. I'd look to acquire him in most leagues. His owner probably didn't pay much to get him and he might not trust him so it may not cost you a lot.
Boston Red Sox
Just as quickly as Joel Hanrahan picked up a save, he heads back to the DL. This time he will likely be gone for a while as he has damage to his flexor tendon. It's either rest and rehab or surgery. And rest and rehab rarely work. I believe we've seen the last of Hanrahan for the Red Sox this season.
Andrew Baliey remains on the DL. He has no idea when he'll return. So, he's got that going for him, which is nice. Bailey is a china doll and can't be counted on to stay healthy even if he does return.
That leaves Junichi Tazawa as the closer. I've said all year (and much of last season) that Tazawa was likely the best pitcher in Boston's bullpen. Perusing Tazawa's Fangraphs page we see a lot to like. A K% of 31.2, BB% of 4.9, average fastball velocity just under 94 mph. The only blemish on his record is an elevated HR rate. Tazawa will likely give up his fair share of HR, but with a low walk rate and batting average against, those home runs are more likely to be of the solo variety and cause little damage. I may be biased, but I believe that Tazawa holds the Red Sox closer's job for the rest of the season. I expect 25+ saves for him for the remainder of the year.
Los Angeles Dodgers
Brandon League has hit a lull in May. He picked up two losses this week, giving up a home run in each. Prior to this week he'd only given up one home run all year in 11 appearances. League's K% of 12.3 is a career low and is atrocious for a closer. It's a small sample, but he'll need to get his dominance back to at least his career level to be able to survive in the role.
Kenley Jansen is the handcuff in LA. However, he had a bit of a rough week as well. Jansen was drafted ahead of League in many fantasy leagues because he possesses tremendous upside and is valuable in most leagues because of his high strike out totals for a reliever. His K% is down again sitting at 31.9% now which is still elite so there isn't a lot to worry about here. He's a better pitcher than League has ever been. Don Mattingly has shown loyalty to players beyond what is reasonable. That said, Jansen will probably inherit the role at some point the second half of the season.
Chicago Cubs
Kevin Gregg has been named the Chicago Cubs closer by manager Dale Sveum. I imagine it's been Gregg's performance that led Sveum to name him as the closer. He's not a remarkably good major league pitcher, but he's had a solid run to open the season. He hasn't given up a run in his first nine appearances and he's got five saves during that run. He's certainly due for a course correction sooner rather than later as 34 year old pitchers don't often improve appreciably in their year 34 season.
Kyuji Fujikawa was activated from the DL prior to Friday night's game. Fujikawa will likely get some chances even if Gregg maintains his role as closer. Fujikawa is the better pitcher, but it will take a stumble from Gregg to open the door.
Tampa Bay Rays
Fernando Rodney in 2013 has pitched like 2011 Rodney and not 2012 Rodney. This 2013 model is walking nearly seven batters per nine innings (along with having an inflated HR/9 rate). After reading a nice piece by Jason Collette at Baseball Prospectus (subscription required) and listening to the  TINSTAAPP podcast cover Rodney, I don't think Rodney will get back to what we saw last year. He's going to need to change his mechanics and I do not believe he has the time to do it during the season.
Will the Rays replace him at some point? It's unclear as Joe Maddon certainly isn't the most conventional manager. However, who would be in line to pick up saves for those Tampa Bay Rays?
Jake McGee had been seen as an up and coming reliever for the Rays. However, he seems to have trained with Rodney in the offseason. His walk rate is astronomical as well and he's been victimized by the HR ball. He's not been effective and wouldn't be in line for any saves if Rodney is out.
Kyle Farnsworth led the Rays in saves in 2011. He disappeared in 2012 spending a chunk of the year on a DL.  In 2013, he's been far too hittable and won't be in line for saves unless he rights the ship.
Joel Peralta has been the best pitcher in the Rays' bullpen this year (which isn't hard) and is my pick as the handcuff for Rodney. He's got some experience in the role and has enough dominating stuff to succeed.
Josh Lueke, the AAA closer, was just recalled. He's done some pretty horrible things in his life so I don't have any interest in discussing him further.
Atlanta Braves
Craig Kimbrel blew two saves in the last week and three out of his last six opportunities. I don't think there is any need to worry as Kimbrel has earned a lot of rope based on his prior success.  There isn't a clear handcuff here. Eric O'Flaherty is likely the leader, but he doesn't strike out a ton of guys and he happens to throw left-handed making it less likely he'd get a full time gig. Jordan Walden has experience, but hasn't been an average reliever for the last two years. Cody Gearrin is the underdog in the pen. He's got better stuff than O'Flaherty and better control than Walden. Don't spend a ton here chasing saves.
Close Calls
Glen Perkins has a little injury issue and was unavailable Friday night. Monitor this situation as it could be a dreaded oblique issue. Jared Burton would be next on the closer carousel in Minnesota.
Ryan Madson is out on a rehab assignment. He said he could be activated by Wednesday May 15. Ernesto Frieri continues to walk almost everyone he faces, yet he's been able to convert this save opportunities. Madson could be a nice sleeper as Frieri has to fix his control problems before he's a solid closer.
Phil Coke has returned from the DL. He could see the odd save chance if Jose Valverde is kept out of a chance due to workload issues.