2013 Fantasy Football Daily Fix, October 16 – Week 7 – Tight Ends and Kickers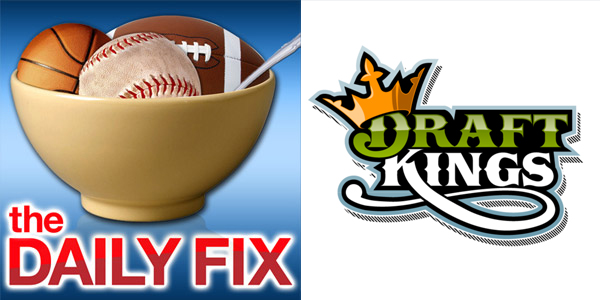 I'm back with the Week 7 DraftKings recommendations for Tight Ends and Kickers. But, first a note about DraftKings. New depositors will get a free ticket into a Millionaire Grand Final qualifier.  So you can get a free game with any deposit you make.  What are you waiting for?
News and Notes
Teams on bye for Week 7: New Orleans Saints and Oakland Raiders so we lose the top TE option in Jimmy Graham.
Thursday night game: Seattle Seahawks at Arizona Cardinals – so we lose don't lose a lot on the TE side though the Cardinals are one of the worst at defending the TE so if you happen to play DraftKings' Monday through Thursday games, Zach Miller made a sneaky play.
Jimmy Graham is out this week…because the Saints are on bye. However, there is some thought that he'd be unable to play this week due to injury. Monitor the situation.
Randall Cobb was placed on IR (designated for return) and will be out for six to eight weeks. The Packers are thin at WR and Jarrett Boykin is stepping into the void. I'd take a wait and see approach to Boykin.
DeMarco Murray is out for week 7 and Joseph Randle is going to be the main man in the backfield as Lance Dunbar is not yet ready to tote the rock.
Chris Ivory could get some more work in the New York Jets' backfield as Mike Goodson is lost for the season with a significant knee injury. Ivory can't stay healthy himself, but he could get 8 to 12 touches per game if he stays on the field.
DraftKings Tight End Recommendations
If you've never played on DraftKings before, you can get a deposit bonus by signing up. And there are different options to pick from at DraftKings for any skill level.
Did you know that you can qualify for a million dollar top prize starting with just a $2 investment? It's all right here at the DraftKings Millionaire Grand Final. Wait. Did I already mention that?
Finally, a gentle reminder on the scoring for Tight Ends – this is a PPR site so remember that when selecting players.
10 Receiving Yards = +1PT (+0.1PT per yard is awarded)
Reception = +1PT
Receiving TD = +6PTs
100+ Yard Receiving Game = +3PTs
Fumble Lost = -1PT
2 Point Conversion (Pass, Run, or Catch) = +2PTs
The full DraftKings scoring system is here.
Tight Ends can also be used in the flex position at DraftKings. However, with the entire world of RBs and WRs at your disposal, it would be unlikely you'd have to head to the TEs to pick up a flex play. Jimmy Graham is always in play as a flex option.
Let's take a look at a couple of options at each price point. I'll mention Football Outsiders a lot – the passes per game and yards per game stats I use are from Football Outsiders. Here is the link to Football Outsiders' 2012 stats. FO has updated their stats for 2013 and you can find them here.
The Graham Tier
The Graham Tier is on vacation this week. And after his goose egg, it could be a permanent one.
The Jeffersons
Tony Gonzalez | Falcons | $6,900 – Gonzalez's matchup is right as he faces a Bucs team that gives up over nine passes per game to TEs. However, it's not clear how the Falcons offense will shake out after the loss of Julio Jones and with Roddy White still mending (and potentially absent for week 7). It is quite likely that the Bucs will double Gonzalez and let players like Harry Douglas and Kevin Cone try to beat them.  I think he's too high risk at this point and would look elsewhere.
Antonio Gates | Chargers | $5,700 – Gates gets another good matchup against a terrible Jacksonville squad. There should be ample opportunities for Gates through the air as Jacksonville allows 8.3 passes per games to TEs.
All in the Family
Jordan Cameron | Browns | $4,900 – Cameron's production has suffered since Brandon Weeden took over for Brian Hoyer and it will continue because Brandon Weeden isn't good at football. Wait. What? Weeden was the QB in the first two weeks of the season when Cameron had over two hundred yards on 14 receptions with a TD. He's faced some tough defenses on TEs the last couple of weeks and should be fine in his game against the Packers who struggle to defend the TE effectively. Cameron will likely be my choice on most squads this week.
Jermichael Finley | Packers | $4,100 – Finley's match up against the Browns isn't the greatest, but it's not terrible. And with all of the injuries to WRs, there is talk that Finley will line up as a WR. It's an interesting option for Finley and the Packers and could provide more downfield looks for Finley.
Good Times
Jeff Cumberland | Jets | $3,900 – Cumberland is now the lead dog at the TE position for the New York Jets as Kellen Winslow Jr.was suspended four games for PED use.  Cumberland had three straight games of 9.9 points or more. He now faces a Patriots defense that allows 9.8 passes to TEs per game (fourth worst in the league). Moreover, it looks like the Pats will be without LB Jerod Mayo so the matchup gets just that much better.
Coby Fleener | Colts | $3,500 – Fleener is back on this list even if he was less than stellar on Monday night against the Chargers. He's back because he has another tasty matchup against a Broncos team that gives up 9.5 passes per game to TEs and almost 90 yards per game. If he doesn't show for this game, it may be time to ignore him until he does.
From Way Downtown
Levine Toilolo | Falcons | $3,000 – Toilolo is my hail mary this week. With all of the injuries at WR for the Falcons, Toilolo may get some looks as a second TE (especially if Tony Gonzalez is double teamed). The matchup is friendly as I noted above in my Gonzalez piece, so if you want to go el cheapo guapo, he's your man.
DraftKings Kicker Recommendations
Your weekly update on this guy is that he's still not on a roster. Sadly.
A reminder of the DraftKings scoring is below.
There are distance-based bonuses for kickers and no penalties for misses so you can take on risk without penalty.
Extra Point = +1PT
Field Goal 0-39 Yards = +3 PTs
Field Goal 40-49 Yards = +4PTs
Field Goal 50+ Yards = +5PTs
We have the same spread as last week as the most expensive kickers are at $4,000 and the bottom sits at $3,000. A few hundred dollars may not sound like a lot, but every bit counts when assembling your roster. Again, I can't suggest paying too much for a kicker so we'll look at the options further down the line.
Caleb Sturgis | Dolphins | $3,300 – Sturgis comes off a bye to face the Bills who give up 2.7 FGAs per game, third most in the NFL. He's had double digit point totals in three of five games this season and should get some opportunities.
Dan Carpenter | Bills | $3,300 – My only concern here is the QB situation for the Bills. It looks like Jeff Tuel may be the QB this week which could lead to some serious issues for the Bills moving the ball. Carpenter's matchup is great as the Dolphins give up nearly three FGAs per game.
Josh Scobee | Jaguars | $3,000 – If you want to go cheap, Scobee is your man. The problem, of course, is that the Jags are terrible. They do face the Chargers who are giving up 2.5 FGAs per game this season.  He has had back to back nine point games so even with a terrible offense, he's had some scoring chances.