2013 Fantasy Football Daily Fix, September 11, 2013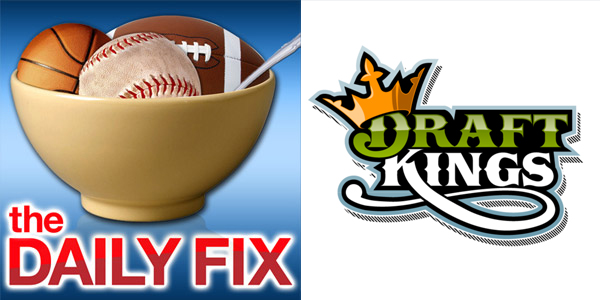 News and Notes
New York Giants sign Brandon Jacobs
Welcome back from the dead Brandon Jacobs. Jacobs is washed up. He's 31 years old. He was suspended for the last three games of 2012. He was bad when he played and he rarely played. However, this signing likely says something about the Giants confidence in David Wilson. Wilson started 2013 in a similar fashion to 2012. Wilson's ball security issues will keep him outside of Tom Coughlin's circle of trust. Backup Da'Rel Scott has similar issues and isn't likely a long term threat though he could get some additional action over the next couple of weeks. The RB situation in New York has gone from one of promise and upside to confusion and near uselessness. Wilson is the best talent by far, but he'll need to hold onto the ball to get back to his RB1 promise.
New England Patriots place Shane Vereen on IR
Vereen played most of Week 1 with a broken bone in his wrist. Vereen had surgery on that wrist and the Pats placed on him injured reserve/designated to return. He's out until Week 11. They don't have a ready replacement for the multi-talented Vereen on the roster as LeGarrette Blount is more of a plodder and Brandon Bolden is still out with an injured knee. Bolden is more similar to Vereen and may be the fill-in for Vereen once his knee heals. The Pats are quickly running out of offensive options because….
Danny Amendola is due to miss Week 2
It has been all but confirmed that the china doll that is Danny Amendola will miss Thursday night's game with a groin injury. This moves Julian Edelman into a prime role and gives hope for a breakout by either Kenbrell Thompkins or Aaron Dobson. Amendola will probably be healthy for Week 3, but then again, he's rarely healthy for long.
Le'Veon Bell still not working out
The Steelers gave some hope last week that Bell might get back to work this week. However, he's not even started individual workouts so Bell's return may be further out than anticipated. The uninspiring Isaac Redman will continue to start. Felix Jones got no touches last week because he still doesn't know the offense. Jonathan Dwyer was re-signed one week after the Steelers seemed to napalm the bridge between themselves and Dwyer. The Steelers offensive line is a mess and this is another RB situation I'd stay far away from.
DraftKings Tight End Recommendations
If you've never played on DraftKings before, you can get a deposit bonus by signing up. And there are different options to pick from at DraftKings for any skill level.
I'm back to give some insight into the Tight End and Kicker positions on DraftKings. Did you know that you can qualify for a million dollar top prize starting with just a $2 investment? It's all right here at the DraftKings Millionaire Grand Final.
I've also come up with a more creative ordering technique, so I won't have to steal from Brett Talley anymore. Viva 1970s sitcoms!
Finally, a gentle reminder on the scoring for Tight Ends – this is a PPR site so remember that when selecting players.
10 Receiving Yards = +1PT (+0.1PT per yard is awarded)
Reception = +1PT
Receiving TD = +6PTs
100+ Yard Receiving Game = +3PTs
Fumble Lost = -1PT
2 Point Conversion (Pass, Run, or Catch) = +2PTs
The full DraftKings scoring system is here.
Tight Ends can also be used in the flex position at DraftKings. However, with the entire world of RBs and WRs at your disposal, it would be unlikely you'd have to head to the TEs to pick up a flex play.
Let's take a look at a couple of options at each price point. I'll mention Football Outsiders a lot. Here is the link Football Outsiders 2012 stats. We now have one week of FO stats to use and they are here. The defensive stats versus different types of receivers is not yet ready.
The Jeffersons
The luxury options are really down to one in Jimmy Graham ($7,100), though we do see Vernon Davis ($5,100) moving into the top four along with Jason Witten ($5,000) and Tony Gonzalez ($5,600).
There continue to be too many viable options for a lower salary so I struggle to recommend any of the high end talent. If you want to feel good about having an expensive TE, I'd rate them Graham, Witten (if Tony Romo plays), Gonzalez and Davis a distant fourth due to his matchup with the Seahawks. However, I don't see a reason to spend big money on TEs because there is still so much value in the cheaper options. I'd rather have someone like Jared Cook at $4,700 than any of these "de-luxe" options.
All in the Family
Jordan Cameron | Browns | $4,100 – Cameron's price jumps $400 from last week after earning 28.8 points. However, he gets to face the same Ravens defense that fellow youngster Julius Thomas torched for 31 points. I like Cameron again this week even with an increased salary.
Julius Thomas | Broncos| $4,100 – Thomas also has a juicy matchup as he gets a Giants' team that gave up 27 points to Jason Witten. Thomas may have achieved his highest point total of the season in Week 1, but he still looks to be a solid matchup here in Week 2.
Good Times
Brent Celek | Eagles | $3,100 – Washington was bad against TEs last year and they started off 2013 by a TD and 50+ yards to Celek. Celek will never be a stud in Chip Kelly's hyperactive offense, but he faces off against a San Diego team that gave up three TDs to TEs in week 1.
Jordan Reed | Washington | $3,000 – Fred Davis is the starting TE in Washington, but he and Robert Griffin III don't seem to have any chemistry. His numbers with RG III at the helm are abysmal. Reed picked up five catches last week and could become RG III's security blanket if Davis continues to disappoint.
DraftKings Kicker Recommendations
Your weekly update on this guy is that he's still not on a roster. Sadly.
A reminder of the DraftKings scoring is below.
There are distance-based bonuses for kickers and no penalties for misses so you can take on risk without penalty.
Extra Point = +1PT
Field Goal 0-39 Yards = +3 PTs
Field Goal 40-49 Yards = +4PTs
Field Goal 50+ Yards = +5PTs
The salary spread is even tighter this week with the highest priced kickers going for $3,500 and the cheapest options going for $3,000. So, we'll look at some of the lower cost options.
David Akers | Lions | $3,400 – If you want to go the expensive route, Akers is the choice for me as he faces off against an Arizona team that gave up four FGAs in Week 1 and he gets to head to a dome again.
Greg Zuerlein | Rams| $3,200 – Zuerlein has a huge leg and got to show it off in Week 1. He led the league 13 FGAs of greater than 50 yards. With no penalties for misses, Zuerlein is a great addition to your squad as he heads to a dome again.