2014 Fantasy Baseball Daily Fix: April 10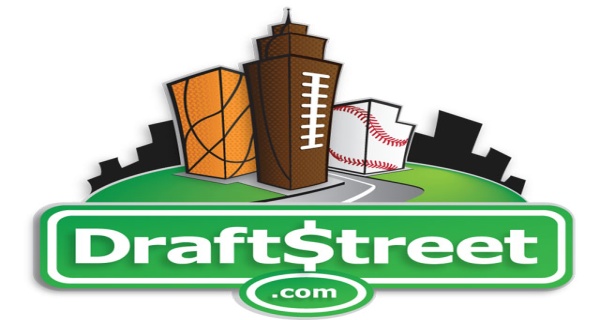 Welcome back to the Daily Fix here at the Fantasy Fix. And welcome to DraftStreet. For those who aren't yet Daily Fantasy baseball players at DraftStreet head over there via this link and join. You can pick up a 100% deposit bonus up to $200 on your first deposit.
I've got some early players in my list so check lineups as there may be a bunch of guys sitting out these early games for some early season rest.
Follow me on Twitter with any changes as lineups roll in.
Draft Street gives you $100,000 to draft a starting nine along with a utility player and three pitchers. DraftStreet features the following scoring settings for its daily fantasy baseball games: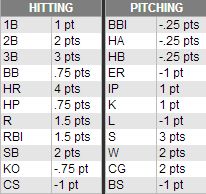 DraftStreet Team of the Day
I'm going to put a roster together with three starting pitchers again as there are some cheap offensive players with great matchups. You should be able to easily put a three starter lineup together today.
Pitchers
Marco Estrada | RHP | Brewers | $15,410 – Estrada is one of my sleepers for the year and he gets a Phillies lineup that has looked poor without Chase Utley in it.  
Dan Straily | RHP | Athletics | $15,451 – The Twins aren't especially good and their home park is quite friendly to pitchers.
Jenrry Mejia | RHP | Mets | $13,285 – The Braves like to strikeout a lot. Mejia likes to strike batters out. Seems like a match made in heaven.
Alternatives: R.A. Dickey ($16,799) gets the Astros. The Astros are almost always a good matchup. Travis Wood ($13,817) has a great career record against Pirates batters holding them to a career .685 OPS in 72 plate appearances.
Sergio Santos | RHP | Blue Jays | $1,744 – Eight strikeouts in three IP for the Jays' closer. They face the Astros with a solid chance to win.
Alternatives: Just about anyone else – it's a crapshoot at reliever each day as you are looking for a close win. Matt Lindstrom ($1,000) is the closer. He's the cheapest reliever out there.
Hitters
Brian McCann | C | Yankees | $4,973 – McCann heads to Yankee Stadium and its short right field porch. His career OPS against righties at .854 looks even tastier against Clay Buchholz who struggled mightily in this last outing.
Alternatives: Dioner Navarro ($6,478) mashes lefties and gets someone named Dallas Keuchel today who happens to throw left handed. Miguel Montero ($4,908) is attractively priced for a good matchup.
Nick Swisher | 1B | Indians | $5,371 – You'll see me pick on John Danks a bit today, but Swisher has a career OPS versus lefties of .852 and has two HRs in 16 plate appearances against Danks.
Alternative: The Pirates' Gaby Sanchez ($5,647) should see the field on Thursday as a lefty steps to the mound. He's got a career .897 OPS versus lefties.
Aaron Hill | 2B | Diamondbacks | $5,456 – This is mostly a pick for the belief that the D'backs should be able to batter Giants' starter Ryan Vogelsong. It helps a bit that Hill also has a .563 average against Vogelsong in 16 plate appearances against him.
Alternative: The pickings are slim for value, but Anthony Rendon ($6,704) has been hot early and Tom Koehler isn't Walter Johnson.
Martin Prado | 3B | Diamondbacks | $5,874 – Prado has been hitting cleanup for the D'backs and that is a cozy little spot to be in surrounded by Paul Goldschmidt and Mark Trumbo.  
Alternative: Pedro Alvarez ($5,118) has always struggled against left handed pitching, but he hit two HRs last night and he is notoriously streaky. He many not even be in the lineup, but if he's starting one of his hot streaks he can hit anyone.
Marcus Semien | SS | White Sox | $3,815 – Semien is a SS at DraftStreet and there aren't a lot of options that really jump out at me so Iet's go with a super cheap option who has been batting near the top of the order in a potent lineup.
Alternative: Mike Aviles ($6,048) is a high priced matchup option as he could be in the lineup versus a lefty.
Ryan Raburn | OF | CLE | $4,554– Raburn is 11 for 35 in his career versus John Danks. That isn't nearly as important as his career .822 OPS versus left handed starters.
Carlos Gomez | OF | Brewers | $6,109 – Gomez has been hot early on average four fantasy points per game in the early going. He looks to have a tough matchup against lefty Cliff Lee. However, Gomez had a .993 OPS against lefties in 2013, but he does have a couple of HRs versus Lee in his career.
Gerardo Parra | OF | Diamondbacks | $5,194 – Parra hits leadoff for the D'backs when they faced right handed pitchers. They get one such type of pitcher in Ryan Vogelsong. Vogelsong likes to give up runs so there should be ample opportunity for Parra to score some points for your squad.
Alternatives: Jose Bautista ($8,794) likes lefties and gets a poor one today. Bryce Harper ($6,985) mashed a ball that is still carrying whenever you read this and his price is depressed due to his slow start. Adam Eaton ($4,924) is the sparkplug that makes the White Sox go. He's got a tough matchup with Danny Salazar, but his price is right.
Stacking options: The Diamondbacks are a great choice against Ryan Vogelsong and I could see the Yankees teeing off on Clay Buchholz and the Red Sox.
Good luck on DraftStreet today!