2014 Fantasy Baseball Daily Fix: April 3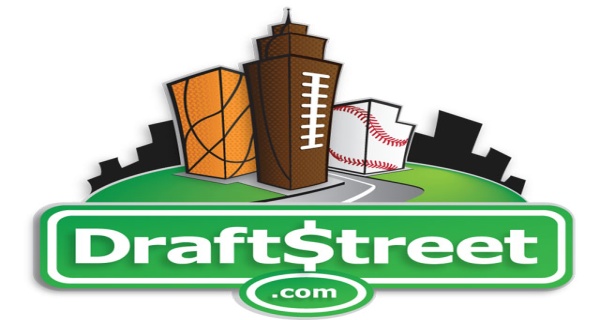 Welcome back to the Daily Fix here at the Fantasy Fix. And welcome to DraftStreet. For those who aren't yet Daily Fantasy baseball players at DraftStreet head over there via this link and join. You can pick up a 100% deposit bonus up to $200 on your first deposit.
I've got some early players in my list so check lineups as there may be a bunch of guys sitting out these early games for some early season rest.
Follow me on Twitter with any changes as lineups roll in.
Draft Street gives you $100,000 to draft a starting nine along with a utility player and three pitchers. DraftStreet features the following scoring settings for its daily fantasy baseball games: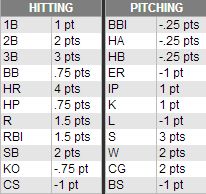 DraftStreet Team of the Day
There are a lot of land mines out there on the pitching front so my suggestion is to take some safer plays and survive the day.
Pitchers
Anibal Sanchez | RHP | Tigers | $19,101 – Not very creative, but again, there are a lot of problematic options at pitcher and you've got some great options below to save on hitting. Sanchez has faced the Royals five times and has given up a .492 OPS against in those five starts. The Royals haven't looked all that intimidating early.
Jordan Zimmermann | RHP | Nationals | $16,509 – He's not a sexy choice, but he's steady. He heads to Citi Field where he has an 8.4 K/9 rate over eight starts there and has put up a 3.59 ERA along with a 1.266 WHIP in those 42 2/3 innings.

Alternatives: The Royals' Yordano Ventura ($6,981)  is hilariously priced and could allow you to add a third starting pitcher in this format which is almost always impossible. He's got stuff for days, but has to face a tough Tigers' lineup.  Ivan Nova ($16,080) is also an option as he gets the poor Astros' lineup
Matt Lindstrom | RHP | White Sox | $1,000 – Lindstrom is the closer. He's the cheapest reliever out there. The White Sox get to face homer happy Phil Hughes in the band box that is US Cellular.
Alternatives: Just about anyone else – it's a crapshoot at reliever each day as you are looking for a close win. Perhaps Rafael Soriano ($1,708) though he's always a chance for a blowup. Trevor Rosenthal ($1,836) has a shot at a save as Homer Bailey has always struggled with the Cardinals so they could be in line for a win.
Hitters
Josmil Pinto | C Twins | $4,695 – Pinto is supposed to be in the starting lineup Thursday and he's a bargain. He had a .963 OPS in a small sample in the majors last year and has shown solid hitting skills in the upper minors.
Alternative: Also near the bottom of the salary scale is new Washington Nationals' starting catcher Jose Lobaton ($4,252). However, watch the lineups as it is most likely that back up catchers will sneak into the lineup for day games after night so there may be even cheaper options available.
Justin Smoak | 1B | Mariners | $4,981 – Smoak has been smoking (ugh!) in the first three games as the Mariners look like the 1927 Yankees. He's averaging 10.4 points per game and gets to face off against career reliever (and right hander) Jesse Chavez in his third career major league start.
Alternative: Also hot to start the year is another post-hype prospect in the San Francisco Giants' Brandon Belt ($5,948) who gets to face homer prone Bronson Arroyo in Arizona. I'm probably slotting Adam Lind ($5,871) from the Toronto Blue Jays into my utility spot as he gets to face a righty at home and he likes both of those setups.
Dustin Pedroia | 2B | Red Sox | $7,706 – I'm going to suggest you pay for a second basemen (and there will be enough bargains to allow you to do so. Pedroia gets to face a lefty and he likes that flavor of pitcher with a career .866 OPS against them over his career.
Alternative: As I said, pay for second basemen today as Robinson Cano's ($9,245) Mariners get a tasty matchup and Cano's numbers against right hander pitching are ridiculous (.894 career OPS).

Jeff Baker | 3B | Marlins | $4,528 – 296/353/519/871 – that's Baker's career line against left handed pitching. He gets a lefty starting "pitcher" in Franklin Morales. Start with confidence.
Alternative: Will Middlebrooks ($5,905) for your 2013 World Series champs Boston Red Sox looked good during the spring and has made some changes to his approach at the plate. He gets a lefty and he's got a career .834 OPS against them.
Starlin Castro | SS | Cubs | $4,856 – Castro has batted up in the lineup so far this year and does have a better career line against lefties (.775) so I'll take the risk with him at this low price.
Alternative: If you want to be safer, take Ian Desmond ($6,000) as he's perhaps the best fantasy short stop in the game and is significantly cheaper than studs like Troy Tulowitzki.
Hunter Pence | OF | Giants | $6,727 – Pence has a solid career record (over just 40 ABs) against D'backs starter Bronson Arroyo with a career .997 OPS.
Nelson Cruz | OF | Orioles | $6,527 – Cruz mashes lefties (.874 career OPS). Cruz mashes at Camden Yards (.896 career OPS). He gets a lefty at Camden Yards on Wednesday.
Carlos Gonzalez | OF | Rockies | $9,172 – The only concern with Gonzalez is he left his last game early with dizziness. So, watch the lineups as they roll in. If he's in, he's a great start – he has better splits on the road and loves to mash right handed pitching.  I'd rather take a risk on a high priced player because if he misses the game, you'll have the cash to pick up just about any replacement out there.
Alternatives: Matt Holliday ($6,707) and Alfonso Soriano ($5,970) both have good lefty/right and home/road matchups today and could easily slot into a lineup. Holliday has also crushed Homer Bailey in a short sample.
The Mariners are probably a good stacking option (though might be tough with the ridiculous price on Brad Miller) against Jesse Chavez and the White Sox against Phil Hughes also make a tasty option.
Good luck on DraftStreet today!